3 min read
Why Product Marketers are the Best and Worst AT Content Planning
As a content specialist, I collaborate with all different kinds of technical marketing professionals, including product marketers. Product marketers are largely responsible for driving demand and product/service adoption. As part of that mission, they're tasked with:
Working to understand the target audience
Appealing to buyer personas
Keeping a pulse on competitors
Establishing and implementing cross-departmental marketing strategy
Encouraging sales growth through lead generation
All of these efforts boil down to an important set of questions: What differentiators should prospective buyers know about? How should the company communicate those differentiators in a way that is impactful to those buyers in evaluating products or services?
These questions guide product marketers every single day, and that's precisely why they make great SMEs for content planning and development.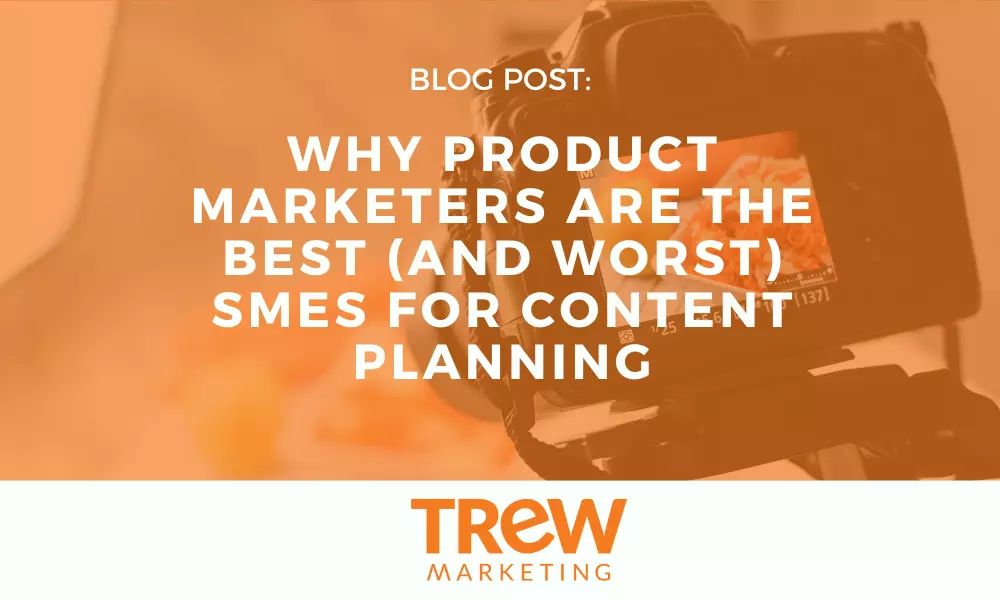 Content is an important part of the buyer's journey and creating a content marketing plan that delivers value to an audience requires time, attention, and a commitment to understanding the competitive landscape. Product marketers have those ingredients (okay, maybe not time) and then some.
Unfortunately, that same strength—that product-focused mindset—can backfire. How? When SMEs are too focused on creating content that revolves around their product features/capabilities, they risk losing sight of what their customers really need from content.
By HubSpot's definition, inbound marketing "attracts customers by creating valuable content and experiences tailored to them. While outbound marketing interrupts your audience with content they don't always want, inbound marketing forms connections they are looking for and solves problems they already have."
Winning content revolves around the customer.
If you or your team needs help refocusing for a content brainstorm, start by reviewing your personas to get back into the mind of your customers. Then, begin your content workshop with questions like:
What are your audiences' biggest pain points?
What tough questions do customers consistently ask?
Are there any current trends that are relevant to your overall theme?
What are the business risks associated with your theme?
What gaps in the market can you educate prospects about?
What does your company do better than your competitors?
These questions are great for getting to the heart of content topics that will compel prospective buyers because they keep their needs, interests, and challenges at the forefront. Following this line of inquiry results in a rich content plan that champions the buyer perspective.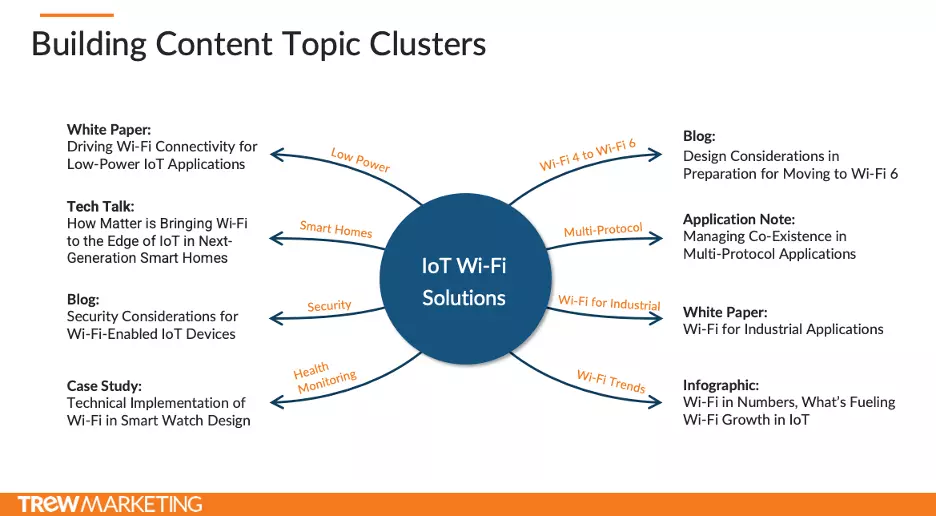 Example topic cluster; details include main theme (i.e., IoT Wi-Fi Solutions), topics (e.g., Low Power, Smart Homes), and specific content pieces to start working on (e.g., Wi-Fi for Industrial Applications)
Notice that the content ideas above focus on solving customer pain points without the feature-focused lens. By nature, these topics offer an avenue to show product and service strengths, but it's hard to achieve depth without considering the industry content around your business. A marketing plan should identify topics and content types that, together, meaningfully engage your target audience with the right content at the right time.
For more information on our approach to content planning and strategy, check out our Content Writing Webinar.

Hannah holds a B.S. in Biomedical Engineering from Wentworth Institute of Technology and a M.A. in Technical Communication from Texas Tech University. Before joining the TREW Crew as a full-time Content Specialist, she worked in healthcare consumer insights and science writing.
TREW Marketing is a strategy-first content marketing agency serving B2B companies that target highly technical buyers. With deep experience in the design, embedded, measurement and automation, and software industries, TREW Marketing provides branding, marketing strategy, content development, and digital marketing services to help customers efficiently and effectively achieve business goals.