4 min read
Using Data to Guide Strategy: HubSpot Marketing Dashboard
One of the great benefits of a marketing automation tool like HubSpot is the wealth of data you get about your marketing and sales efforts. At the same time, one of the drawbacks is the sometimes overwhelming amount of data you have. How do you sift through all the information at your disposal to focus on the metrics that really matter and use them to guide strategy?
HubSpot metrics can be broken into four sections:
Marketing dashboard
Analytics tools
Reports
Tactic-specific metrics
Today, we're focusing on the marketing dashboard, covering the most impactful reports and how you can use the data in these reports to guide your strategy.

Marketing Dashboard
The marketing dashboard is the first screen you see logging into HubSpot, so it makes senses to start here. This dashboard can be customized by adding/removing reports based on what you find most relevant.
There are three reporting widgets that should always have a place on your dashboard- marketing performance, landing page performance, and company revenue by first conversion.
1. Marketing Performance
This high-level reporting widget is automatically set at the top of your marketing dashboard and shows visits, contacts and customers for a set time period, along with the conversion rates between each. Check this weekly, monthly, quarterly and yearly, comparing period over period (i.e. week-over-week or year-over-year) to see how the metrics change over time. Set goals for this report in HubSpot to easily keep an eye on how you're measuring to your goals.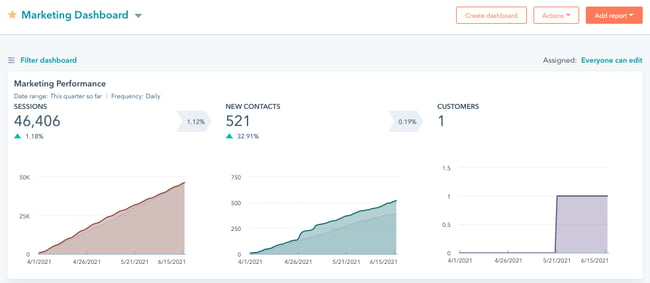 Use this report to get a quick, high-level view of how your marketing is performing and ID areas that need work. For example:
Low visit-to-contact conversion rate (<2%):

Optimize landing pages to lift conversion rates, and consider how you're attracting visitors. This could be a sign that your audience focus is too broad and you're drawing irrelevant visitors.

Low or under-goal web visits:

You're not attracting the number of visitors that you need. Diagnose the problem by diving into source reports and see which channels are struggling, then optimize or refocus your efforts.
2. Landing Page Performance
This reporting widget is also automatically placed on your marketing dashboard, and it shows views, submissions, conversion rate and new contacts for your landing pages for a set time period. Like all HubSpot reports, you compare metrics period over period to see how your metrics are trending over time.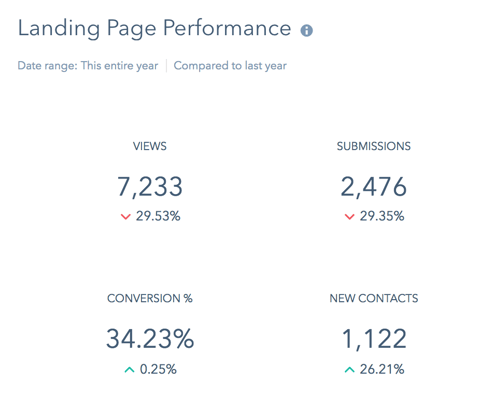 This is a key reporting widget for B2B marketing, as it shows you how your landing pages are performing over time, both in overall submission numbers and in generating new contacts. Pay attention to:
Submissions over time:

Are these increasing, decreasing, or staying flat? If you're seeing a steady decrease in submissions, this could be a sign that you need fresh content to spur submissions. Consistently low submissions could likewise be a sign that your content isn't resonating, or that the wrong people are seeing it.

View-to-submission conversion rate:

Aim for a conversion rate of 20 percent on all your landing pages. If you're missing this target, dive into your landing pages and identify which pages are over and under-performing. Look at the two sets and ID factors that could be contributing, then optimize the under-performing pages.

New contacts:

If you're hitting submission and conversion rate goals but seeing low numbers of new contacts, you're not attracting and converting new visitors on your site. This can lead to sales pipeline issues before long, so don't wait to take action on this. Focus on attracting new visitors by testing new marketing channels, such as LinkedIn ads, and optimizing your site for organic search.
3. Companies Revenue by First Conversion
This powerful report requires either full use of HubSpot Marketing and Sales or consistent syncing with your CRM to obtain deal information. It's a bit more labor-intensive to set up, but the data it imparts is worth the additional effort to set up.
The revenue by first conversion report shows the impact online marketing is having on the bottom line, and it can make a strong argument for investing in inbound marketing. It shows all deals for a time frame by first conversion- i.e., the first time an eventual customer converted, including outbound methods via imported lists. You can cleanly contrast inbound vs. outbound efforts for attracting new customers, and tie monetary amounts to your efforts.

This report will show you which pieces of content are contributing the most to eventual sales, and which marketing efforts are consistently the first-touch for customers.
Using this info, you can:
Plan content for similar topics, themes, or using the same format.
Use top-performing pieces for new contact generating efforts.
Build workflows around your top-converting content pieces.
Identify those topics and content types that aren't working, and remove them from your content rotation.
---
These three powerful reports require minimal effort on your part and will give you enough data to keep your marketing efforts on track. Our next reporting post will focus on the analytics tools section and using a combination of traffic and campaign analytics to measure marketing success and optimize your efforts.
Looking to learn more about HubSpot? Watch our HubSpot Demo webinar.