6 min read
Our Next Big Opportunity: Smart Pipeline Management
Recently, I spoke to a global audience of about 100 engineering business leaders and asked them a simple question: Are you happy with your pipeline? More specifically, I asked them to all stand, and only remain standing if they answered yes to the following questions: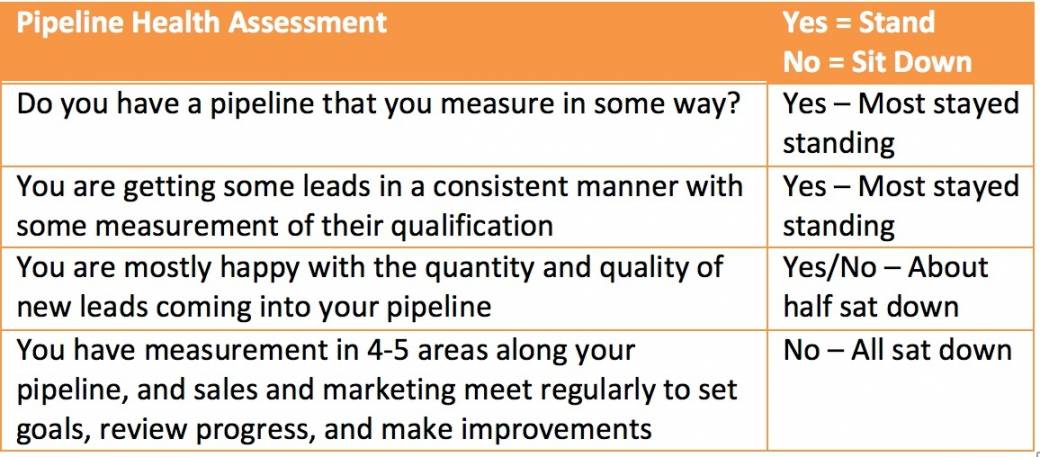 Why are so many companies dissatisfied with their pipeline? And more importantly, what are marketing and sales teams doing about it? Most often, when there are issues with a company's pipeline, marketing and sales react in silos: most of us marketers go into activity execution mode, looking at what events we can attend, webinars we can produce, emails we can send and Google or LinkedIn ad campaigns we can start. Salespeople work equally hard to fill their pipelines by revisiting old prospects, reaching higher up in the funnel to colder leads, trying telemarketing or short-term discounts, and retooling their value proposition and sales messaging.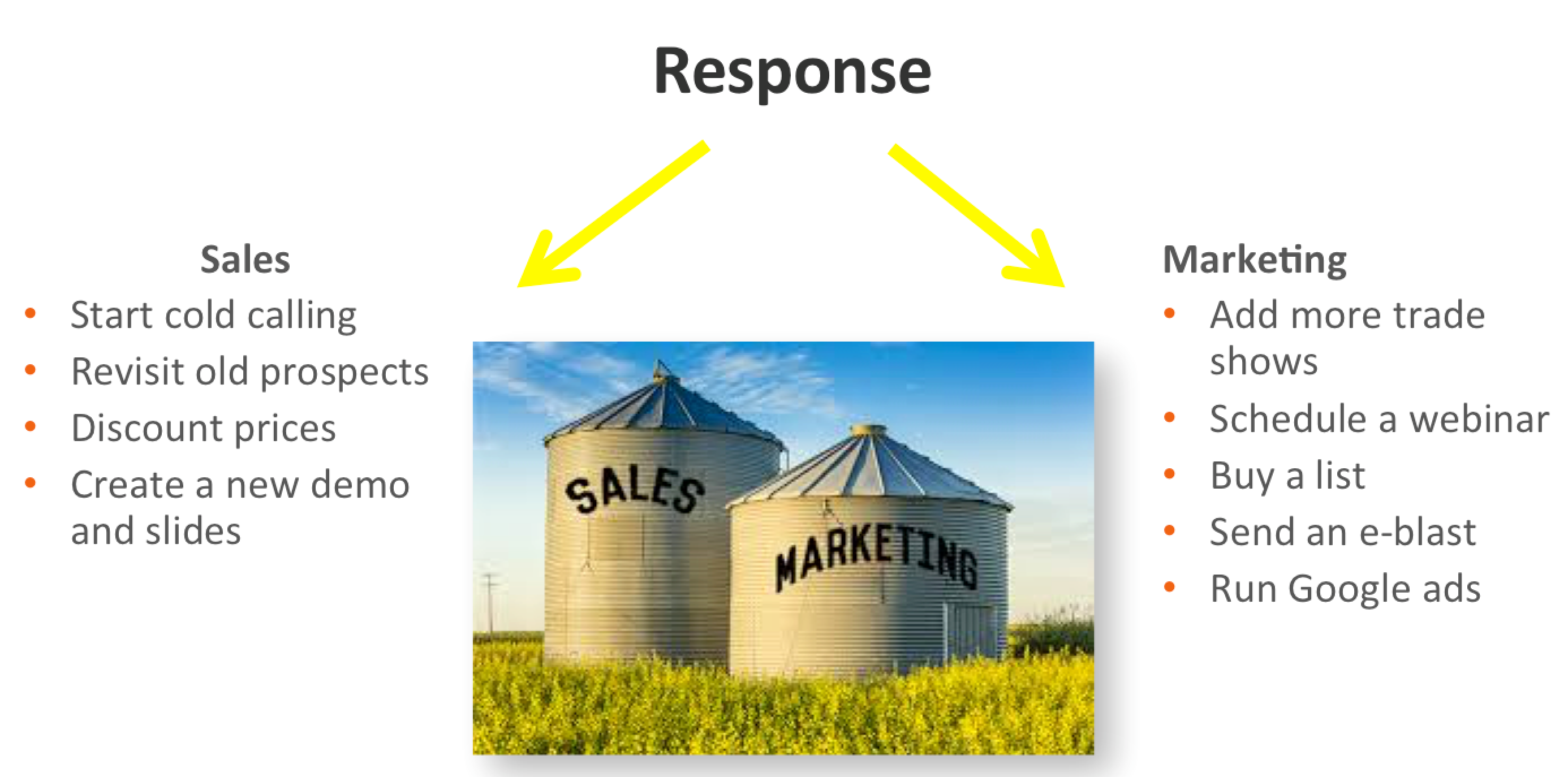 In my experience, it is not a typical response for either team to reach out to the other to discuss the issue. No doubt, both teams are working hard, but are they working smart? Are they working together to:
Create a shared understanding of the target buyer?
Discuss the buyer's needs, pain points and buying triggers and develop a content plan aligned to these?
Identify the most optimal ways to strengthen consideration?
Review the current pipeline and pin-point the exact gaps to drive demand?
More than ever, we have an opportunity to work much smarter by introducing a buyer-centric approach to sales and marketing along with shared accountability for our pipeline.
The Driving Force of Change: The Transformed Buyer Journey
What's driving this need for marketing and sales to work so much more closely together? The simple answer: the B2B buyer journey has transformed. Specifically in the engineering space we serve, our research– in N. America and Europe – has shown the following five trends:
The majority of the engineer's buyer journey has moved online
Engineers' most valued content source is Google, followed by vendor websites
Nearly all engineers prefer to do online research and evaluate vendors before talking to sales
Most engineers have 3-7 interactions with a company before talking with them directly
Most engineers are more likely to do business with a company that regularly produces new and current content
These five data points just scratch the surface of the many findings from TREW's research on the engineer's buyer journey, search behavior and content preferences. And it's reinforced by similar data published for broader B2B markets from organizations such as Gartner, HubSpot and Content Marketing Institute.
We MUST shift our approach to content and inbound marketing – we know this already. But today, to do content marketing successfully, we marketers MUST do something else: work smarter by partnering with sales. And vice versa. Ultimately, sales and marketing must both have a keen eye on the pipeline with shared responsibility and we must shift to a smarter, buyer-centric approach.
How A Buyer-Centric Approach Works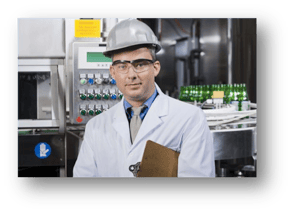 To demonstrate, let me introduce you to a hypothetical buyer named Mark. Mark is a manufacturing engineer working at a process plant with about 10-15 years experience in the food and beverage industry. Mark manages development and production for an entire product line and has authority to recommend new products and services. He has a small team and is short on time – he needs control and system design expertise his team does not have, and he decides he needs outside help.
Let's briefly walk through a few of the steps in Mark's journey from a marketing and sales perspective to show the power of these two teams working together with a buyer-centric approach to drive success.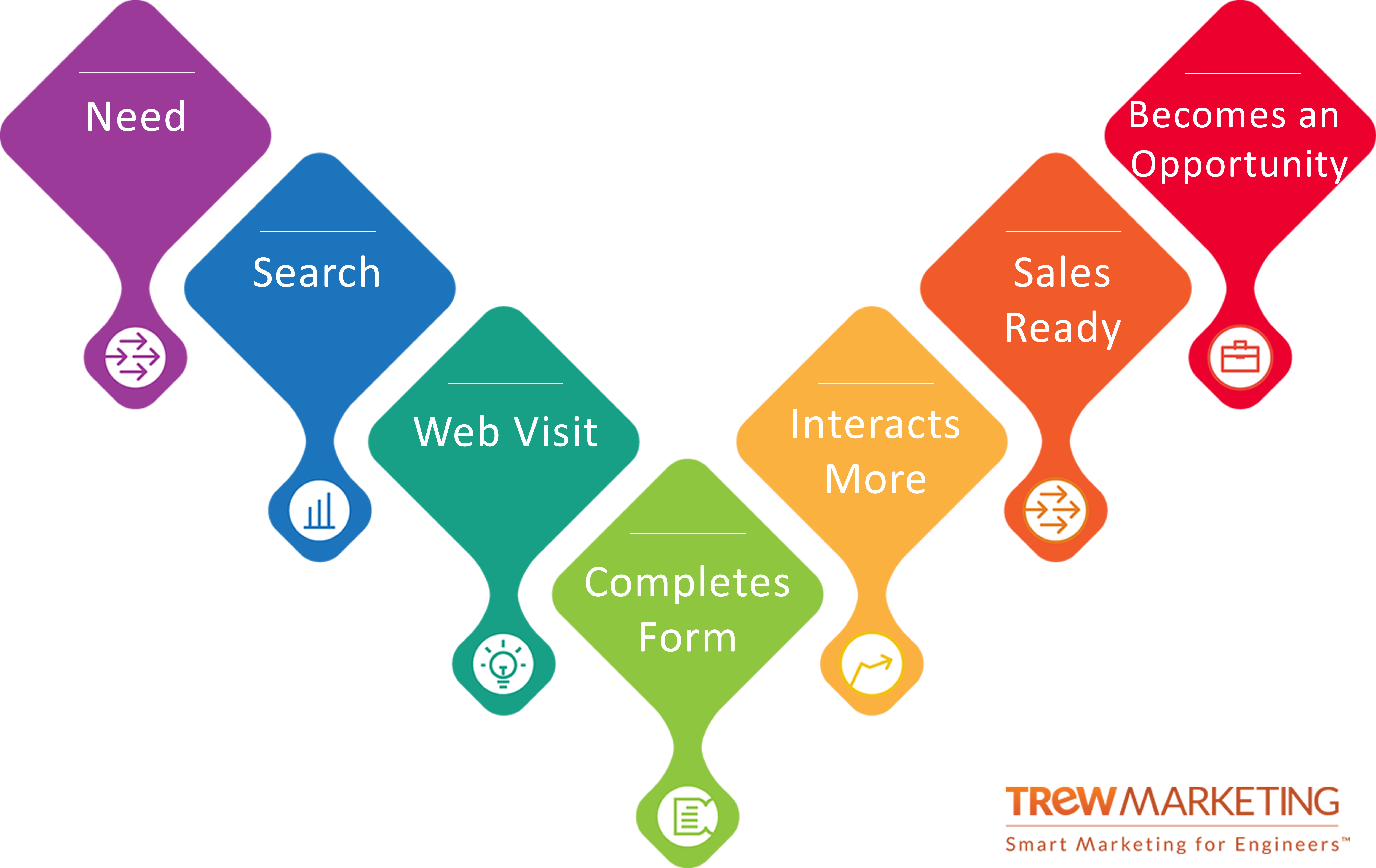 The buyer journey, from the first step of identifying a need to converting to sales-ready and becoming an opportunity.
Mark Has A Need and Searches Online: At the very beginning of his journey, Mark has a need. He goes to Google and starts typing in different words, phrases, even questions until he sees relevant results appear. As our research of engineers' search behaviors has shown, Mark may go 5 or more pages deep looking for relevant, high quality content related to his need.
Does Mark find your content? If not, you're out of the game! Boom – right off the bat, content is the deciding factor in your company's success in Mark's journey. It could be that you don't have content related to Mark's need, or you don't have it well-optimized and it's not showing up in the search results, or both.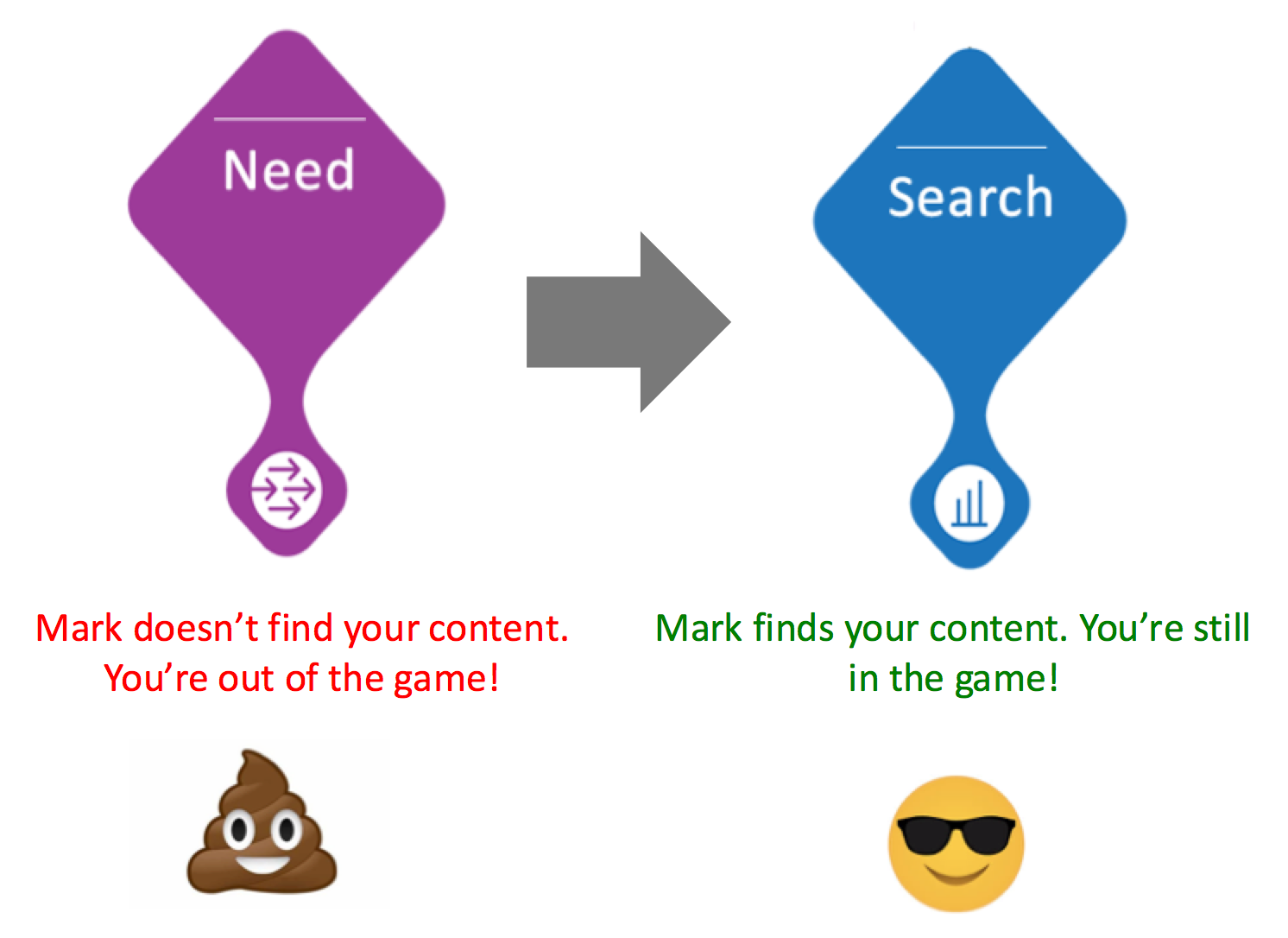 To increase your chances of staying in the game at this stage of Mark's buyer journey, here are some questions your sales and marketing teams should agree on:
What are Mark's application(s)?
What are his primary pain points?
What are common objections sales hears?
What search terms does he search on (primary, secondary)?
What are his perceptions about your company?
What do you want him to find from your company when he searches?
Mark Chooses Your Content, Earning You a Web Visit: Let's look at the next step in Mark's journey, where we're trying to get Mark to visit our website. He reviews his content choices, scrolling through search results. Mark has a lot of content options when he searches, with thousands of pages of results appearing. How well does your content stack up to the competition?
Will your content perform and earn Mark's visit to your website?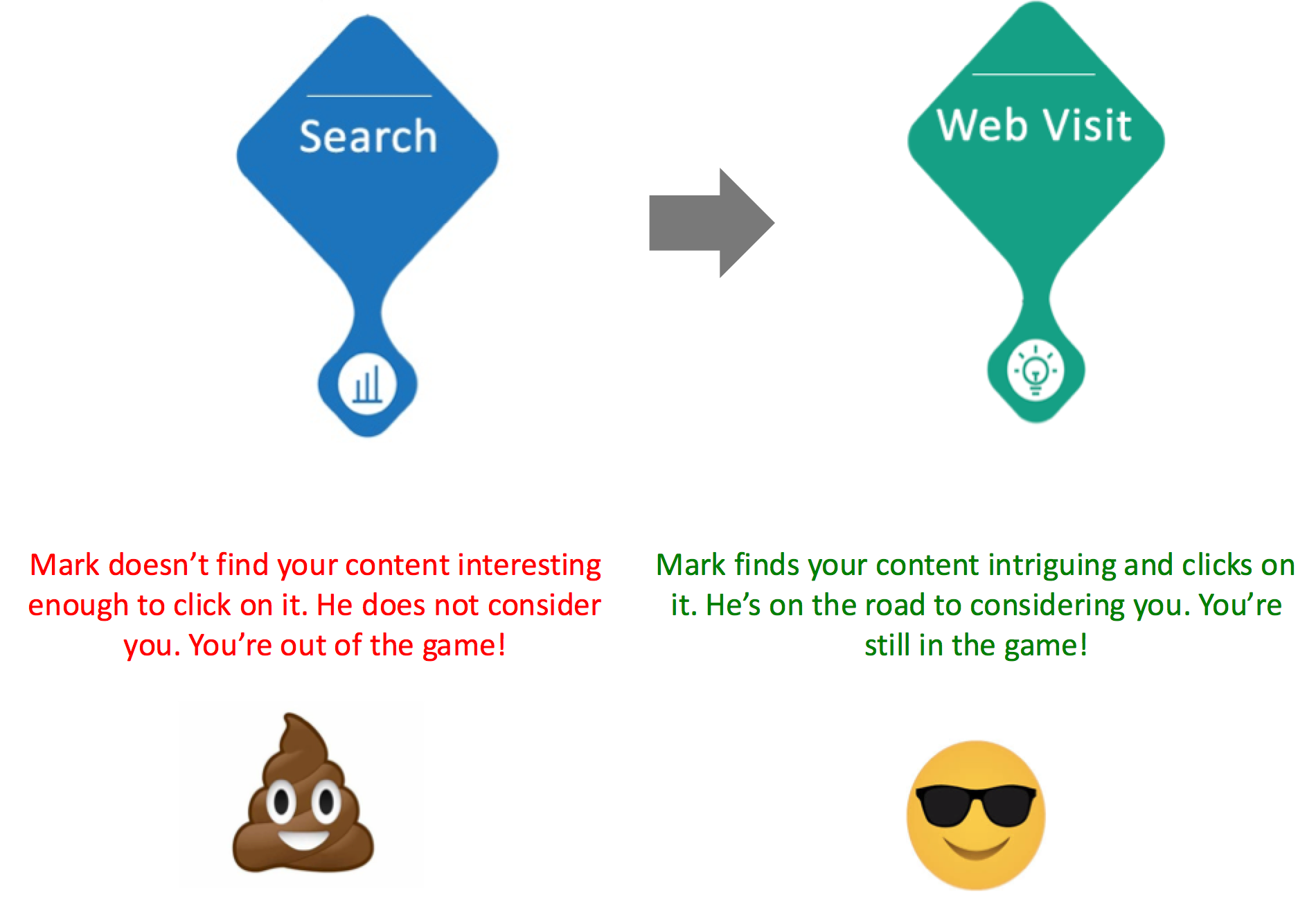 BAM! Once again, content is the deciding factor in your company's success with Mark.
To increase your chances of staying in the game of this stage of Mark's buyer journey, here are some questions your sales and marketing teams should agree on:
What content would Mark want to read?
What are the story "themes" should you build content around?
What are images that he'd find useful (diagrams, application shots, etc)?
What are GREAT headlines you could use?
You can see two very critical factors in just these first few steps of Mark's buyer journey:
Content is THE deciding factor in whether you stay in or are kicked out of the game
Marketing and sales using a buyer-centric approach and having shared responsibility can greatly improve your chance for pipeline success
To learn more about the first critical factor, read this blog post I wrote on the Content Marketing Institute's website – how to write content for technical audiences.
In terms of the second critical factor, here are some questions to consider in evaluating how smart your sales and marketing teams are working:
Do sales and marketing develop, and review, your company's personas together?
Do your teams have agreed-upon definitions for a lead, qualified lead, and opportunity?
Do you have a marketing and sales service-level agreement (SLA) in place for critical process steps such as lead follow-up?
Does marketing help sales with prospect outreach and qualification, such as progressive profiling, lead scoring, and sales content?
Does sales provide feedback to marketing on lead quality and messaging?
Is sales involved in content planning?
Does sales and marketing review your pipeline together regularly to identify issues and remedy options?
For examples of pipeline metrics we recommend tracking on a regular basis, download our latest white paper, Smart Pipeline Management for Engineers.
Our next big opportunity in marketing is to work with sales to implement smart pipeline management, and a critical part of that is having a smart content approach that starts with our customer's buyer journey in mind.
Need an outside advisor to get your marketing and sales team aligned and accountable? Contact us to schedule a meeting with a TREW Marketing Specialist to learn more about our services.