Search engine optimization (SEO) is constantly evolving and changing to display the best search results for users. As digital marketers, it can be overwhelming to navigate the ever-changing SEO landscape.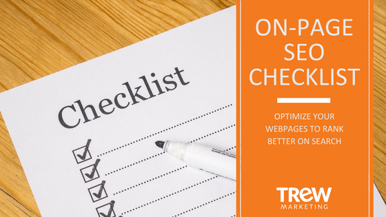 To better understand how SEO works, it's good to understand how Google and other search engines work. Google finds your website through external links to your site. Once Google finds your site, it follows links and indexes your website and content. After indexing your site, Google's secret algorithm determines where your website appears in search results.
While Google's secret algorithm is constantly being revised, you can use basic SEO tactics on your web pages to help boost your search rankings. When it comes to SEO, you must employ on-page and off-page SEO tactics to help increase your SERP rankings. On-page SEO tactics rely on optimizing each web page on your site around a targeted keyword.
With the ongoing evolution of SEO, what can you do to ensure you are staying on top of best practices to maximize the return on your content creation and attracting your target personas? TREW to the rescue! Use the checklist below to stay ahead of the Google game and optimize your web pages for search.

Select a keyword and optimize your page around it
Your target audience won't find your website unless your content contains the right keywords to attract them, so it's key that every web page on your site should be optimized around a keyword. When selecting keywords for each web page, focus on what your personas would search for when looking for a vendor. If you already have your topic clusters built out, you have completed this step.

Add the keyword to page title and headers
Now that you have your keyword selected for each web page, you want to add your keyword into your page title and the headers throughout your page. You won't do this for every single header on the page, but find creative ways to add your keyword into titles and headers.

Put keyword in page URL
Don't forget to add your keyword to your page URL. This is an easy way to show search engines that the focus on your web page is on your targeted keyword. Make sure that you keep your URLs concise and user-friendly so visitors want to follow your link.

Make sure you have keyword density at 1-1.5%
You need to mention your keyword in your text a few times. But you shouldn't clutter your content with your keyword and expect to automatically rank well. Google and other search engines will penalize your web page if the keyword density is over 2% so be careful not to overuse your focused keyword. If you have 300 words on your web page, use your keyword 3-4 times to meet the perfect keyword density percentage.

Create interesting meta-descriptions that incorporate your keyword
Meta-descriptions have the dual purpose of influencing search rankings and users. Many users select what link they click based on the meta-description. Make your meta-descriptions interesting and keyword-focused so visitors come to your site.

Add internal and external anchor links to each page
SEO is all about creating links across the web. As a marketer, you want visitors to go to as many pages on your site as possible. To do this, add links to relevant blog posts and resources for visitors to continue reading and learning. You also want to link to external content. Not only does this create a better user-experience, search engines reward you for linking to and from quality content.

Ensure each page has at least 300 words
SEO is all about proving to search engines that you are a trusted resource on a keyword and topic. Search engines take into account how many words are on your web pages. Show that you are an authority on your topic by at least having 300 words on each page. To capture attention, make your content quality and user-centric.

Include images and remember to incorporate keyword in image alt tag
While search engines can't actually see pictures on your website, your visitors still want visual imagery on web pages that reflects your keywords and helps explain technical content. Since search engines can't see imagery on your web page, you must describe what the image is in the image alt tag. Be sure to use your keyword in this image alt tag!

Optimize for mobile
More and more users are searching on mobile than ever before. Google and other search engines now penalize sites and pages that are not optimized for mobile. Make sure that your site looks right on mobile and test with different phones and browsers.
Follow these 8 SEO tactics to start ranking better on search. As create more content on your website, keep your pages optimized and improve your site based on metrics.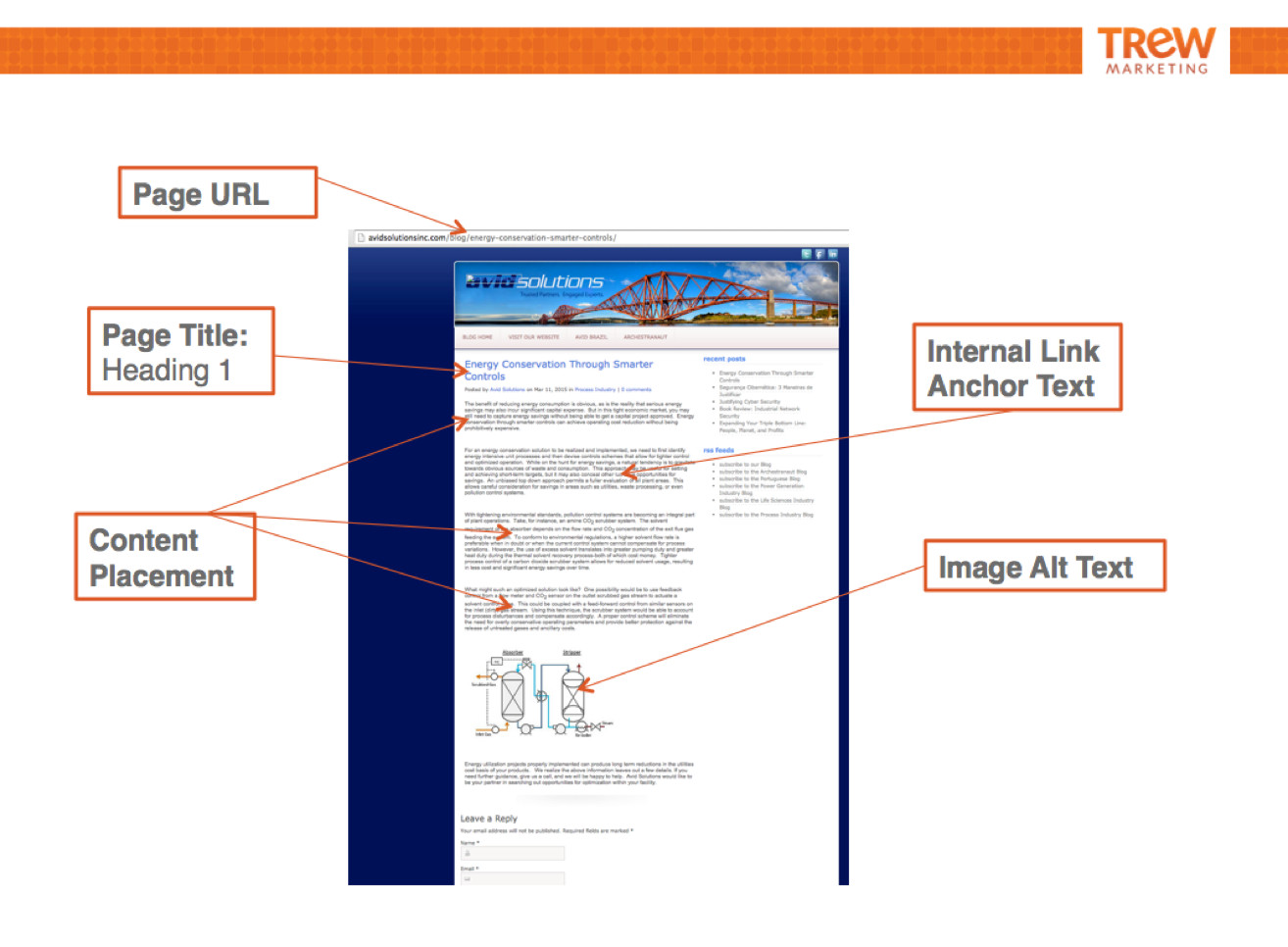 Here's an example of a blog that has been optimized around a keyword to rank higher on SERP.
Ultimately, remember that SEO is for people, not for search engines. Optimize your web pages and content to entertain and educate your visitors first. Use these SEO best-practices to establish your site as a topic authority and create a better user-experience.
You also can stay on top on SEO trends and best-practices by following Moz's blog.
Are you interested in learning more about optimizing your website? Access our free SEO Getting-Started Guide.

Marketing Manager
TREW Marketing is a strategy-first content marketing agency serving B2B companies that target highly technical buyers. With deep experience in the design, embedded, measurement and automation, and software industries, TREW Marketing provides branding, marketing strategy, content development, and digital marketing services to help customers efficiently and effectively achieve business goals.