3 min read
Marketing Tricks and Treats for Working Smarter, Not Harder
To celebrate this spooky month and look ahead to next year, we wanted to share a few tricks and treats to consider as you build your 2021 marketing plan. Whether you are looking to grow brand awareness, generate more qualified leads, or boost your thought leadership, our team has brewed up a winning potion of tactics to help take your B2B marketing to the next level.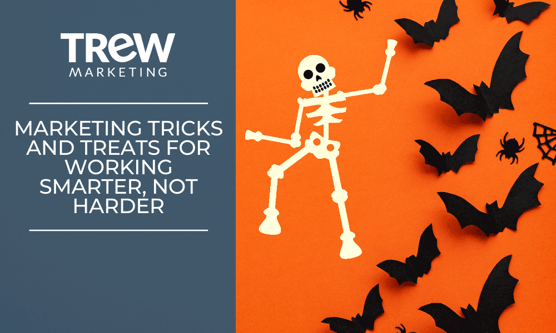 TRICK: Update and repost old blog posts
After over a decade of blogging, content becomes buried with time. By freshening up dated evergreen content, commanding it to rise from the grave, and re-posting, we've efficiently made the old new again (here's a supernatural surprise: this very blog post is an update!). Learn more about the benefits (and a few pitfalls) of this tactic here.
TREAT: Create images for your content to improve conversions
Research shows that images will increase the likelihood of someone clicking on and reading your material by 35%. TREW utilizes creepy-quick, easy platforms such as Canva to turn a boring title into an interesting, visual call-to-action.
TRICK: Repurpose content into recorded webinars and blog posts
Original content, such as conference presentations, research studies, and white papers are a precious asset. The TREW team extends the investment TREW made into these monster content pieces through creating recorded webinars, ebooks, and disaggregated blog posts. Here is an example of an ebook turned into a webinar on content marketing.
TREAT: Educate, delight and optimize through pillar pages
A pillar page thoroughly covers a topic your audience persona cares about. With rich, quality content coupled with links to more in-depth information, pillar pages have the ability to help your website rank higher in a search engine. In addition, pillar pages are filled with calls-to-action (CTAs) to landing pages that are frightfully helpful for converting visitors into leads. Here is an example of a TREW pillar page on content marketing.
TRICK: Use a calendar app as a CTA
If you have not explored calendar apps, put this on your to-do list! Not only have they saved HOURS of time for TREW salespeople playing the meeting schedule dance, TREW uses them as lower-funnel calls-to-action in our own email workflows. We suggest checking out the ghoulishly delightful HubSpot and Calendly.
Wondering how your marketing program can work smarter, not harder in the coming year? We'd love to help! Schedule time with a TREW Marketing Consultant to learn about Marketing Planning.

Julia joined the TREW Crew with a unique client perspective. As a former client, she worked with TREW to guide her employer through a brand evolution combining two 50-year-old brands. She has a passion for both brand marketing and content marketing, with extensive experience collaborating with engineers and subject matter experts in creating and translating technical material into content easily understood by technical audiences.
TREW Marketing is a strategy-first content marketing agency serving B2B companies that target highly technical buyers. With deep experience in the design, embedded, measurement and automation, and software industries, TREW Marketing provides branding, marketing strategy, content development, and digital marketing services to help customers efficiently and effectively achieve business goals.