4 min read
How to Leverage Content to Streamline Your Marketing Funnel
As a B2B technical company, you need a way to generate and convert leads in today's digital age. Your marketing objectives include growing awareness and brand trust; improving search engine performance; and generating more sales-qualified leads. So how do you manage and prioritize all of your objectives to meet your goals? Content marketing helps you meet all of these objectives.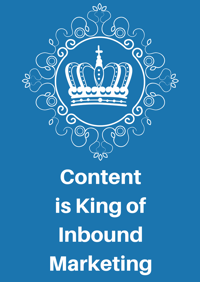 Engineers Want Quality Content
By now, you've probably heard the phrase, "Content is King." Quality content is the currency of online marketing. In today's world, consumers are constantly searching for information, testimonials, and examples of products and services that make their projects better, faster, and cheaper.
We know from our
that technical audiences search for information through the entire buying cycle--from the "awareness" stage at the top of the funnel to the "ready-to-purchase" stage at the bottom. They want information from technical experts at your company to educate them on solutions that improve their jobs and business. Take advantage of your audience's desire for information by mapping your content along your pipeline to turn visitors into buyers.

Mapping Content Along the Buyer's Cycle
You'll need to organize your content into stages of the buyer's cycle. Start by creating a content map that follows the marketing funnel. Decide which two or three campaigns to focus your marketing content on. For each campaign, identify an offer, or content piece, for each stage of the funnel with a corresponding call-to-action (CTA).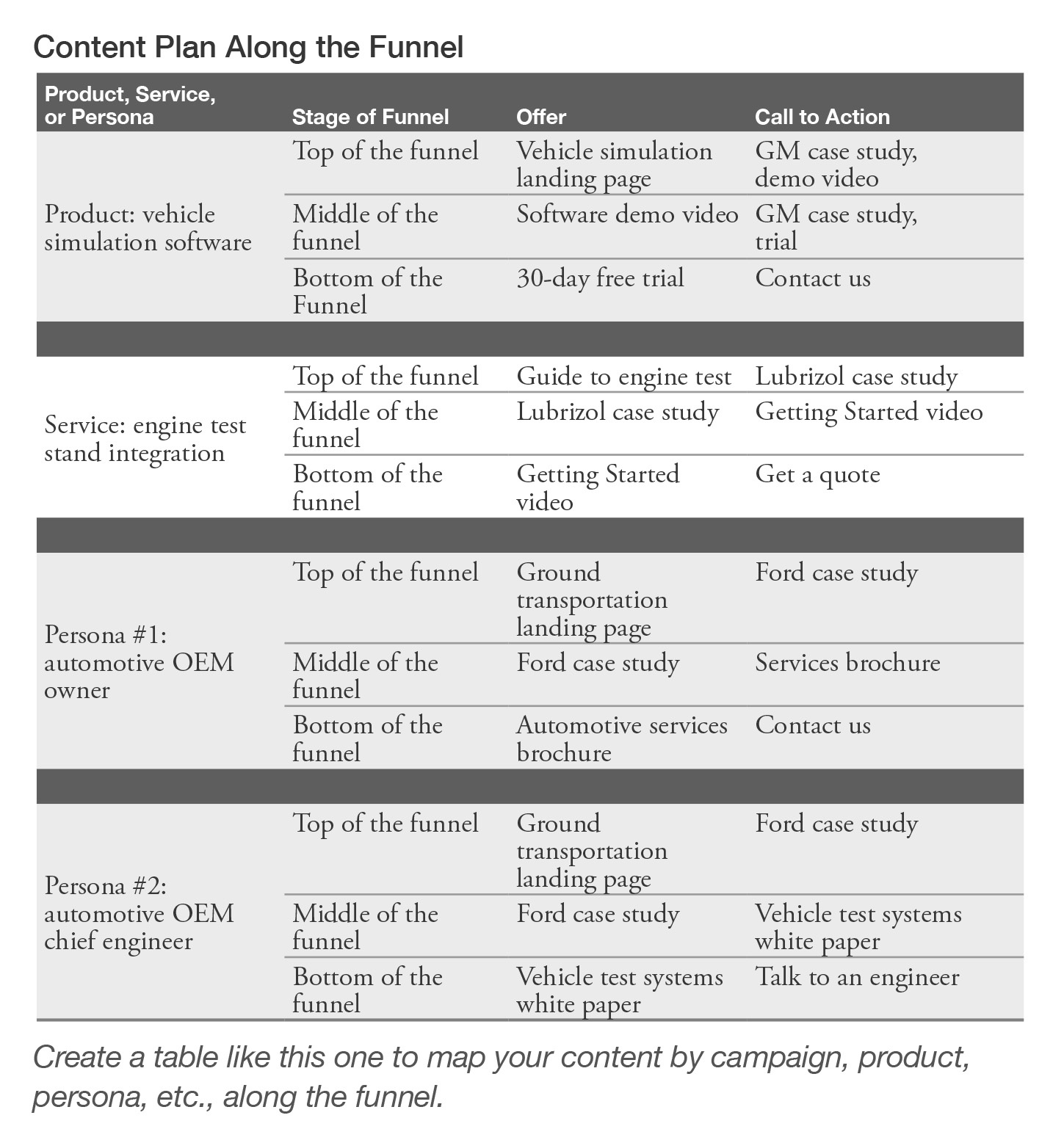 The offers should be a mix of "free" and "gated" content. Free content includes web pages, blog posts, and case studies. This free content will not require visitors to complete a lead form to access.
Gated content is premium content that can only be downloaded or accessed after someone completes a lead form on a landing page. Gated content includes in-depth technical white papers, webcasts, tutorials, e-books, and software downloads.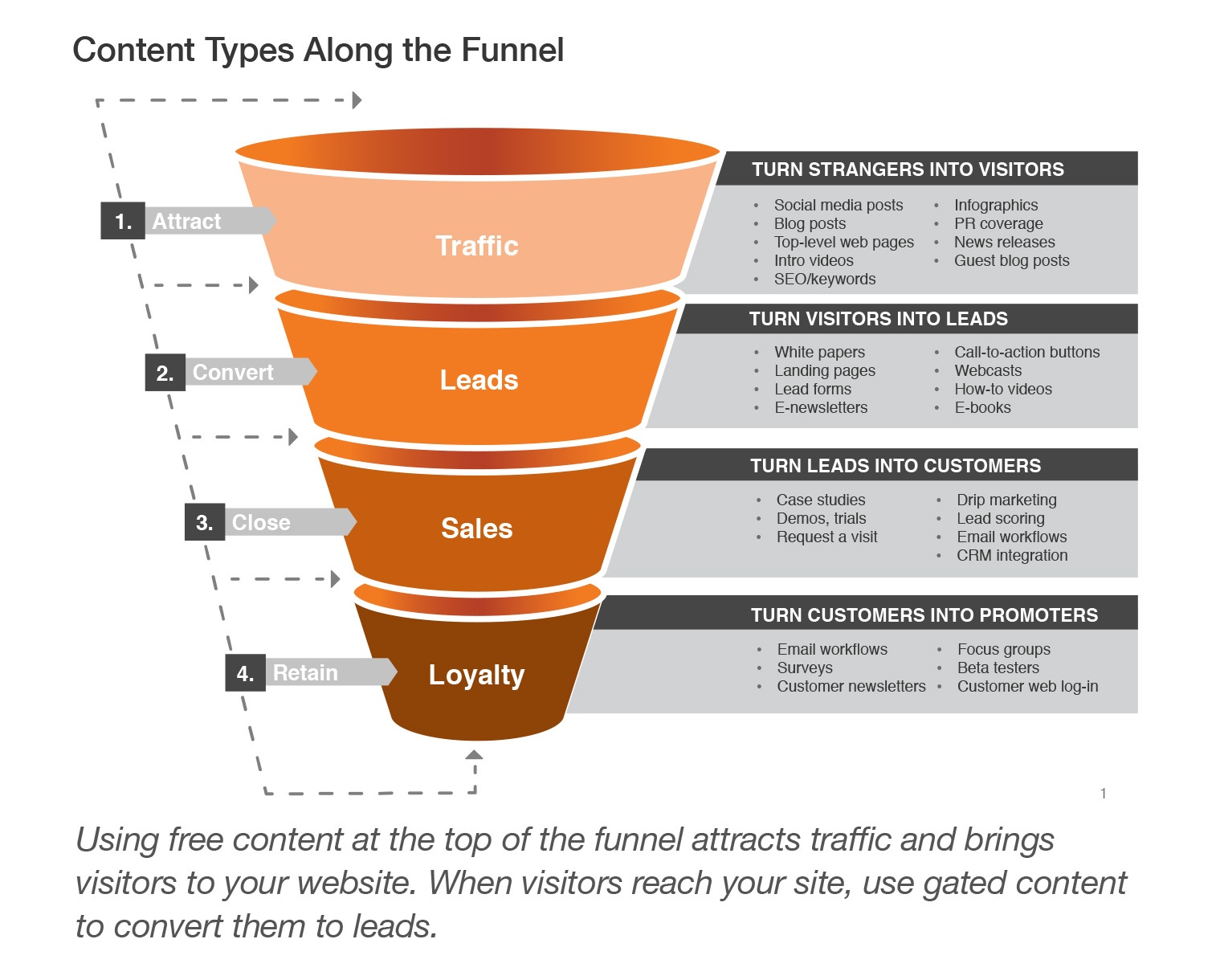 Creating a Web Experience with Calls To Action
Next, identify multiple CTAs for every stage of the funnel. CTAs can direct a visitor to free content (such as case studies) or to gated content (such as a video demonstration). Give visitors a mix of CTAs to free and gated content. Make sure your CTAs are also to a mix of different kinds of content: blog posts, videos, interactive graphics, software demos, etc. Each CTA you create allows your visitors to continue to the next step of the buyer's journey. Visitors come to your site to read your free content then click on a CTA, complete a form, interact more your content before finally becoming a lead.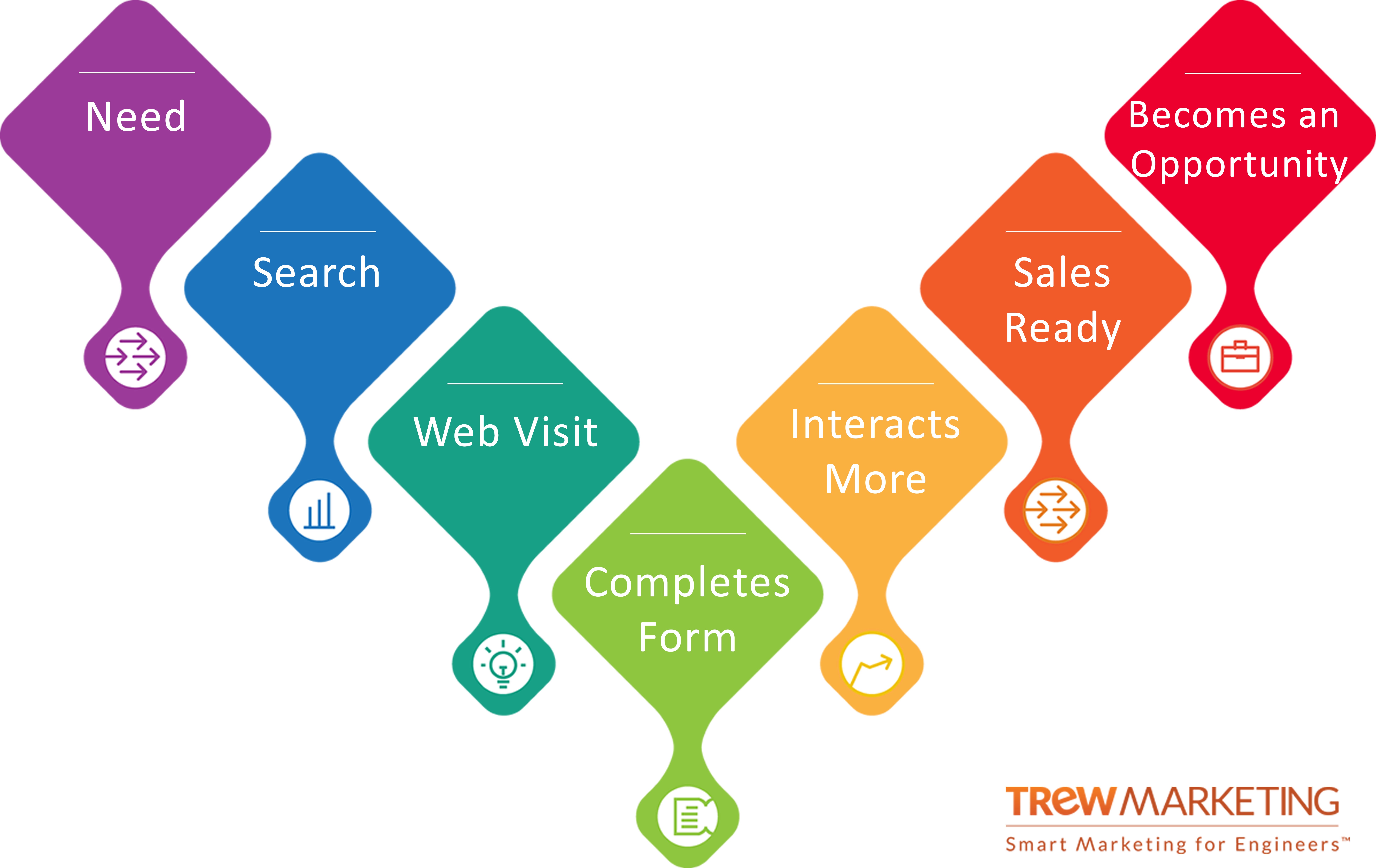 Quality content turns web visitors into clients. Develop content that propels your buyers through each step on the buyer's journey.

Use Case Example: Web Visitor Vicky
Let's walk through an example of a typical web interaction using the buyer's journey above. "Vicky," a web visitor, joins one of your campaigns at the top-of-the-funnel by visiting a landing page or blog post. She chooses to read a free case study, which contains a CTA on the last page to a gated video demonstration, housed on a landing page that requires a lead form to be completed. The gated offer is the lead conversion content at the middle-of-the-funnel.
After watching the video, Vicky sees a CTA for a 30-day trial of the software (also gated with a lead form). CTAs beyond this video can be both free and gated, giving Vicky the option to start the process again, or keep moving forward with premium content. At this point, she has become sales-qualified so you can follow-up contact with her via email, or even a phone call, to close the sale.

Locating and Bridging the Gaps in Your Content Plan
By closely looking at your buyer's journey, you'll start to see gaps in your content plan within your campaigns and down your funnel. Now it's time to brainstorm possible content to fill content gaps. Be sure to consider creating a variety of media types (video, graphics, interactive contents, etc.) to reach all of your personas. To help you brainstorm, consider these questions:
What tough questions do your customers consistently ask you?
What does your company do better than your competitors that you need to ensure prospects know about and find YOU when they're looking for it?
What challenges exist in the market that you can educate your prospects about?
What real-world examples can you use to illustrate your expertise, showing how others have solved problems your prospects also need to solve?
What are the top three to four trends or best practices in solving applications with your products or services?

Leverage Your Quality Marketing Content
Good content takes time to create. If leveraged correctly, high-quality content can have multiple uses and surprising longevity. Once you create high-quality content, repurpose and promote this content to see a return of your content investment. Prioritize your content marketing efforts by creating a calendar by campaign and stage of the funnel. This will help you prioritize:
Timing
The channels where you will share your content
Publishing date
The author responsible for developing the content
---
Content should be the driving force behind every B2B technical marketing strategy. You need to generously produce and promote content to push web visitors through the buyers journey.
Need help planning and executing your content marketing? Read our free
to get started planning your content foundation.
For help planning and mapping content along your sales funnel, reach out to one of TREW's content marketing experts today. You can learn more about our content marketing services here.
This blog post has been updated from its original post on September 16, 2014.