Marketing Automation
- HubSpot Onboarding + Training
- Integrate HubSpot With Your CRM
- HubSpot Audits + Optimization
Sales Enablement
- Sales Enablement Strategy
- ABM Strategy
- Thought Leadership Content
Website Services
- Website Strategy
- Technical Web Content
- Corporate Web Pages
Demo videos and webinars are both types of B2B video content, and there can be some crossover between the two. However, they are not interchangeable, and each meets very specific needs in your content plan and buyer funnel.
Below, we dive into definitions, tips, use cases, and examples for each content type.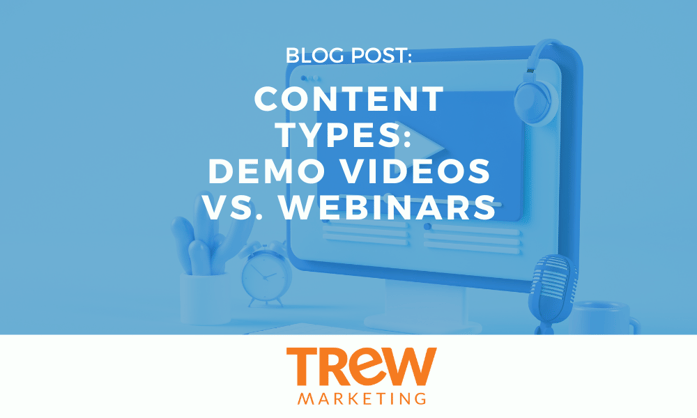 Demo Videos
Most readers are likely familiar with demo videos, having watched or recorded one in the past. A demo video is a bottom-of-the-funnel piece of content that focuses on demonstrating the features of one product or service.
Tips for a demo video:
Keep it concise. The longer your video is, the more likely a viewer will drop off before it ends. Viewers are more likely to view demo videos that are in the 5-to-10 minute range. You'll need to test this with your specific audience to get a better gage over time.
Start with the audience issue and work back to your solution. Whether you're doing a live video or a recorded video, start with a common customer problem and show how your product solves that.
Don't try to show everything all in one video. Stick to the 2 or 3 most important features and common use cases to avoid overwhelming your viewers.
Connect the product features to the viewer's life and problem, and show how the product fits into his/her life.
A demo video can be used for sales and marketing purposes.
Some use cases include:
In-person events, demonstrating a product's applications to visitors at a trade show booth.
Supplemental information on the product page of your website.
Internal training on how a product functions and its top use cases.
Use information for current customers, to help them get the most out of your product.

Example:
TREW Marketing client Wineman Technology uses a demo video to demonstrate the top uses of its CAN Interface Platform, CANalytics. This demo is included on the CANalytics product page, as well as in the technical resources section of their website.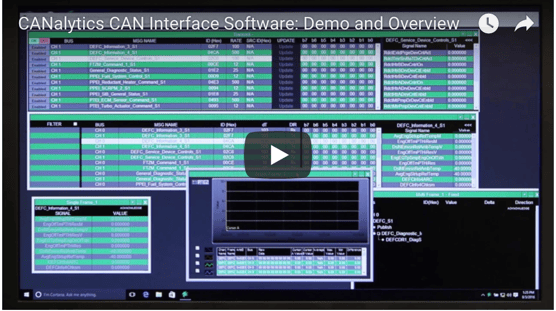 Webinars
Webinars are long-form video content that focus on educating the viewer about a central topic. A webinar can include a demo, but the focus should be on education and the demo should fall at the end of the webinar. Webinars can be middle-of-the-funnel or bottom-of-the-funnel content, based on the subject matter.
Tips for webinars:
Host a live webinar, then repurpose the recording as an on-demand webinar on your website.
Longer is better. According to a study by GoToWebinar, webinars that are 60 minutes long attract 2.1x as many registrants as 30-minute webinars, and 90-minute webinars attract 4.6x as many.
Consider partnering with another organization to increase your audience reach, boost participation, and reduce the workload for your company.
If you're hosting a live webinar, interact with your viewers. Ask questions, conduct polls, and conclude with a survey to encourage participation
Webinar use cases:
Host the webinar as a live event. After, offer the recording on-demand as an additional piece of gated content for those who missed the live event or wish to reference it again.
Repurpose the webinar content to write a white paper, ebook or series of blog posts.
Promote the webinar as part of a content series with related resources (i.e. an ebook or white paper).
Share the webinar with customers, prospects and team members to aid in educating them about the subject.

Example:
TREW hosted a webinar recently with IEEE GlobalSpec covering our latest research. The live webinar was uploaded later as an
, and the webinar content was shared in a TREW
and was included in the research report as well.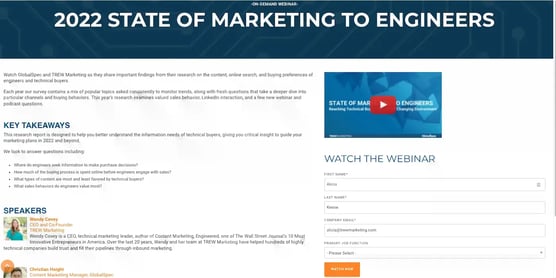 Interested in learning more about webinars? Read our top 8 webinar tips, based on the latest research.

Erin has worked with more than 40 technical companies across website strategy, content development, sales enablement, and marketing tool stack development. She's a strategy-first marketer with a passion for persona development and a deep understanding of how marketing metrics tie into the bottom line. Erin holds a B.S. in public relations with a minor in anthropology from the University of Florida. She lives in Austin, TX, with her husband John and their dog and cat.
TREW Marketing is a strategy-first content marketing agency serving B2B companies that target highly technical buyers. With deep experience in the design, embedded, measurement and automation, and software industries, TREW Marketing provides branding, marketing strategy, content development, and digital marketing services to help customers efficiently and effectively achieve business goals.