6 min read
5 Ways to Promote Videos to Technical Audiences
After putting a lot of blood, sweat, and tears into strategizing and creating an engaging marketing video, you may think your marketing video project is a wrap. Or maybe you're just planning to promote your video like you do blog posts or white papers. But promoting a marketing video requires additional effort and strategy to ensure your video content achieves desired results.
Promoting video content should be as strategic as writing your video script. You could just put your video up on YouTube and share your video on social media, but marketing videos are a big time and money investment. You should have a video promotion strategy that maximizes this investment in video to the fullest.
To help, we've put together our top 5 suggestions for promoting marketing videos to technical audiences.
1. Embed Video on Your Website
Make sure you embed videos onto your website pages. This not only helps boost web metrics such as time on page, but it also gives potential buyers the ability to interact with your video and keeps them in their buyers journey on your website vs. directing them off your website. We recommend adding your video to relevant web pages and also writing a blog post that includes your embedded video in it to promote more views.
Where to Add Each Video on Your Website:
Corporate Overview Videos - Add to your Home or About Us webpage
Culture Videos - Add to About Us, Culture or Careers webpage
Product/Service Focused Videos - Add to relevant service or product webpage
Demos and Tutorials - Create Video webpage or landing page
Case Study Video - Add to case study page and on related product/service pillar pages
If you have a large video collection, you can create a video library on your website so visitors can find all of your videos in one location.
Promet Optics created a 6-part video series on Fiber Optic Connections to educate and promote their FiBO Interferometer. After creating all 6 videos, they created landing pages for each video chapter and included calls to actions for users to continue watching each video in the series.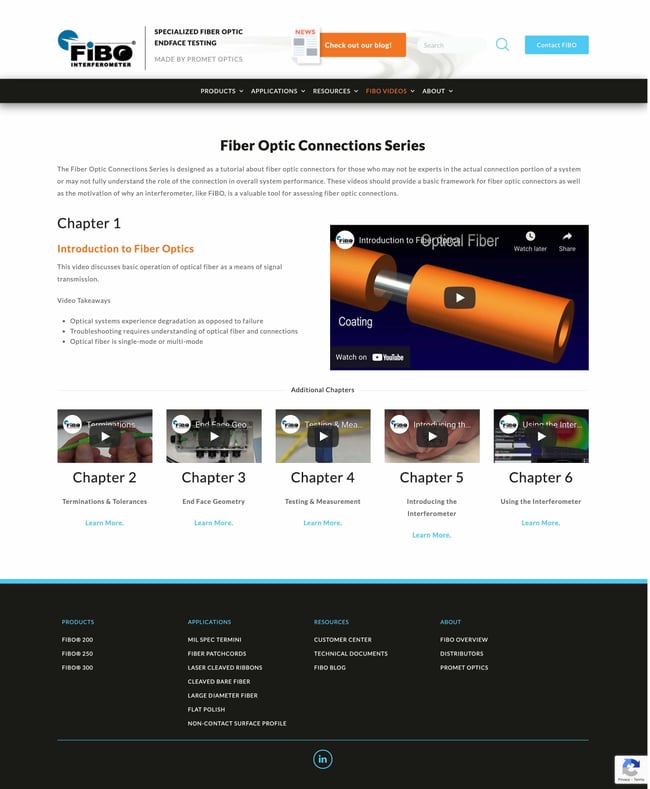 Promet Optics created this video series landing page for their 6-part video series titled, Fiber Optic Connections Series.
2. Run a Video Ad Campaign
You've put a lot of time and effort into creating marketing videos so it makes sense to run a video campaign to your targeted audience. As a B2B company working with engineers, it's likely your audience is on LinkedIn and using it to build their networks, connect with colleagues and share or find relevant information. No other social media network is as tailored to engineering and technical professionals, making it an ideal channel to target your content to the right audience.
With LinkedIn, you can create ad campaigns that show to specific companies, job titles, degrees and more, which allows you to reach your target audience. You can set up any budget so your campaign runs for as long as your budget allows, and you can also choose the type of activity you want to pay for. You can run an ad that plays your video on LinkedIn or drives visitors to your video's landing page on your website.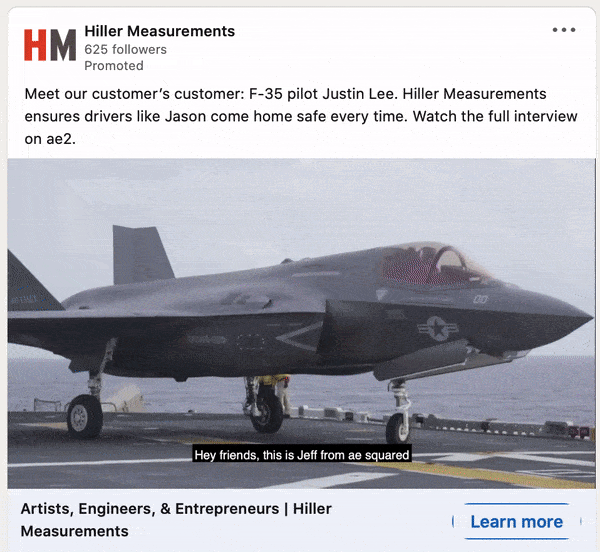 Hiller Measurements ran this LinkedIn video ad to promote their ae2 video series.
Learn more about creating LinkedIn ads by reading this blog post, Getting Started with B2B LinkedIn Advertising.
3. Add Video to Your Marketing Automation
Consider creating an email nurture series that promotes your videos to targeted contacts in your database. By sending strategic emails aimed at the lead's particular needs or persona, you're increasing the odds that the lead engages with your videos further and becomes qualified for sales outreach.
One very important point to note with email nurturing: for any nurture to be successful, it must be targeted to the needs of the people receiving it and it must be genuinely helpful. Don't target your whole database with videos that aren't relevant to their job or industry. Instead create a targeted email nurture series that guides contacts through the buyer's journey with your videos.
Remember to also include videos in your Enewsletters. HubSpot now gives you the ability to embed a video into marketing emails. You also can add an image of your video to an email that when clicked, directs users to the video landing page.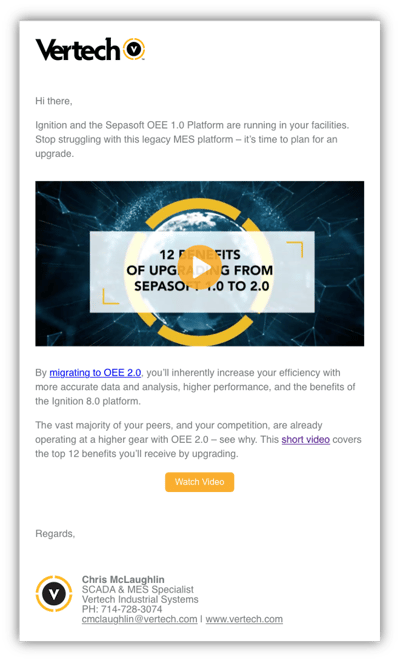 Here's an example from Vertech of a email nurturing campaign that used video to promote the benefits of upgrading to Sepasoft 2.0.
4. Fully Utilize Social Media
Social media is a great place to share video content. Studies show that video content is more likely to be clicked than posts with static images.
Here's some tips and tricks for promoting videos on your social channels:
Adding subtitles and captions for videos shared on social channels
Create short 30 seconds clips from existing marketing videos to be shared just on social media
Pin your video to the top of your LinkedIn or Twitter page
Ask employees to share company videos on LinkedIn and other social channels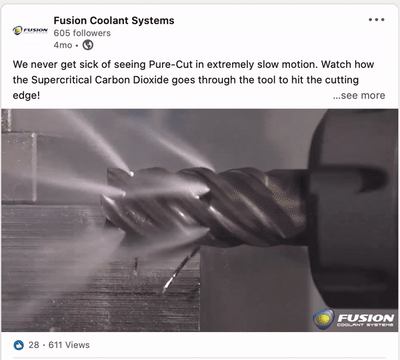 Fusion Coolant shares short video clips of their Pure-Cut in slow motion on their social channels.
5. Optimize for Search
Just like your other website content, videos should be optimized for search engines. Titles, alt tags, and meta descriptions are just as important for videos as they are for your blog and webpages. Write engaging titles and descriptions and be sure to add in keywords.
You can add video transcripts to web pages that feature your video so they can be indexed by search engines. For TREW's podcast, we include transcripts to help boost SEO for each podcast episode, while also providing users the ability to watch, listen, or read podcast episodes.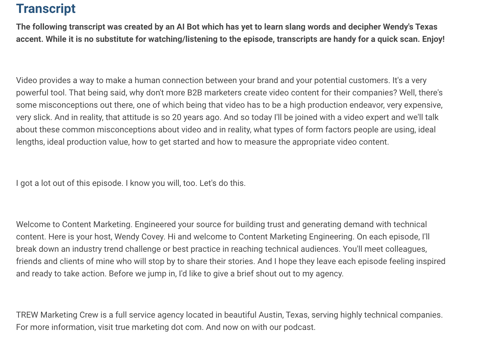 Here's an example of a transcript from Wendy Covey's Content Marketing Engineered podcast on Why Video Shouldn't be so Complicated.
---
To continue learning more about about video, explore our Video Marketing Getting-Started Guide.

Marketing Manager
TREW Marketing is a strategy-first content marketing agency serving B2B companies that target highly technical buyers. With deep experience in the design, embedded, measurement and automation, and software industries, TREW Marketing provides branding, marketing strategy, content development, and digital marketing services to help customers efficiently and effectively achieve business goals.