4 min read
2022 Should be the Year You Finally Tackle Video
Here at TREW, we made video marketing a focus area based on what we know about how technical audiences prefer to consume content. Our recent
found that 96 percent of technical audiences watch videos for work, up from 93 percent in 2020. If you have been delaying B2B video marketing, now is the time to begin the journey, but you can benefit from these three lessons we picked up last year.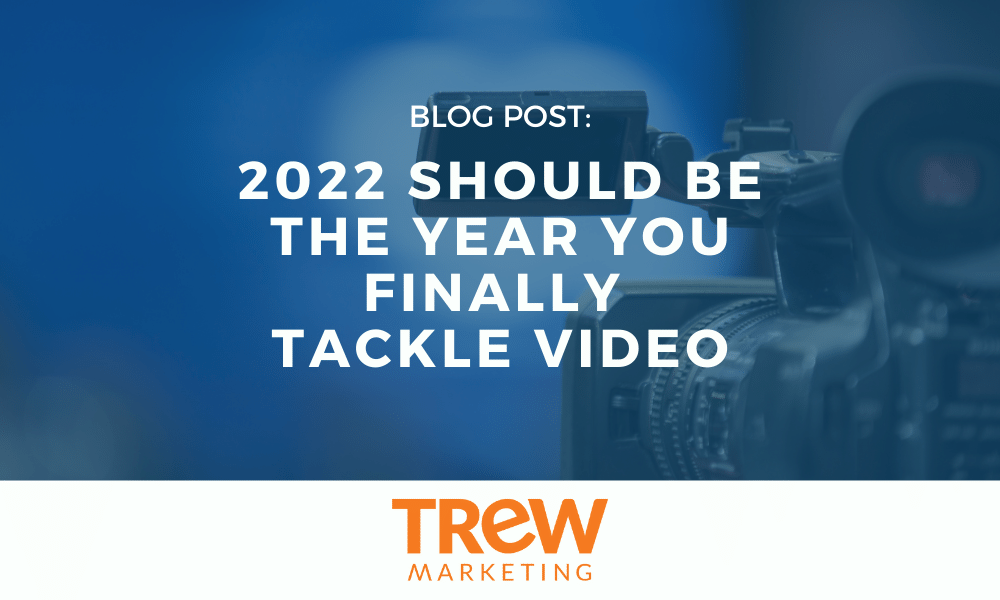 Over the course of more than a decade in business, and having the advantage of being located in Austin, Texas - one of the creative centers of the charted universe - we've had the opportunity to build a network of gifted, reliable video production talent. But we wanted to grow our video planning skills internally so we could be more flexible for our clients and better versed in a media that was clearly growing in popularity.
If you've been on the fence about tackling video projects, we're here to encourage you to take the plunge. It's time well spent and it's an opportunity to create asynchronous value for your audiences - meaning a little effort and skill goes a long way when it comes to video production.
1) Don't Overcomplicate Your Video Ambitions
When scientists and engineers watch a video for work, it's because they need to know how to do something or how something works. It's easy to be intimated by the thought of producing a polished, gleaming video that gives your product or service the shine that it deserves. But the harsh reality is that nobody cares all that much about how it looks. If you have a visual story to tell, point a camera at it and tell it. Start there, and you'll be surprised by how much momentum you gain just by getting over that initial hump. You don't need a fancy camera or lighting equipment, and chances are you can get your message across with your phone.
We've put together a video marketing kit that captures some resources and best practices for video marketing, but it really starts with having something to say. If you think you have a message that would translate to video, start by writing a script and outlining some key visuals. Jot down a few talking points and match those points with what you want to show; if you can do this then you're in good shape. Don't get analysis paralysis because you're trying to create the Godfather Trilogy of test and measurement how-to videos.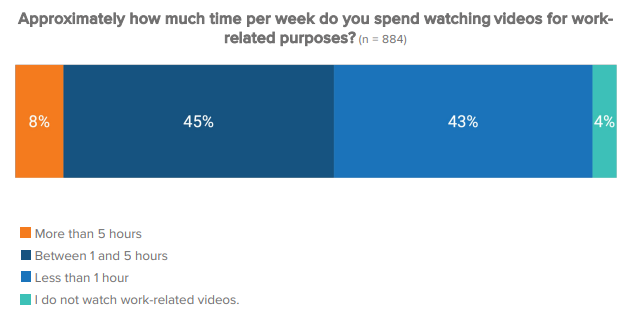 53% of survey respondents watch at least one hour of work-related videos each week.
2) Script As Much as Humanly Possible
Everything you put on camera needs to be scripted first. This will obviously prepare you or your subject for what will be said, but it's also an opportunity to troubleshoot any weaknesses in your story. Recently a client approached us with what they thought was a simple video request. They had collected footage of their product demo and recorded a voice over, but didn't have the expertise to assemble the material into a cohesive story. Since 2021 was the year of the video at TREW, we agreed (the hubris!). It didn't take long to realize that even with the script written and recorded, there were large gaps in what we would show. Armed with a pile of footage and the voice track, we created a rough storyboard that we could use to identify where there were gaps in coverage and make a plan for those portions of the video. By scripting everything out this way we could see what was missing and were able to use supplemental stock footage and introduce a few more shots of the product to round out the visuals.
Had the storyboard portion happened before or even in conjunction with the script writing, we could have identified those gaps earlier in the process. In this case it was a minor obstacle, but in situations where you are shooting new footage, this could have resulted in not getting an important shot, and for most videos going back and shooting something you missed the first time around is a project killer.
3) Learn to Love the Editing Process
One of the most surprising things I personally learned through this was how much editing a video is similar to writing any other piece of content. Your responsibilities at this point in the process are to put the elements in the right order. We use Adobe Premiere Pro, and like most other editing suites you arrange the elements of your video on a timeline. This can be a tedious process but the more effort you put into the storyboard and writing stages, the easier getting everything right in the editing process will be. The client video I mentioned above was saved in the editing process because we were able to rearrange things and deviate from the way they were originally scripted. Don't let yourself get too attached to your original ideas, and the edit is where you can experiment with different orders and sequences, and find things you might've missed while shooting.
Creating compelling videos doesn't have to be expensive or complex, but with just a little planning a good video can generate miles of valuable marketing content. To learn more about mastering video marketing, explore our video marketing kit!

TREW Marketing is a strategy-first content marketing agency serving B2B companies that target highly technical buyers. With deep experience in the design, embedded, measurement and automation, and software industries, TREW Marketing provides branding, marketing strategy, content development, and digital marketing services to help customers efficiently and effectively achieve business goals.