6 min read
Three Key B2B Digital Marketing Trends for 2022
The global events of the last few of years have accelerated growing digital trends, and marketers have been forced to respond accordingly. Salesforce's Seventh Edition of the State of Marketing report found that 90% of marketers have adjusted their digital engagement strategy since the pandemic began. Of the 90%, half indicated they have completely changed their digital marketing strategy in the last year.
As we wrap up 2021 and prepare for the year ahead, we wanted to share what we at TREW see as three key 2022 B2B digital marketing trends to help you and your team stay on track.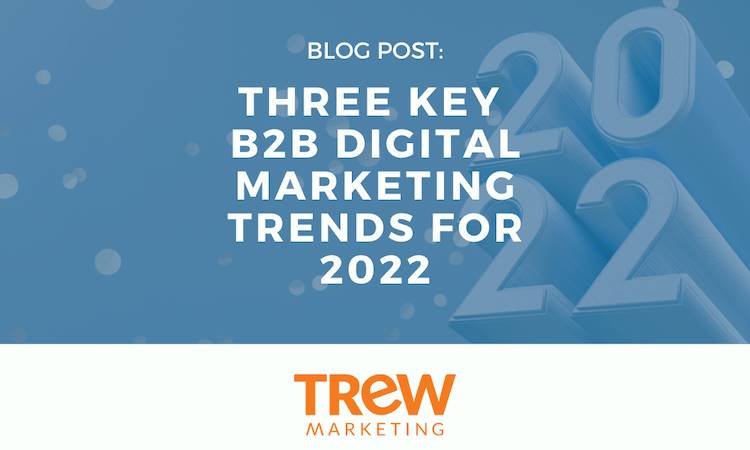 Your Digital Marketing Current State
With fewer in-person events and one-to-one sales opportunities, it's no big surprise that your website and digital marketing efforts are now front and center in your marketing plan. You've likely redesigned your website, updated your brand messaging and personas, created a variety of educational buyer's journey content targeted to your buyer personas, and optimized your sales and marketing integration and processes to keep your sales team primed with high-quality leads and opportunities.
If you've invested in inbound marketing over the last five years, you've likely seen at least at 20% increase in your web sessions. Your organic sessions are growing to nearly 50% of your total sessions or higher, your domain authority is 30 or better, your blog has 10% more subscribers, and your video views and YouTube followers have increased 30% year-over-year. With results like these, it's tempting to pat yourself and your team on the back and just let your efforts ride in the new year. While you should most definitely take some time to celebrate the results of your marketing efforts this year, after you've done a victory lap and a few high fives, ensure you're set up for success next year by preparing now for 2022, leveraging new trends, and establishing KPIs (key performance indicators) to achieve your desired future state.
B2B Digital Marketing Trends to Implement in 2022 To Build Your Ideal Future State
Trend #1: Video Content on Steroids
Video has become the dominant medium. Research from Cisco estimates that by 2022, online videos will make up more than 82% of all consumer internet traffic—15 times higher than it was in 2017. Many B2B marketers are still not fully capitalizing on the power of video but expect that to change in 2022. B2B buyers crave video content, and they are looking for video content at every stage of the buyer's journey. Additionally, in Content Marketing Institute's Manufacturing Content Marketing Benchmarks, Budgets, and Trends With Insights for 2022, videos ranked as the most used (86%) content type, followed by short articles/posts (83%), and virtual events/webinars/online courses (70%). Videos also were the content type manufacturing marketers said produced the best results.
What You Can Do: Creating a mix of corporate overviews, product or service demonstrations, employee spotlights, culture videos, video podcasts or Vlogs, explainers and tutorials as well as client success stories are just some of the bite-sized videos that B2B marketers should invest in.
Explore this full playlist to see B2B explainer videos about services that TREW Marketing offers.
Future State KPIs to Track:
Video views
YouTube follower growth
LinkedIn video post interactions
CTA interactions from video
Trend #2: Changes to Google Core Web Vitals Make Website Performance More Important Than Ever
Another trend impacting 2022 is the rollout of Google core web vitals. Announced in May 2020, Core Web Vitals is Google's user-focused metrics designed to gauge a website's health in terms of user experience.
Core Web Vitals are used as a ranking signal meaning websites that fail to apply best practices will be given a lower ranking score.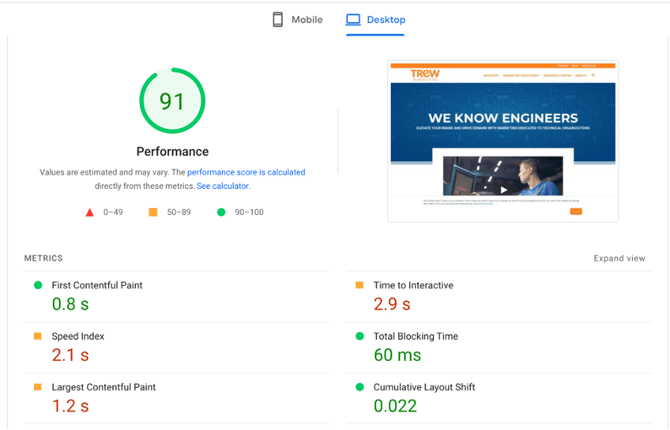 The TREW Marketing website passes the Core Web Vitals on desktop devices.
What You Can Do: Run a page speed insights report and see where Google recommends you make changes and the level of effort and benefits you can expect. Your goal will be to rank in the green or good zone for each of the core vitals metrics below.
Future State KPIs to Track:
Largest Contentful Paint (LCP) measures loading performance.
First Input Delay (FID) measures interactivity.
Cumulative Layout Shift (CLS) measures visual stability.
Trend #3: Shifts in Internet Privacy Regulations
One of the biggest challenges for marketers in the coming year will be establishing user identity without the help of third-party cookies. Historically, marketers have relied on third-party cookies—small files installed on a user's computer by a 3rd-party tech platform when a user visits a website. But starting in 2022, Google Chrome will completely ban the action tracking between sites via cookies. Without them, marketers will be forced to come up with alternatives. This will force marketers to better rely on first-party cookie data and insights from social media, email marketing, and other digital platforms.
Another privacy update that will impact email marketing is the Apple Mail update to their consumer privacy protection that began September 13, 2021.
Here are the 3 big changes to Apple Mail's privacy policy:
Apple will pre-open emails
IP addresses will be hidden
Open rates may rise to roughly 30% for B2B customers, with no change in actual engagement
What You Can Do:
This update is independent of email client tracking and is something that customers experience with all email providers. You should always look at other data points in addition to open rate, so this is an opportunity to make sure you are incorporating click rate and other metrics into your overall strategy for tracking engagement. One work around for tracking open rates considering this change is to create a list of non-Apple Mail users in your database and track open rate on that group. You can do this through third-party tools like litmus. Also subjectline.com has an Apple Mail tool to estimate your open rate.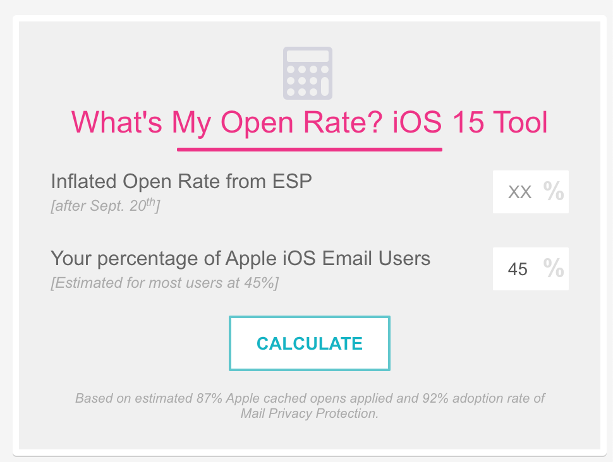 This tool from subjectline.com helps estimate your true open rate.
Future State KPIs:
Open Rate (without Apple Mail)
Click-Through Rate (found by taking the number of clicks your email received divided by the number of times your email was successfully delivered—i.e. not bounced)
---
Now that you know the key marketing trends, try incorporating our recommendations into your 2022 marketing plan. Need help creating a robust content marketing plan? Watch our marketing planning webinar led by TREW's own Jennifer Dawkins and Lee Chapman.

Lee guides agency strategy and performance, and she champions the ongoing pursuit of building a great marketing team. She has extensive B2B technical marketing experience across a spectrum of industries and application areas including test and measurement, control and automation, and industrial manufacturing. Her focus has always been on building lasting partnerships that connect marketing strategy to bottom line-business results. Lee lives in Austin, Texas where she is passionate about supporting organizations working to end homelessness and provide affordable housing in Central Texas.
TREW Marketing is a strategy-first content marketing agency serving B2B companies that target highly technical buyers. With deep experience in the design, embedded, measurement and automation, and software industries, TREW Marketing provides branding, marketing strategy, content development, and digital marketing services to help customers efficiently and effectively achieve business goals.