4 min read
Let's Chat: An Intro to Online Chat and Chatbots
Online chat is one of the fastest growing areas of web right now, with Business Insider experts predicting that in 2020, 80 percent of enterprises will use chatbots. TREW's own research with IEEE GlobalSpec showed 17% of respondents considered chat one of the three most important features of a website, ahead of video content and regularly added new content.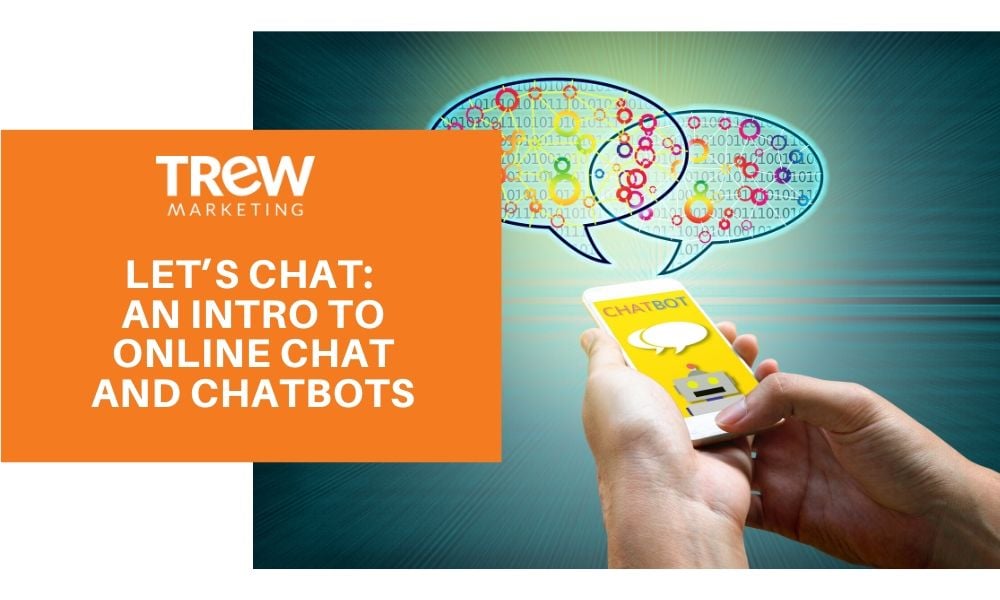 With that being said, many B2B companies struggle with implementing chat. Will their technical audiences use it? What can chat be used for? How do you even get started with chat?
Let's dive into these questions.
Will technical audiences use chat?
The 2020 Smart Marketing for Engineers research report shows a small group of technical users who currently value chat as a web feature.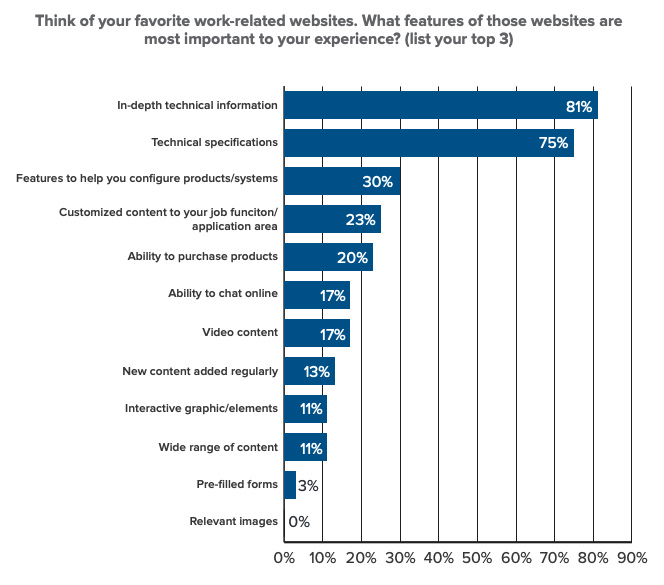 However, chat adoption is high in consumer markets such as banking and retail, and typically this trains behavior that we then see on the B2B side.
As more B2B companies implement chat on their websites, our technical audiences will begin to grow accustomed to chat not only in their personal lives but also in their business lives. At this stage, most technical B2B companies should at least evaluate chat as a communication channel for web and consider implementing it on a trial basis.
What can chat be used for?
Online chat is primarily used to field questions or receive requests for customer service; generate leads and guide visitors for marketing; or qualify leads and secure meetings for sales.
Online chat can function in one of three ways:
As a fully automated bot that asks questions and offers resources through multiple choice scripts and workflows, or through artificial intelligence software
As a live chat, where an actual person responds to messages
As a combination of the two: A chat workflow may transition from bot to human as the user interacts and chooses different automated paths
The way chat is designed to function will depend on the end goal and audience. A customer service chat would likely connect to an actual person (at least during business hours) or would be a combination approach to help route service requests to the correct person/department. Chat focused on nurturing contacts and sharing marketing or sales resources, on the other hand, would likely be fully automated.
How do I get started with chat?
1. Set Goals
What do you hope to achieve by adopting a chatbot? Some example goals may include:
Generate more prospect meetings
Reduce support calls, or shift all support functions to online
Increase relevant form completions and resource downloads
Answer common questions faster
2. Identify Key Features
Are you looking to dip a toe into chatbots or go all in? How much do you want to invest in chatbots today, and how important are scalability and personalization as your chat program matures? Script-based chatbots are low cost and quick to implement. You also can easily move into live chat within the same environment. For small and midmarket companies, this is usually the place to start.
3. Select a Technology Vendor
As mentioned previously, you should select a chatbot tool that either ties into your marketing and sales platform through APIs or works within your platform today. Drift is a robust chat tool that has open APIs with many other platforms. HubSpot also offers a chatbot that is natively integrated into its CRM, marketing, sales, and support tools.
4. Script Your Chats
This is where strategy comes in. Define each step of the chatbot, including multiple choice question/answers, branches and end steps or transfers to team members for live chat. The process for building out a chatbot is similar to that of building a workflow, so start with step four in our workflow strategy blog if you need some tips.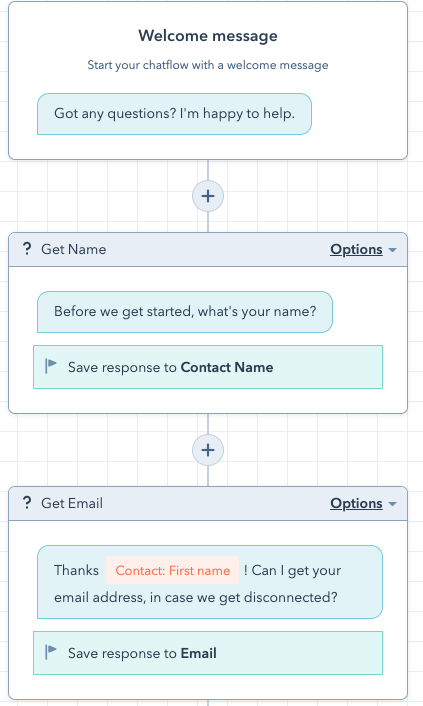 Backend of a TREW chatbot using HubSpot, where answers get logged to the CRM
5. Set Office Hours and Recipients
If you plan to use a bot and live chat hybrid approach, you need to determine the hours in which your chat option is live and identify who is on call for this purpose. There may be additional routing logic if the chat recipient changes based on type of request (sales vs service) or based on service area or industry.
6. Push Live and Measure
Track the completion rate for each of your chatbot scripts and tweak to optimize. Be sure to look at both the hybrid and bot-only results.
---
Not sure if chat fits into your web strategy (or what your web strategy even is)? Dive into our web design and optimization kit to build a strong website that serves your top audiences.