Updated March 7, 2018
Search engine optimization (SEO) is a key part of content creation, and one that is often neglected. Optimizing your content for search involves a combination of employing content best practices, such as identifying a keyword and using it in specific areas of a content piece, and technical best practices, including conducting backlink audits and setting up redirects for 404 errors.
The end goals of SEO are a) to secure ranked pages on search engines results pages (SERPs), preferably on page 1; and b) to improve the rankings of pages that are already showing up, bumping them higher up in SERPs and thereby increasing the likelihood of click-throughs.
One vital aspect of SEO is the page meta description, and it's important not just for SEO but also for user-experience.
What is a meta description?
The meta description is a 300 character snippet that shows up underneath the page title on SERPs. (editors note- this limit increased from 160 characters to 300 in December 2017)

It should succinctly sum up the focus of the page, using the keyword and any other relevant phrases or details. Brevity is key, as Google will cut off the meta description if it exceeds the character limit of ~300 characters. This is why some meta descriptions on SERPs end abruptly with an ellipsis.

How do I create a meta description?
Your content management system (CMS) should either have the built-in ability to add meta descriptions, or should have an SEO plug-in available for this purpose. As HubSpot users, we at TREW can add meta descriptions by toggling from 'Edit' to 'Settings' in the page builder.
Then, we just add in the meta description text in the provided field. This is live once the page is published and can be edited after that as needed.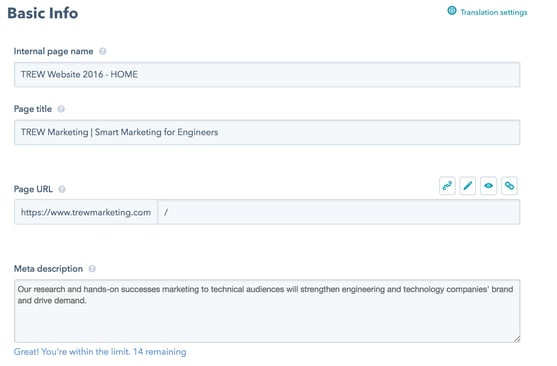 Why do I need a meta description?
Having a descriptive and keyword-inclusive meta description is part of optimizing your web page, but it's especially critical when it comes to user experience. This summary is one of the first things a searcher will see after entering his/her query, and it will either prompt the searcher to click through or to move on in his/her search.
Think of a page's meta description as an advertisement: this enticing page summary works to convert searchers into visitors. Due to the impact the meta description will have on page visits, give each meta description the same regard you'd give to page content and copy.
Note: If a page does not have a meta description, Google will auto-fill this in using the beginning text of a page. As this text does not necessarily contain keywords or reflect the overall content of the page, it is always better to write your own, optimized meta descriptions rather than rely on Google.
---
Now that you have meta descriptions down, learn more about the other key aspects of SEO, along with how to maintain your site's SEO, with our annual SEO maintenance checklist.