February 19, 2015
Webinars are trending and for good reason. These web-based seminars are a cost-effective way for attracting prospects by providing a 45-60 minute mini-training session. In exchange for this new education, people are more than happy to give you their name and email address. And the best thing about webinars is that they are not a once-and-done marketing effort. Your recorded webinar can be viewed on demand for months – or even years – to come, and can continue to generate leads.
A recent study by marketingsherpa.com revealed that 92% of the marketers surveyed consider webinars/webcasts to be very or somewhat effective. In fact webinars/webcasts were ranked as the most effective (in terms of achieving marketing objectives) of the 18 choices given.
To clarify, webinars and webcasts are very similar with the main difference being the initial broadcast of a webinar is interactive and allows participants to ask questions, whereas a webcast is simply a broadcast with no viewer interaction.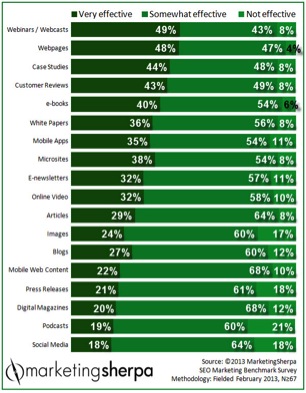 Marketing Sherpa, SEO Marketing Benchmark Survey
After reviewing over 7,000 webcasts, ON24 discovered that webcasts have seen a 47% increase in average viewing time, reaching around 56 minutes. Additional helpful stats outlined in the report include:
The best day to send promotional emails is Thursday
The best days to hold a webinar are Tuesday, Wednesday, and Thursday
Typical marketing webinar registrant to attendee conversion is about 43% (meaning a little more than half of the people registering to view will actually attend – helpful to keep in mind when setting goals)
A webinar's top interactive tool is the Q&A session with viewers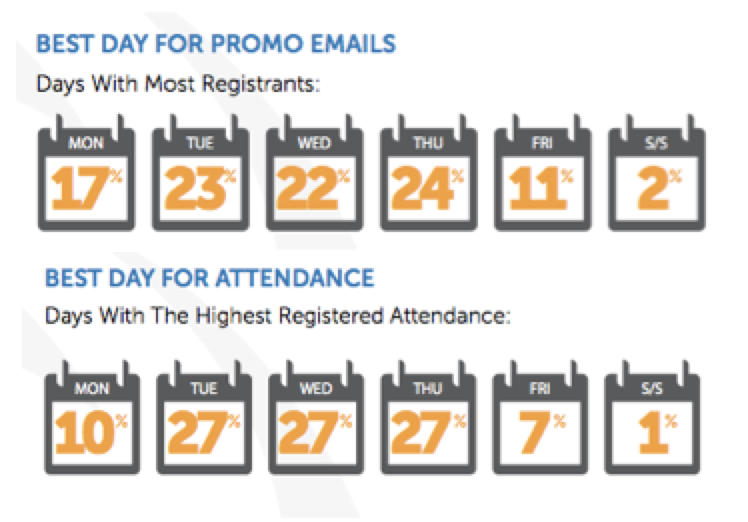 At TREW, we have found that webinars are an excellent way to reach our technical audience simply by sharing what we have learned (like our "Calculate Leads to Revenue in 3 minutes" webcast). It's one of the easiest and most effective ways to extend the life of your premium content. For example, if you've written a white paper, why not conduct a webcast with one of your top engineers covering the main points with accompanying slide set?
If you are looking to grow brand awareness and build the top of your marketing funnel, share what you know in a format where potential prospects can ask questions and learn from you. Webinars are a worthy investment of your time that will continue to generate leads for months to come.
Do you want to attract prospects through your webinars but not sure where to start? TREW is here to assist with your virtual events!