Hello my fellow remote workers! Whether on purpose or under duress, many of us find ourselves working from our homes during these unprecedented times. I've actually been at this for twelve years now, fifteen for my husband (and can you believe we've managed to share home office space together all this time and are still happily married???).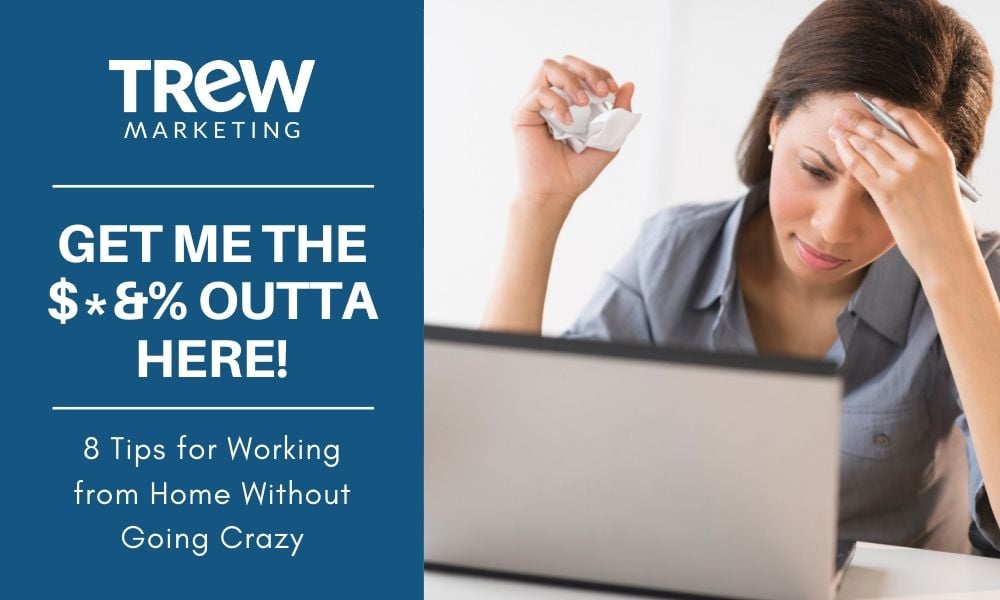 I've had to make big changes in how I work compared to my corporate days. It's not always perfect, particularly for we extroverts that gather energy from interacting with others, but trade-offs aside, I absolutely love working from home. So much so, I've built my business as a virtual workplace, and have found this to be a competitive advantage for attracting top talent.
One of the top reasons I am partial to this work style is the time savings. I've easily recaptured three hours of my day that would've been spent on hair, makeup, clothes and commuting to work. Both work and family benefit from this extra time (and no commuting frustration, which is a BIG deal in Austin right now).
I also appreciate the time and space to focus. When I'm recording a podcast or working on a heady project, I'm not faced with a ton of interruptions which would've been the case in my old cubicle environment.
These are only a few of many benefits to working from home, but there are some challenges as well. The following eight tips from the TREW Crew will help you and your teammates stay focused, productive, and happy working from home.
Create an inspirational space. Ideally your work space is located in a separate room as a dedicated office, which you can close off from the rest of the house. If this isn't possible, carve out a fixed location with a desk just for your use. Location don'ts: Your kitchen table (one of the busiest areas of the house and needs to be cleared for meals); your sofa (promotes bad posture and the temptation of Netflix), and your bed (inspires naps and other..ahem..distractions).

Lee and her husband John share a dedicated home office

Craft a productive schedule. Creating (and sticking to) a schedule ensures you have focused time to work without interruptions, as well as time for family and friends. My colleague Morgan has 3 kids under age ten(!) who are all at home during the COVID -19 shelter-in-place, and she has worked her kids' naptime and screen time to coincide with the work where interruptions are most detrimental. Are you a morning or evening person? Figure out which hours of the day you are most productive, and as best you can, work your schedule to capitalize on these. For example, I find that I'm at my best in the morning, and by the afternoon I have frazzled monkey brain. I'll step away for a workout, then come back not only refreshed but with clarity and creativity to apply to my final work hours of the day. Of course, you'll need to also be accessible to teammates and clients, so some flexibility may be required.

Stay organized and disciplined. Daily/weekly to-do lists and project management tools (at TREW we love Trello – one of our teammates is even using it to plan her wedding) are important for any job, but even more so when faced with the extra distractions that a home office presents. Depending upon your situation, you may have kids, pets, spouses, and personal social media all vying for your attention. Laundry and other household chores are also tempting distractions, but can be worked in as part of get moving and break time (see #5). Use good judgement and discipline to stay focused and productive.

Adrianne's cat, Silver, makes for a friendly office companion

Keep out of the fridge/pantry/bar. Between access, restlessness and boredom, it is quite tempting to load up on food and drinks all day long. To combat this, start with stocking healthy foods over tempting sugary, carb-filled stuff. Be mindful of the length of time between meals/snacks. Drink lots of water, don't overdo the caffeine, and for goodness sake stay out of the booze during work hours.

Stand up, get moving! One of the biggest transition issues I had to working from home was sitting in the same position for too long. Between this and being a career-long computer worker, I have bummer neck and shoulder pain. So what can we do? Besides setting up your desk, computer and monitor in a nice ergonomic manner, you need to stand and take breaks. Bonus to those of you who, like me, have invested in a stand-up desk (my husband goes old school by relocating his laptop to the kitchen bar when he needs to standing time, which is a great hack). Another tip: when you don't need to be directly in front of your computer during a call, take it outside. Pace around, pull some weeds, check the mail. Smart watches are super helpful by providing alerts when you've been in one position for too long, and track daily goals for standing and moving hours. Exercise is paramount to keep you healthy and your anxiety levels in check. If social distancing keeps you from the gym, go for a walk or run outside or pop in a streaming workout you can do from your living room.

Wendy uses a stand-up desk and balance board to change her posture during the day and sneak in a mini-core workout

Take breaks and change your scenery.There comes a time when you realize that perhaps you haven't left the house in 3 days (hopefully you've showered and changed clothes…if not, see #7) and are starting to feel depressed, claustrophobic, grouchy, snappy, etc. It is not an attractive look on you, trust me. It is time to get the $*@% outta there! Social distancing aside, I'd suggest hitting your local coffee house with good internet or going out to lunch with a friend. With social distancing, try working outdoors using your mifi at a local park. Pick up lunch to go. Take a drive, maybe give your car some love with a wash while out. Call a friend to catch up. Just get away from your desk.

Dress for (home office) success. Confession…I have spent some number of days working in PJs, but I find myself feeling kind of icky about it by the end of the day. It is mentally stimulating and motivating to put on "day clothes" and brush your hair (and teeth!) before you tackle the day. I'm all about the yoga pants and athletic wear, but let me tell you that a sports bra starts to get very uncomfortable by hour five of your workday! Also consider your meetings…will you have customer-facing video calls today? If so, at least the top half of you needs to look professional. (Some of my colleagues keep a business shirt nearby for quick changes should a surprise video call await them!). My advice is to get out of your PJs, wear something comfy but presentable (great for getting out to lunch/coffee, after all), and make a sportswear wardrobe change for your workout.

Keep in touch. Without seeing your teammates every day, you may begin to over-rely on email communication. Don't fall into this trap! It is important to connect human-to-human. Some subjects are ok for email, but others are much better by phone or video call. GoToMeeting, Zoom, and Google Hangouts are great tools for this. Be sensitive to the subject and pick the best vehicle for communication. As a team, getting on weekly video calls are an awesome way to keep in touch. No one cares if you are dressed well or wearing make-up for these calls, so don't let that be a deterrent. We virtual workers at TREW are SO over it! Don't be hesitant to reach out frequently throughout the day (within reason, of course), the same as you would with your teammate or non-annoying cubicle neighbor in the office.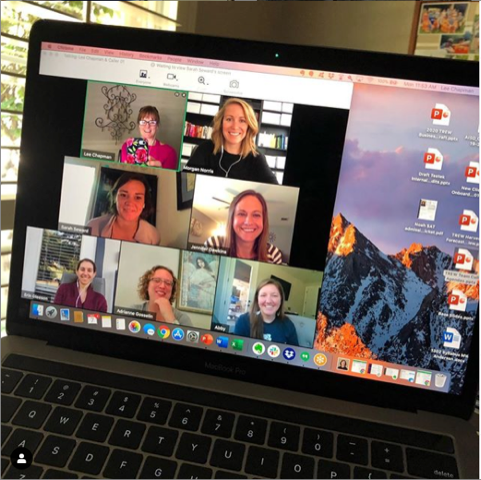 The TREW Account Services Team hard at work, using GoToMeeting for their weekly internal video call