I love reading business books. I've always loved to learn, and after college, reading books has been a valuable source of ongoing learning. From time to time, a book will really strike me as especially valuable – maybe because the topic is especially interesting to me, like my review of Simon Sinek's book, Leaders Eat Last or the timing is right for me to learn about a subject. Or maybe it's the author's ability to present a topic in a simple and meaningful way that resonates.
In the case of Get a Grip, it was all three of these reasons:
The topic – Entrepreneurial Operating System (EOS) – is very interesting to me as a business owner
The timing is right – we needed to change how we were running TREW to achieve the next phase of growth
The concepts are presented in a simple and actionable format – using the book, the TREW leadership was able to implement EOS over the course of a year
Let me first briefly explain Get A Grip, what EOS is, and then I'll share my key takeaways.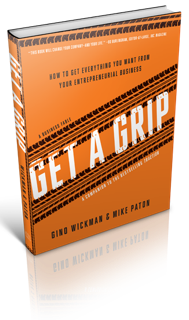 Get a Grip: The Plot
Get a Grip, as it states on the cover of the book, is a "A Companion to the Bestseller, Traction." I have not read Traction, but I understand it is written in a how-to format to explain the EOS methodology. What I like about Get a Grip is it's told in the form of a story, with real characters leading a real business facing real challenges.
The book starts out with two business owners – Eileen, who has an operations focus, and Vic, who leads sales and is a big-picture guy. They are facing a desperate time in their business – growth has stagnated, Eileen and Vic are not on the same page about how to turn the ship around, and their workloads are leaving them feeling like they're barely treading water.
What follows is a the story of Eileen hearing about EOS, convincing Vic they should adopt it, and through a series of meetings over the course of several quarters, Eileen and Vic getting their company back on track for growth. As the reader, you are a fly on the wall, listening to all the arguments, debates, challenges, and light-bulb moments and witnessing a stagnated group of individuals working in a disorganized fashion the transform into an energized, focused leadership team where people know their roles, what they're accountable for, and how they're expected to contribute to the company goals.
Sounds Pollyanna, right? Too good to be true? It's not. Vic and Eileen have to make many tough decisions about what they want their business to be, they have to look in the mirror and be realistic about what their strengths and weaknesses are, and they have to lead their team through big changes to get to the other side of the transformation. It's hard work. It takes patience, commitment, and discipline. And through the book, you hear the story of how they "got a grip" on their business by adopting EOS.
Like any good book, it has a very happy ending. Vic and Eileen transform their business, set a vision for a future of growth, and everyone is clear on their role to get there. They achieve this by adopting a way of running their company called EOS – the Entrepreneurial Operating System.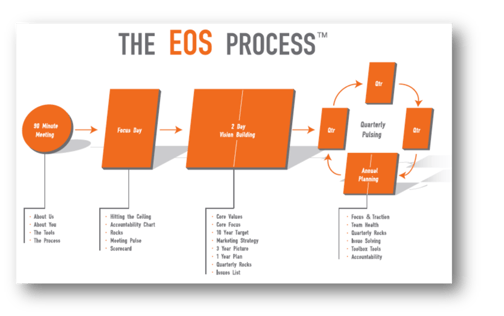 What is EOS?
EOS is a system that includes both a process and a set of tools that business leaders follow and adopt to become a focused, accountable leadership team working together toward a shared vision. The tools you use along the way guide you through the process of defining your company culture, core values, vision, and 1-/3-/10-year goals.
Here are the three biggest takeaways from the book and the benefits we've realized at TREW from adopting EOS:
1. Implementation and Sustainment. There are two parts to implementation – initial and ongoing sustainment. The process diagram above shows both. You can implement it yourself, or you can hire a professional implementer. At TREW, we did it ourselves, and it's worked great, but we are naturally disciplined, open and decisive. If your leadership team could benefit from an outsider leading you through the process, you should do it. It's well worth the investment to get it right.
2. The Accountability Chart and Right People Right Seats. One of the early, big wins for us in adopting EOS was clarifying our leadership roles. In the EOS model, it's called the Accountability Chart (AC) (image below), and it defines what the authors call "RPRS – Right People Right Seats." It's taken from the Jim Collins book, Good to Great, in which the company is a bus, and individual roles are the seats on the bus. In EOS, you define two key roles at the top of the AC – the Visionary and the Integrator. You follow this with defining the rest of the seats on the leadership team, the five primary roles and KPIs for each seat. For Wendy and I, we had never clearly defined our roles as owners of the business. As is the norm with most entrepreneurs, we did whatever we had to do to grow the business in the early days. That worked to a point, but at some point, it breaks. Reading Get a Grip came at the perfect time for us, as the way we had worked that brought us early success was not going to be the way we took the business to the next level. We needed defined roles, so we could work smarter and leverage our strengths to drive the business forward in a high-performing fashion.
3. The real magic - Traction. During implementation, light bulbs go off one after the other. It is an eye-opening, and clarifying process. And yet, as powerful as that initial process is, I have found the real power is in the ongoing use of EOS, or what the authors refer to as Traction. This is done through weekly meetings (what they call the "L10"), quarterly planning meetings and setting and achieving "rocks", identifying and solving ongoing issues, and doing annual planning where you revisit your 1-, 3-, and 10-year goals, company values and culture etc. These are the elements that add up to what the authors refer to as your V/TO – Vision/Traction Organizer (image below).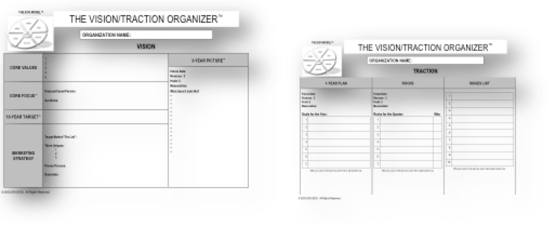 I am a true believer in EOS. So much so, I mention it in my own book (Chapter 2, pg 21) as a recommended step in developing your business goals before defining your marketing objectives with an agency like TREW, or your internal team.
If you are a TREW client, and are interested in getting help implementing EOS at your company, send an email to info@trewmarketing.com with your request. While I am not a certified implementer (maybe I'll do that in retirement), I live it each day at TREW and have a now led other clients through the implementation process.
Visit the official EOS website here.