4 min read
3 Things Top Performers Do to Ensure Marketing Planning Success
In my 6 years as a marketing strategist for TREW, I've had the opportunity to work with many B2B marketing leadership teams to build successful marketing plans. And occasionally, I've worked with teams that, despite developing a great plan, failed to implement it successfully. I recently had a prospect ask me what separates teams who are able to implement successful plans that generate results from teams who create plans, but don't see results.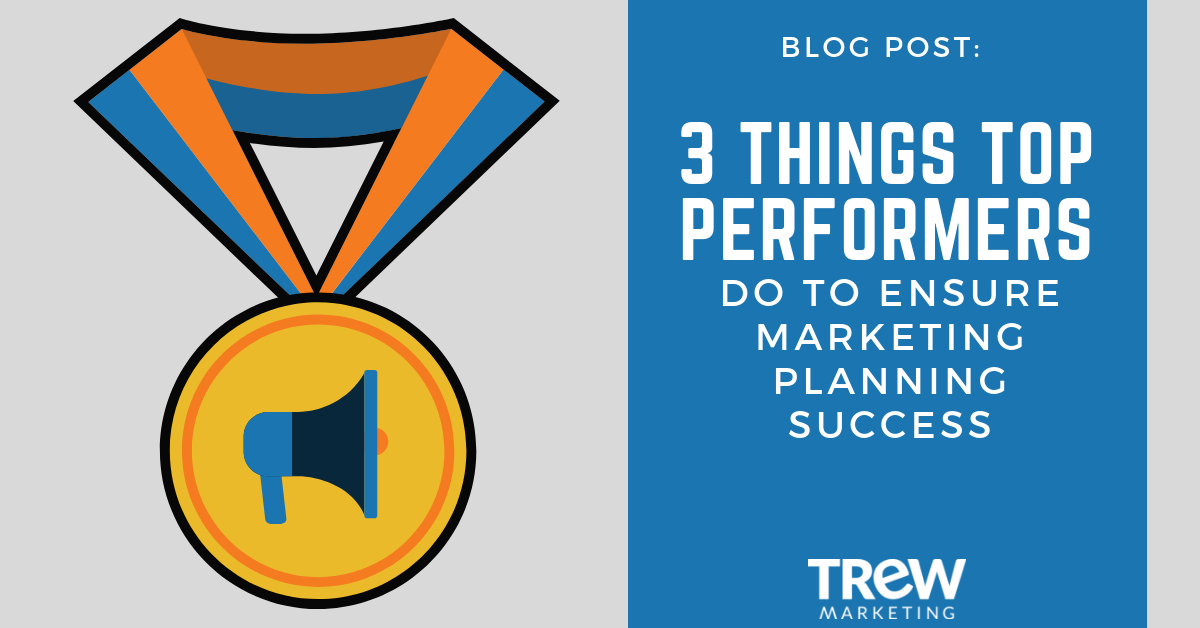 Here are three key observations I've made from the companies and marketing teams we've worked with who implemented successful plans —and key questions to ask yourself as you begin to plan for 2019.
1. Top Performers Have a Strong, Engaged Leader
Teams that have a strong, decisive leader with a clear vision and that support and hold their team accountable, by far have the best results.
When it comes to planning, top performers with strong leaders tend to:
Be proactive vs. reactive and start the planning process early
Collaborate with key stakeholders in vigorous, and sometimes contentious, discussion and debate about what they want to accomplish in the coming year
Look to their customers, industry trends, and competition to question if they are on the right path
Be open and transparent about what is working well within their organization and what isn't
Know how to work as a cohesive team to align marketing goals with business goals and priorities
The last point, alignment, is often the toughest piece to get right. Business priorities often depend on your point of view in an organization, and some companies have several team members that come to the table with different perspectives, performance expectations, and biases. While these differences can fuel new ideas, I've often seen this break down into brand priorities versus product priorities versus technology considerations or web tactics.
The best planners are comfortable with risk. With a strong focus on making a lasting business impact, they know they can't target every industry or application and get everything done at once.
Instead, they focus on a few key initiatives that can impact their business the most. While challenging other people's points of view, they work hard to build consensus on high-level priorities and hold themselves, their teams, and their partners accountable for results. These leaders know that marketing plays an important role, but requires collaboration and alignment across their sales, operations, and product teams to be successful and sustained over the longterm.
Top performers get alignment on priorities and inspire authentic collaboration up, down, and across their organization. Without a strong marketing leader, marketing budgets are often the first to get cut when companies need to find savings to meet financial goals.
2. The Best Performers are Future-Focused
The most important part of the planning process is building a clear picture of what the future state looks like. For example, if your top priority is lead generation, it's critical to understand your current state.
Where are our leads coming from currently?
Why don't leads convert to opportunities at the rate we'd like to see?
Where do our prospects look for information?
What are the marketing and sales tactics that most impact conversion?
Questions like these help to inform what obstacles may be preventing current progress, and help you identify what areas to focus on to build future successes. Most of the answers come from good tried-and-true tactics, like talking with customers and your sales team, reviewing your top competitors websites and content to understand their value proposition and differentiators, and looking to industry trends and best practices.
In contrast, I frequently see teams come to the table with a reactive mindset to a short-term problem and without a solid understanding of their marketing current state, which makes it tough to plan out what the future success should look like. Planning is about understanding the future. Current performance data is only one piece of the puzzle that provides insight into past performance, and is often a symptom rather than the sole cause of current challenges.
3. The Best Performers Know Marketing and the Buyer's Journey Is Changing
The old way of marketing and selling has changed, and it's a new day in B2B marketing with a digital approach and content targeted to your buyer personas at the heart of it. The rules of marketing have changed, and are continuing to change.
These days, we think in terms of the buyer's journey, which typically starts with a Google search. Buyers today have so much information and technology at their fingertips. As they increasingly rely on word-of-mouth validation from peers and colleagues, Google and other search engines are becoming more critical than ever. According to our latest buyer's journey research, more than 60% of the buying process now happens online before a prospect ever engages with your sales team.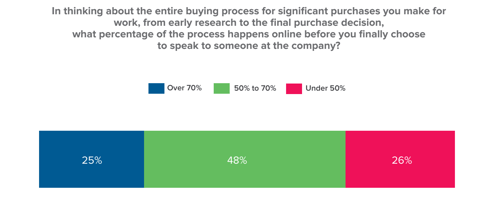 It wasn't long ago that we leaned on trade show, print ads, and press releases, to make all the magic happen. Today, we have content, digital marketing, data analytics, and customer insights at the heart of our marketing programs. Top performers know that the tactics have changed and the resources they need to deliver successful marketing programs need to change too.
Top Takeaways
The best companies plan ahead, have their leadership engaged in marketing, and are proactive, looking to the future while staying on top of the present. In the world of B2B marketing, priorities can change overnight and organizational needs can shift quickly. Having stakeholder alignment and a documented roadmap are the keys to future marketing success.
As you begin your 2019 marketing planning, I challenge you to ask your team the following three questions:
Are we focusing on the right things?

Do we have the information we need to identify what the right things are?

And, once we identify our top marketing priorities, do we have the right resources in place to be successful?