In the last month, we've seen marketing plans and budgets shift significantly due to the spread of Covid-19. Most notably affected are face-to-face trade shows, events, and sales meetings. Instead of packing your bag and getting on a plane or hitting the road to meet with prospects, customers, and colleagues, you're most likely holed up in your basement or guest room working from home and working across your team to figure out how to reprioritize you marketing activities and budget.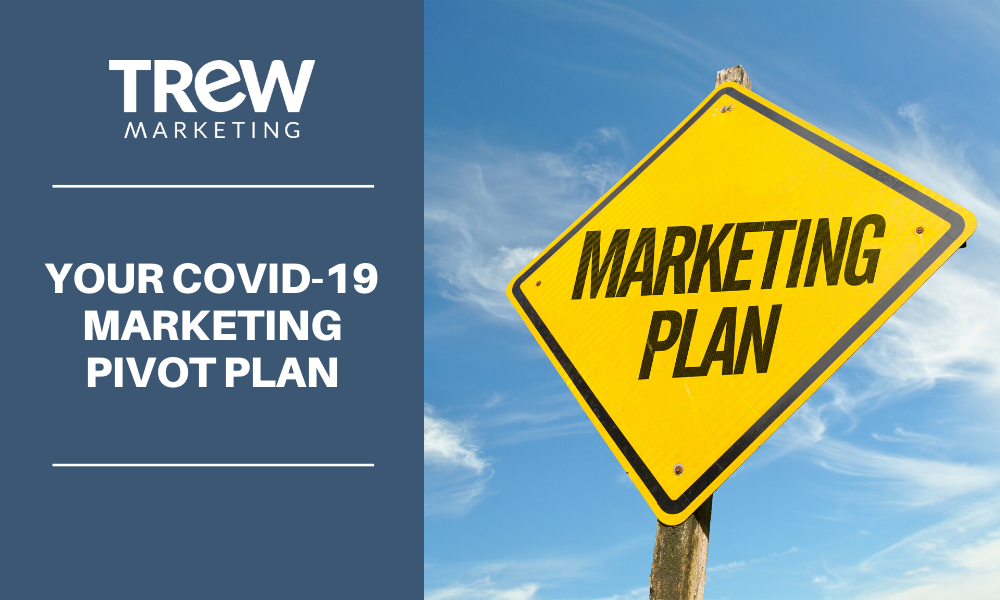 While many in-person events are being rescheduled for late summer or fall, you need leads now, and you have time to work on activities to generate them.
A recent survey from IEEE GlobalSpec asking participants how they plan to reinvest their trade show budget in light of canceled/rescheduled shows, revealed:
To help B2B companies figure out the best way to reallocate time and budget, we polled our team here at TREW and compiled the following list of considerations and tactics we recommend you explore and implement to help you stay connected with your audience, maintain brand trust, and close your lead gap now.
1. Determine New Needs Your Buyer Personas May Have
Now that just about every company has sent out the obligatory, "How Our Company is Handling Business During Covid-19" email, it's time to move beyond checkbox communication and adjust your messages to reach your audience where they are currently at.
During this challenging times, your personas may have new pain points or needs that your company can address with existing products, services, or solutions. It's really about empathizing with them and sharing suggestions to help them move their organization forward during this time vs. trying to capitalize on this situation.

One company that has done a great job with this is Zoom. They have been around for nine years, but before a few weeks ago they were not widely known. Flash forward to today and they are pretty much a household name.
In recent weeks, Zoom has emerged as the most downloaded app on the Apple App Store, repeatedly breaking its download records. On Monday March 23, Zoom was downloaded 2.13 million times worldwide, up from 2.04 million the day before, according to app tracking firm Apptopia. Two months prior, the app had just under 56,000 global downloads in a day.
When Covid-19 hit, they immediately saw that schools would need a platform for online learning and that we would all be seeking a way to socialize virtually. They adapted their offerings to include free 40-minute video conferencing for individuals and free online learning for academic institutions. All this while keeping its service up and running amid surging demand for online communication tools and social networks, that has strained far bigger platforms.
TREW client, Polyfuze, has a labeling technology for hospital equipment that fuzes it onto plastic and ensures sanitization. After the crisis arouse, they turned on a dime and added a antimicrobial element to their label for an added layer of protection so that their customers can feel confident adding it to their equipment to increase confidence of sanitized spaces.
Companies like Zoom and Polyfuze, that show they are on the pulse of what their audience is currently in need of, stand to maintain brand trust and loyalty both through the crisis as well as beyond it.
2. Adjust Your Content Plan and Social Strategy
The content topics you and your team brainstormed earlier this year are likely not the most relevant to address your personas current needs, and in most cases will be tone-deaf to current conditions. You need to act fast to make adjustments to your content calendar and start crafting content to address what your prospects and customers are thinking about and seeking answers to. You should also consider increasing the cadence of your content development and promotion and revising your social strategy and posts to ensure they are relevant and appropriate for this time.
TREW recommends the following tactical changes:
3. Leverage Digital Tactics to Replace In-Person Events
Some conference and trade show organizers have cancelled events, others are on the brink, and a few have scrambled to stage virtual replacements for their events. To meet your 2020 marketing objectives, you'll need to re-focus efforts towards digital tactics. For companies who were heavily reliant on trade shows, this shift represents an excellent opportunity to try new tactics and prove out the ROI of content marketing.
Here are a few ideas to digital tactics you can leverage:
4. Step Up Your Virtual Selling Approach
With the inability to travel and meet face-to-face, your field sales force needs to rely on a new set of tactics to connect with prospects and customers. How can your company use this time most effectively, and how can marketing help?
Tactics to replace F2F and "digitize" your field sales force:
5. Perform Your Marketing Spring Cleaning
While the word "cleaning" does not sound exciting or impactful, the output of certain maintenance activities may improve your marketing performance exponentially and now is a great time to act!
Here are three "spring cleaning" projects to focus on:
While business as usual has at least momentarily changed, leaders and marketers still have an opportunity to address pain points, empathize, and make tactical changes to continue driving results . And who knows, perhaps trying out new tactics, attending virtual events, and fully leveraging content marketing via digital channels will be a new way forward.
Tell us how your marketing plan has been impacted, and what resources we can provide to help, by completing our short survey linked below:
We are also offering free 30-minute marketing consultations specifically focused on helping you implement some of the marketing tactics listed above.
Schedule time on Lee's calendar linked below: