5 min read
Optimizing a LinkedIn Company Page for Technical Audiences
According to the 2023 State of Marketing to Engineers Research Report from
, 58% of technical professionals find LinkedIn as a somewhat valuable or very valuable source for learning about new technologies, trends, and products. And, 81% of technical engineers spend some amount of time reading or sharing information on LinkedIn each week.
Having a company page for your brand is an important part of doing business in today's market, but how do you make sure that you're reaching your audience? Follow these tips to optimize your company page for technical audiences.

Goals for Social Media
Before you focus on optimizing your company page, it's important to reflect on your goals for social media:
Nurture Existing Contacts
Your primary goal is to nurture your existing contacts, drive them to your website, and turn them into sales leads via your web content. Invite people you know who fit within your buyer personas to follow you on LinkedIn and link to your company page throughout your marketing materials.

Attract New Contacts


Your second goal is to reach new individuals, turn them into website visitors, and compel them to follow you on LinkedIn. You can do this organically by sharing content on your company page (and personal profile) and also through LinkedIn Ads.
Optimize Your Company Page
Once you're clear on your goals for marketing on LinkedIn, you can use them to guide you in optimizing your company page. Perhaps the most important part of optimizing your company page is to start by completing and including all relevant information. Your company page will serve as a hub that lets visitors learn about you and helps them find information—make it easy for them to find.
Use Your Visual Branding
Your company profile should look like an extension of your brand and your website. Use your logo, brand colors, relevant imagery, and iconography throughout your page. Add your logo as the Page Logo and include a relevant photo or graphic for your Cover Image (1,128 x 191 px). You can use a tool like Canva to create or resize images as needed.
Pro tip: The Cover Image is another opportunity to advertise your products or services. In addition to reflecting your brand and what you do, you can use this to to highlight a specific product or service by adding a CTA to your image.
Implement Your Brand Messaging
You want to make sure to use consistent brand messaging across platforms. Ensure that you're using the same messaging that you have on your website by including elements such as your brand tagline, 30-word pitch, and even your differentiators in your company page "About" statement.
Also be sure to include up-to-date company and contact info, so people can find you easily (update this info whenever it changes). Customizing your page URL is another way to keep things consistent.
Pro tip: LinkedIn has several custom button options for you to include. The most popular is a link directly to your website. This is featured prominently at the top of your page, making it even easier to drive traffic to your site.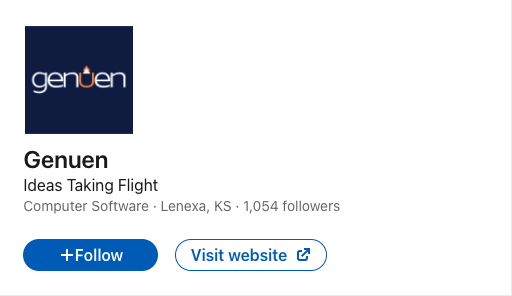 Example of a custom button.
Exemplify Your Thought Leadership
It's important for you to communicate to both existing and new contacts that you understand (and empathize with) their pain points beyond where your products and services can help them. Your company page is another platform for you to demonstrate your authority in the industry by sharing content that is relevant, informative, and interesting to your target audiences.
What to Share
It's easy to want to exclusively share content that is relevant to your business, but you need to show that you're knowledgeable about other topics relevant to your audience in order to exemplify your thought leadership. Here are some examples of kinds of content to share:
Original and Partner Content
Promote original content on your website to educate technical buyers and build trust. Examples include: technical blog posts, case studies, white papers, and webinars. You should also share content from your partners that is relevant to your audience.
News Coverage
Share your press releases and coverage by other media sources.
Announcements
Make company announcements about acquisitions, new products, leadership changes, and more.
While there isn't an exact consensus on the number of times you should be posting on LinkedIn every week, what's important is staying top of mind for your audience by being consistent. At TREW, we generally recommend 1–3 times per week for technical, B2B companies. We also recommend including some visual content with your posts that matches your brand style, such as an image.
Share Your Culture
LinkedIn is not just a platform for your customers, it's also a platform to connect with your team members and potential recruits. Use your company page to share the culture that your employees and customers love and attract new people who want to work with or for you: congratulate team members on milestone work anniversaries, welcome new team members, congratulate your customers on significant achievements, or share your participation in community events.
Enable Your Team to be Brand Ambassadors
People are 8 times more likely to engage with content shared by people vs content shared by brands, and leads generated by employees convert 7 times more frequently than any other kind of lead. Give your team the tools and permission to share your content by providing guidelines on what is and isn't acceptable to share and encouraging them to provide their own context to your content.
---
Ready to learn more about connecting and advertising on the world's largest B2B social network? Click the image below to explore our LinkedIn podcast miniseries.
This post has been updated since its original publication in 2021.

Julia joined the TREW Crew with a unique client perspective. As a former client, she worked with TREW to guide her employer through a brand evolution combining two 50-year-old brands. She has a passion for both brand marketing and content marketing, with extensive experience collaborating with engineers and subject matter experts in creating and translating technical material into content easily understood by technical audiences.
TREW Marketing is a strategy-first content marketing agency serving B2B companies that target highly technical buyers. With deep experience in the design, embedded, measurement and automation, and software industries, TREW Marketing provides branding, marketing strategy, content development, and digital marketing services to help customers efficiently and effectively achieve business goals.