8 min read
8 Steps for Mastering the Technical Learning Curve in B2B Marketing
As a marketer starting a new position at a technical B2B company, the learning curve can seem steep and daunting. To be successful, you must rapidly absorb information about the company, including its products and services, industry, competition, target markets, and customers. Otherwise, you may be stuck spinning your wheels trying to get anything done.
There's no denying it: Overcoming the learning curve takes time, research, and resourcefulness. In the past 3 months, I have undergone that learning process for several B2B companies that focus on technical products and services, spanning industries from data management software to test and measurement and industrial manufacturing.
Throughout my journey, I learned that these 8 steps were essential for accelerating my on-boarding process and empowering me to lead successful projects.
Begin with the Basics
1. Start with a High-Level Company Overview
Most companies have a corporate slide deck, which is an excellent resource for building a high-level understanding of the company's overall goals, objectives, and success metrics. Find it and pin it for easy access. Kickstart your learning journey by meeting with a subject-matter expert (SME) from the company who is well-versed in giving the company presentation and have them walk you through key concepts, including:
Company history, mission, and vision
Business and marketing goals
Central services and products
Key differentiators and value propositions
Core audiences, partners, and competitors
2. Study Key Marketing and Branding Assets

With a solid foundation of the company's business strategy in-hand, dig into the available marketing assets to build a better understanding of the company's current brand marketing, marketing plans, and content strategy. Knowing your company's brand positioning and messaging is crucial for grasping how your marketing connects to the larger company story. Then, learn how your marketing activities, fueled by content marketing, will help drive the business. Reach out to a marketing team member for guidance on what collateral is available and where you can find them. If available, I recommend bookmarking and reviewing these items: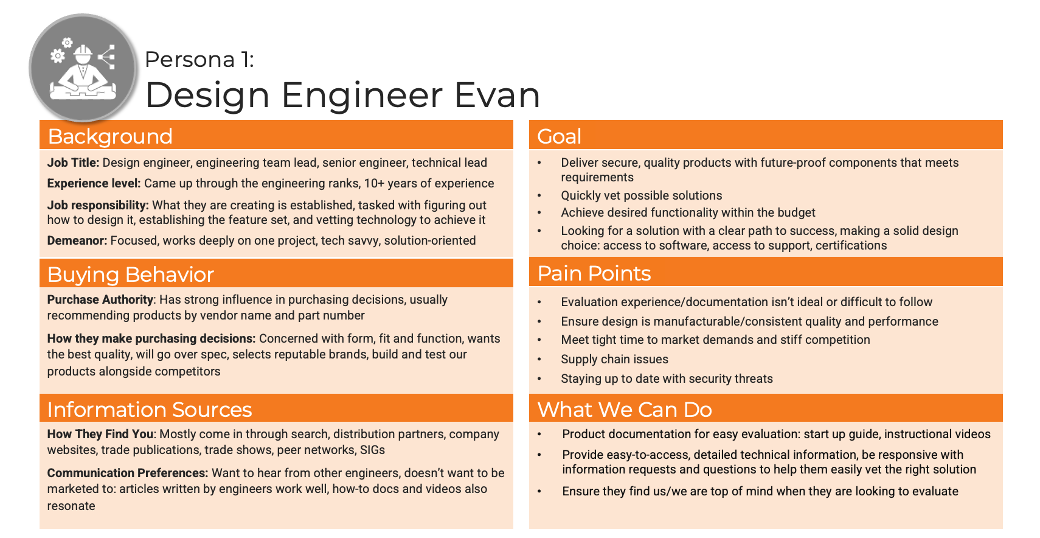 Buyer personas provide insights to help you understand target customers, including their identifiers, preferences, goals, challenges, and pain points.

3. Review Historical Marketing Content and Collateral

Now that you've covered the big-picture ideas, spend time investigating your company's relevant internal- and external-facing content pieces to help you better comprehend key products, services, and industry concepts. You should also start getting a feel for the company's tone and relevant topics. Depending on the company, this can include a lot of content. I recommend consulting your bookmarked corporate slide deck and marketing plans to narrow your focus. Ask SMEs and team members to share core content that will best assist your learning. I recommend the following:
Website landing pages and infographics
Blog posts and product announcements
External webinars and demo videos
Product guides and eBooks
Case studies, white papers, and app notes
Sales training recordings and presentation decks
LinkedIn posts and marketing email content
The FAQ sections on a company's pillar pages can provide insight on common customer questions and may answer some of your questions, too.

Conduct research to fill in the gaps
4. Do Industry and Competitor Research

Thanks to your content audit, you might have a decent idea about the current knowledge gaps in your learning. Consult external resources, such as industry publications, competitor content, and partner websites. Google your key terms to see what content is ranking on the first pages. Uncover what others are saying and how they say it. This can help answer any open questions you might have or fill in background information that you may have missed or misunderstood. Learn more about your audience. Read
reports or conduct surveys to further understand your customers. What do they care about? What are they reading?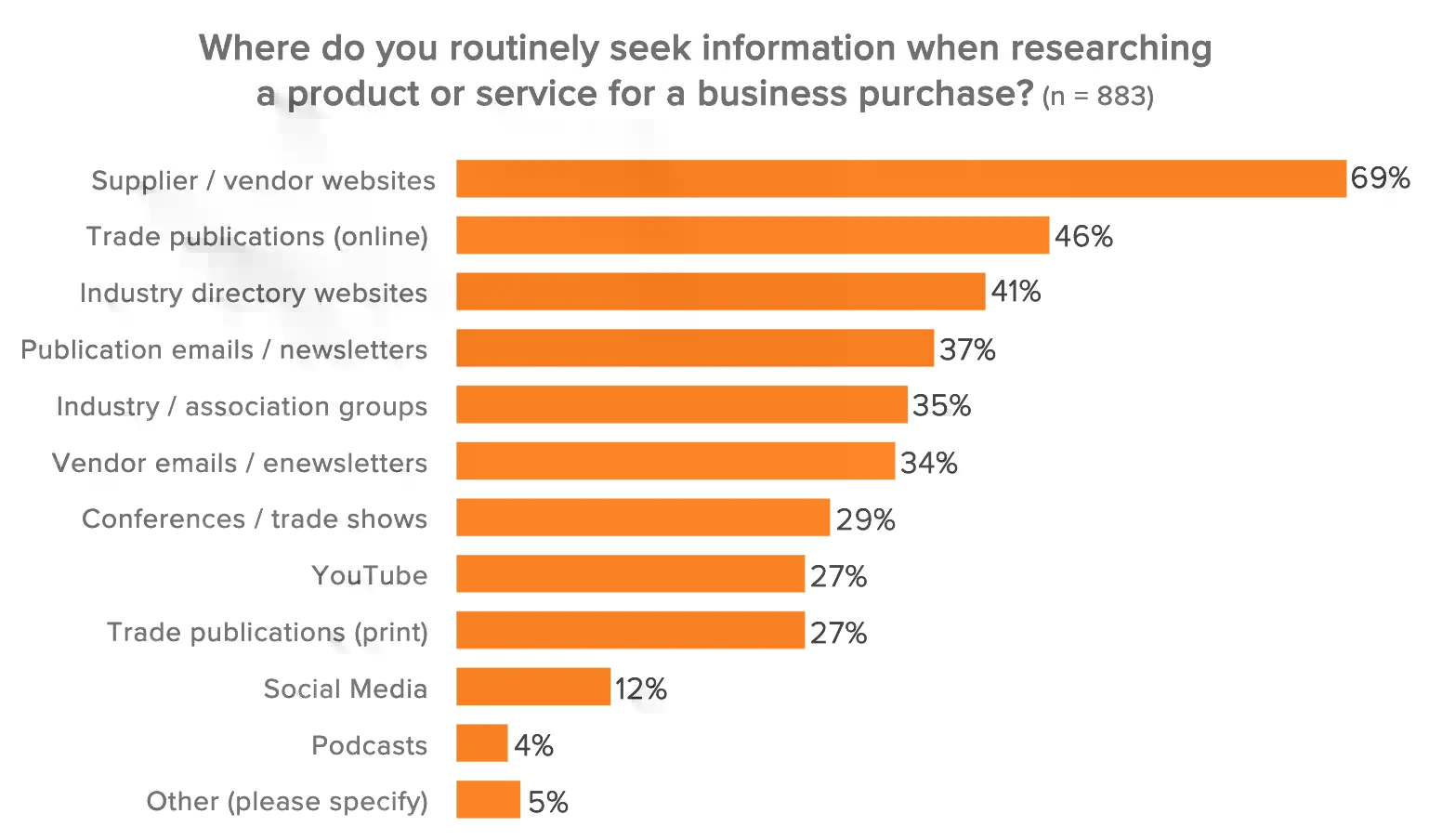 According to
, technical buyers most often consult supplier and vendor websites to learn about a products or services.
5. Dive into Keyword Research

Keyword research can be enlightening in many ways. Consider performing a content gap analysis to discover opportunity areas. Consult Google Search Console to scrutinize your marketing's to-date performance. Which keywords are driving traffic to your web pages? Do they align with your key topics? Then, see how your traffic compares to competitors' content. SEO platforms such as Moz, Ahrefs, and Semrush offer free trials to help you navigate this step. What are people in your industry searching? Are you coming across any new keywords? If so, what do they mean? Are they keywords you should be targeting? Evaluate your topic clusters. Do you have deep relational content to support your campaign initiatives across the buyer's journey? Use your research to fill gaps by adding new topics or optimizing your on-page content.
Your company should have content designed to attract, convert, close and delight customers for each target topic cluster and keyword. Find gap areas and make suggestions on how to fill in those pieces.

ACTIONS TO TAKE ALONG THE WAY
6. Meet with Technical SMEs

Make sure you set aside time with key SMEs to gain deeper insight from those on the frontlines. If your company does not have appointed SMEs in place, then build a plan with department managers to designate go-to SMEs for key topics and establish a commitment schedule that ensures regular marketing support with reasonable bandwidth expectations. Ensuring this buy-in is especially important for small marketing teams. Find and recommend articulate co-workers who have longstanding industry, product, or service experience. Those with project ownership are a plus. Request no more than 1-2 hours per SME each week.
Sales team members can give you a good idea about how things work and what customers are saying. Engineers, FAEs, and product managers can walk you through technical details and processes. If you're a visual learner, then let the whiteboard be your best friend. Ask your SME to draw a simple sketch that illustrates a technical concept or process. Not in person? See if they are willing to draw or create a rough mock-up that they can send to you. If you are virtual, then request permission to record your meeting, so you can focus on the conversation and consult back to the video later.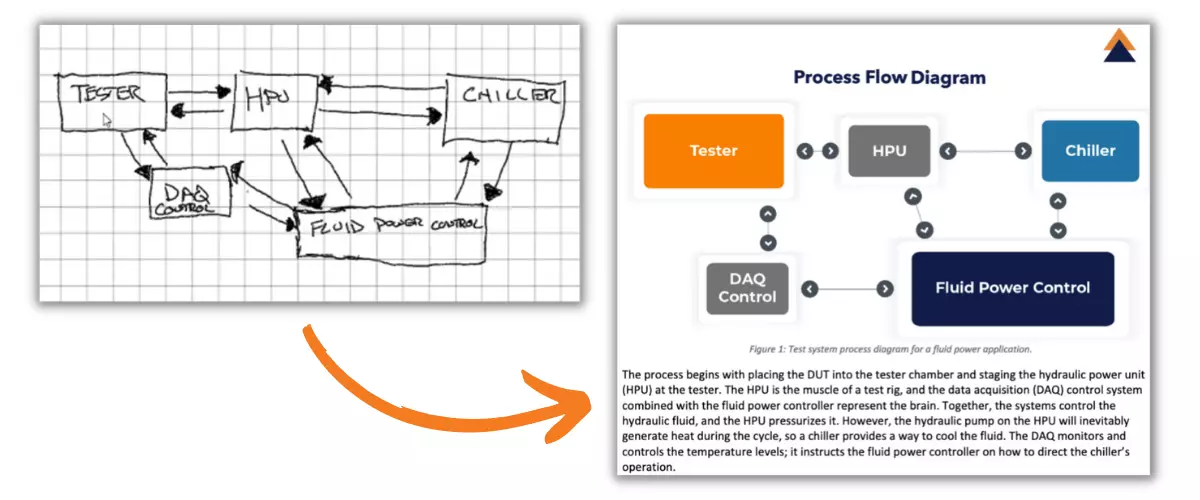 The above illustration shows how a hand-drawn diagram created to explain a process during a sourcing session can inspire an infographic and accompanying text for a final content piece.

7. Shadow your Colleagues

If you have the opportunity, see if you can shadow your colleagues from other departments to explore tribal knowledge or experience concepts that really can't be written down. How do they operate? What do they ask? How do they interact with customers? Shadow sales on a new prospect call to hear how the company messaging comes to life and what questions a prospect asks. Shadow service delivery to understand the questions customers ask and how they interact with the company's products or services.
8. Join Meetings, Absorb Information, and Ask Questions

This is the most important piece. As I mentioned in the beginning, be inquisitive and resourceful. Be a sponge for information, and actively seek out explanations for things you don't understand. For example, you may not have recognized every term that you've come across so far, so look up these key terms to help clarify your understanding of important topics and concepts.
Want deeper insight?
View our Small Marketing Teams Kit for more tips on efficiently scaling your marketing efforts and driving results. Once you are up and running with your new B2B technical company, delve into how you can utilize your knowledge to create content that will fuel your team's marketing plan and drive results. Download our
to get started.
TREW Marketing is a strategy-first content marketing agency serving B2B companies that target highly technical buyers. With deep experience in the design, embedded, measurement and automation, and software industries, TREW Marketing provides branding, marketing strategy, content development, and digital marketing services to help customers efficiently and effectively achieve business goals.