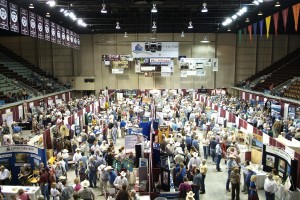 Exhibiting at an industry trade show can be a great investment for companies of all sizes. It provides an opportunity to showcase your products and enables you to meet in-person with customers, partners, analysts, suppliers and contacts from the industry media. Whether you plan to reach out to media contacts in advance to try to set up interviews, or try to catch their attention on the show floor, keep in mind the following do's and don'ts of trade show media relations:
1. Do Provide News and Eye-Candy…
Editors and reporters who attend trade shows are primarily there so they can report on the "news" from the show. This is why it is important to offer them an opportunity to learn something new about your company, products, customers, or industry. If you don't have something newsworthy for the event, give the media an opportunity to learn about your 6-month product roadmap, sharing appropriate details in order to pique their interest.
Offer something visual. Many editors will appreciate if you can offer them a visual demonstration of your product or give them a chance to video a Q&A conversation with one of your executives or customers. This allows the media to share with their non-attending readers.
For example, demonstrate the way your new product works in one of your customer's applications. This will help your booth stand out to the press who are looking to share fun stories and highlights about the show with their readers.
For example, here is a picture of the car that one of TREW's clients had in their NIWeek booth, running the new test software they announced at the show.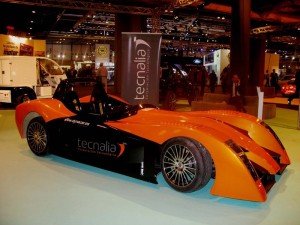 But Don't Expect All Media Contacts to Be Available for Meetings.
For highly anticipated trade shows, the media contacts are often outnumbered by hundreds of exhibitors. Simply due to time limitations, media contacts can't meet with each exhibiting company. To maximize your time, qualify the list of media to those that will be most inclined to meet with your company.
2. Do Look for Informal At-show Opportunities to Build Rapport…
Be aware of media badges. All attendees are given some type of identification to wear, and the media contacts typically have "media" written on their ID badge or nametag. As you attend sessions, keynotes, and even meals, keep an eye out for people with media identification. Take these chances to casually introduce yourself and company.
Spark a friendly, casual conversation. Ask how their day is going, local happy hours, etc. Building relationships with the media is no different than building a relationship with anyone else – it takes time and intentional conversation to build rapport.
But Don't Bombard– Exchange Business Cards with Added Details on Back.
When introducing yourself, don't dive right in to an elevator pitch about your company during an informal, unexpected meeting with a media contact. They may not be covering the type of content you have. That said, it's never bad to offer one of your business cards. Add a brief note on the back with what your company specializes in and why you think they might be interested in following up with you later. Even better, jot down brief points of supporting customer testimonials and/or upcoming news, that may interest them. This way you give them something enticing to revisit as they review business cards they collected at the show.
3. Do Make Spokespeople Readily Available and Prepared for Media Interviews…
Be on time and flexible. Media personnel are typically booked with back-to-back meetings, and often, when one meeting runs late a domino effect occurs for the rest. Be sure that 1-2 dedicated company spokespeople have flexible schedules, so they can easily reschedule if needed. Furthermore, be willing to meet during informal time slots, such as coffee breaks or meals, as this may the only time you can get with that media contact.
Exchange cell phone numbers. If you have set up at-show meetings in advance, be sure to exchange cell phone numbers, so they can call or text you if their schedules change, and you can do the same if your spokespeople has a time conflict.
Rehearse sound bites and interview techniques. Be sure your company spokespeople are well-prepared for media interviews. They should be equipped to handle questions concerning the product, company, competitive landscape, pricing, and customer base. Have them do several mock interviews prior to the show, practicing their sound bites, holding a microphone, and standing in front of the camera.
And Don't Forget to Take Notes for Follow Up.
As you meet with the press, take notes during the interview about what types of questions they ask. You may notice some journalists are more interested in customer applications, some probe for technical details, and others are inclined to learn about your corporate structure or partners, etc. Be sure that you are explicit about areas where you or your spokesperson will follow up with more detail, if needed.
After the meeting, it's ideal to send the media contact a brief email with useful post-interview resources or requested documentation. This helps ensure your key messages are included in the write-up. It is also appropriate to send a social media "thank you" from your company.
4. DO Have Fun!
While trade shows can be busy and exhausting, they should also be a fun experience for your company reps. Enjoy the time to let your work shine and celebrate once it's all over by putting your feet up and reading through the media coverage that you are hopefully able to secure as a result!
Need help with your media relations or trade show planning efforts? TREW Marketing can help! Contact us today to get started.
Looking for additional insight? Check out our guide: Smart Marketing for Engineers
Related blog posts:
5 Core Steps in the PR Marathon
5 Marketing Activities for Trade Show Success
How Strategic PR Efforts Boosted One IT Company's Feature News Coverage by 125%