Last year we wrote about creating your COVID pivot-plan to include a focus on digital marketing and selling. This year, we're looking ahead and examining fundamental changes to B2B marketing and sales as a result of COVID-19 and how it has profoundly affected the way consumers interact with brands.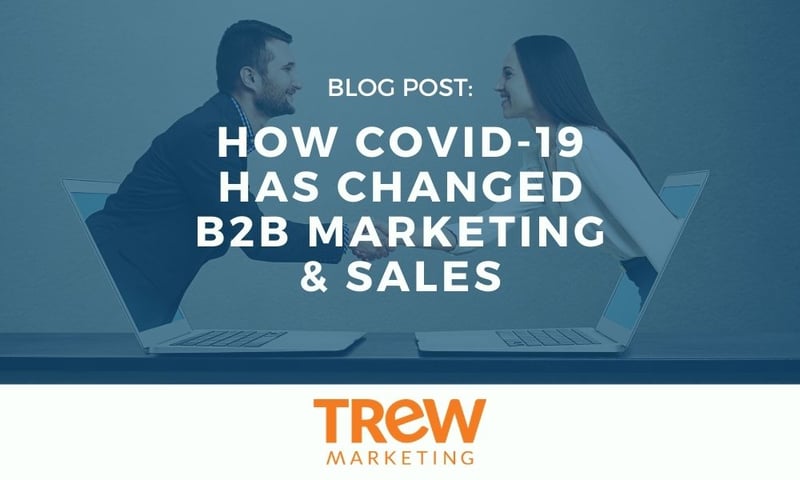 Tactics and actions that started out as crisis responses have become the "new normal." The implications of this shift towards digital forced upon B2B buyers and sellers by the pandemic will have a far-reaching impact on sales and marketing.
This new normal will emphasize certain characteristics that will make businesses more resilient and adaptable to customer needs, including:
McKinsey & Company recently conducted a research study to measure the impact of COVID-19 on B2B sales. We'll explore a few key takeaways from their research and layout three strategic steps and core tactics to implement now in order to capture market share while keeping pace with ever-changing customer demands.
Digital Presence is More Important than Ever
The new digital reality is here to stay. More than 75% of buyers and sellers stated that they "now prefer" digital, self-guided service through a buyer's journey, and remote human interactions over in-person engagements. Even after lockdowns ended, this trend has continued to grow.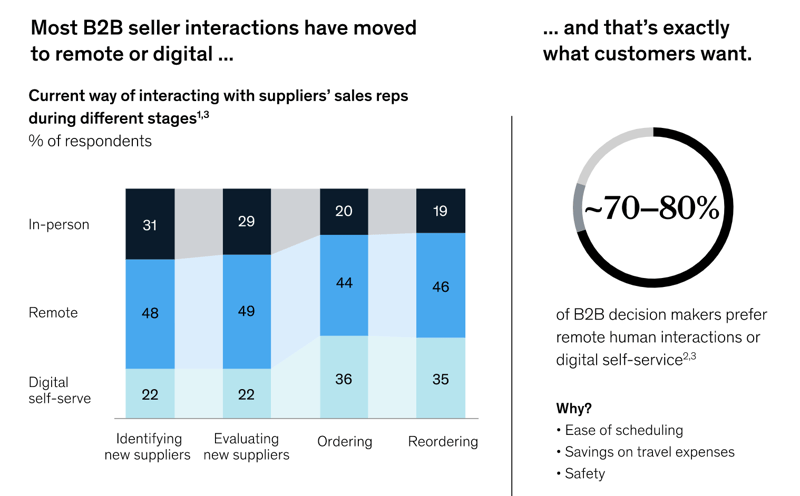 Source: McKinsey & Company
B2B sales leaders everywhere have shifted from being "forced" to adopt digital as a reaction to the global COVID-19 pandemic to a growing conviction that digital is truly the way to go. In fact, more than 80% of B2B buyers hope not to return to face-to-face interactions.
Digital Fear is Gone
B2B buyers are displaying a level of comfort in making large new purchases and reorders online that show the maturity of digital sales today.
E-commerce is no longer only for small-ticket items and fast-moving parts; today, 70% of B2B decision-makers say they are open to making new, fully self-serve or remote purchases in excess of $50,000, and 27% would spend more than $500,000 via online purchase.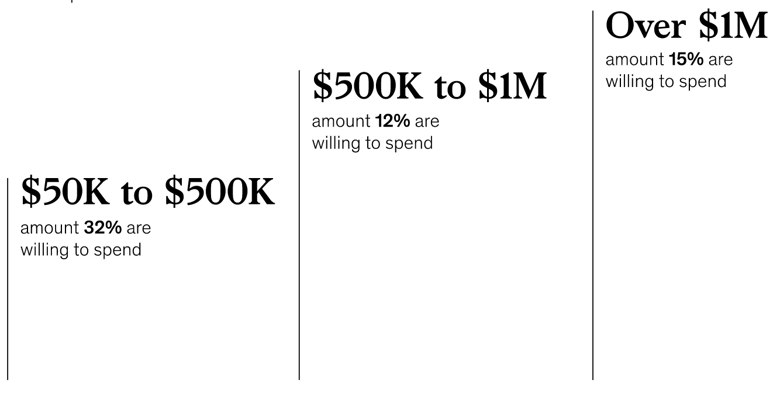 Source: McKinsey & Company
This demonstrates that online remote selling is as effective, if not more so, than in-person sales. Sellers share this feeling, as most of them believe digital prospecting and social selling are as effective as their analog counterparts.
Video and Live Chat Adoption Continue to Grow
COVID-19 gave the entire world a massive push towards digital transformation, making video and live chat the most predominant channels for interacting and closing sales with B2B customers. Customers have also made it clear that they now prefer video to phone communication.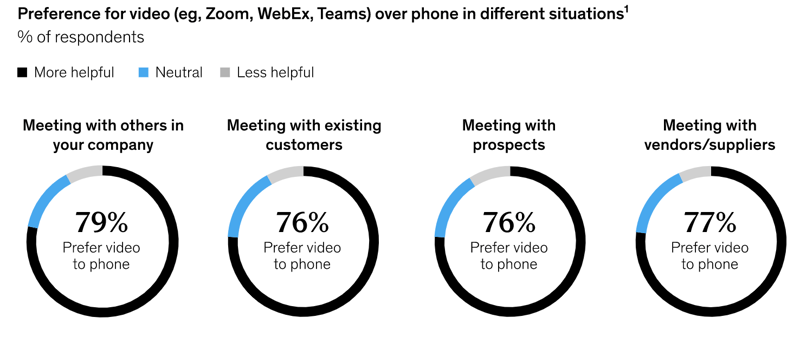 Source: McKinsey & Company
An eye-opening 43% of all B2B revenue comes directly from e-commerce and video conferencing. This is a 69% increase in the amount of revenue stemming from video-related interactions since April 2020.
An Optimistic Digital Future
Nine out of 10 decision-makers surveyed around the world optimistically state that the new digital go-to-market sales practices developed during COVID-19 will be a fixture throughout 2021 and beyond. This matches what we have seen in our annual TREW Marketing and IEEE Global Spec research study to engineers in North America, where 62% of respondents reported they now conduct more than half of the buyer's journey online before speaking with sales.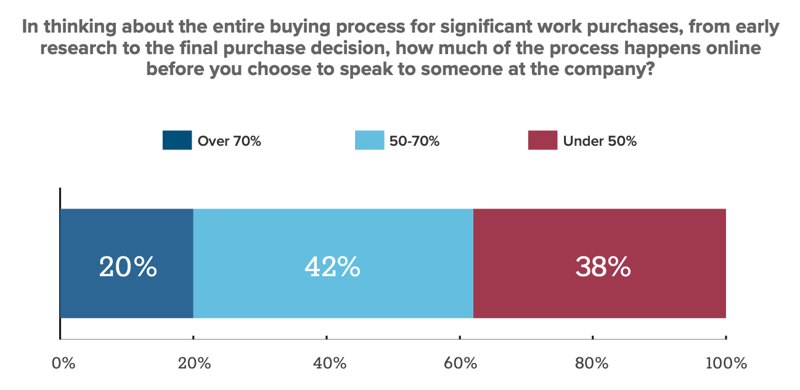 Source: TREW Marketing and IEEE Global Spec
Three Tips to Capture COVID-19-Induced Market Opportunities
2020's global pandemic means we need to throw out the old playbook and embrace the unpredictable new normal. Here are three strategic steps you can explore now to capitalize on the opportunities going forward.
1. Re-Evaluate Customer Needs
2. Optimize Your Website
3. Adopt a Video, Chat, and Social Media Strategy Today
Seize the Opportunity
This is a crucial time for leaders to reinvent business models and reintegrate the value their organizations provide into a new, changing business landscape that demands bold business transformations.
The shift to virtual sales will help organizations lower your cost per visit, extend your brand reach, and significantly improve sales effectiveness while delighting customers who demand new ways of interacting.
Remember that even if the opportunity is significant, there is pressure on businesses to capitalize on it. As a leader, you must define your commitment to further digital transformation into go-to-market models that help you achieve a competitive advantage and perceived value for your customers.
To continue learning about the how engineers research solutions, download our 2021 research report. Also explore the Forbes article "Work Habits That Marketers Should Keep In A Post-Covid World."