-EBOOK-
Lead Generation for B2B Technical Audiences
Lead Generation for B2B Technical Audiences
This ebook provides a detailed, step-by-step approach for how you can make marketing work for your company.
How can we get marketing to do what it's supposed to do – efficiently give us a consistent flow of high-quality leads to help fuel new sales opportunities and drive growth? What kind of marketing will a skeptical, technical audience of engineers and scientists respond to?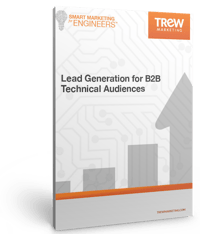 Tailored specifically for technical B2B business and marketing leaders, Smart Marketing for Engineers: Lead Generation for B2B Technical Audiences is organized into seven chapters and provides clear steps to connect your prospects with your company's solutions, including:
Getting found online: Users research purchases and make decisions long before talking with a sales representative; it is imperative that your offerings be visible online
Generating leads with engaging content: Offer free technical content to attract web visitors including technical white papers, ebooks, tutorials and a variety of other resources
Segmenting and nurturing leads for sales: Build relationships with your prospects and move them closer to becoming sales-qualified leads
Measuring results and improving ROI: Monitor, evaluate and improve the performance of your marketing investments with these troubleshooting tips
We conclude with the "Math of Inbound Marketing" - powerful information about how to take business-level revenue goals and translate them into marketing objectives, actual ROI calculations for setting goals, two real example plans for inbound marketing, and considerations for doing it yourself vs. outsourcing.
To download this ebook, please fill out the form on the right.