On-Demand Webinar
2023 Decoding Engineer Preferences
Insights Into Technical Buying Behavior in Europe
A TREW Marketing and Elektor Research Collaboration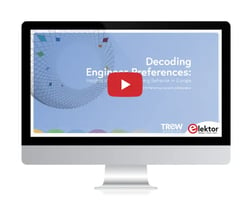 Join Wendy Covey and Erik Jansen as they deep dive into European engineer marketing preferences based on the comprehensive research in Decoding Engineer Preferences.
In this exclusive session, we'll explore a broad range of topics, including search behavior, the use of AI tools, content preferences, and most valued marketing channels.
What sets this webinar apart is the unique perspective it offers. Building upon the research in the 2023 State of Marketing to Engineers report, Wendy and Erik will analyze and compare results, highlighting both similarities and differences.
Key Benefits and Takeaways:
Understand the information needs of European technical buyers

Learn what information engineers are looking for at each stage of the buying process, so you can create relevant and engaging content.

Identify the most effective marketing channels

Discover the most popular marketing channels among European engineers, so you can focus your efforts on the channels that are most likely to reach your target audience.

Improve your content strategy

Gain insights into the types of content that engineers prefer, so you can create content that is more likely to be consumed and shared.

Align your marketing and sales teams

Educate leadership and sales teams about the needs and preferences of European engineers, so that everyone is on the same page.
ABOUT THE SPEAKERS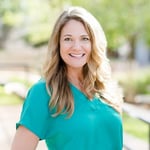 Wendy Covey
Wendy Covey is a CEO, technical marketing leader, author of Content Marketing, Engineered, one of The Wall Street Journal's 10 Most Innovative Entrepreneurs in America. Over the last 25 years, Wendy and her team at TREW Marketing have helped hundreds of highly technical companies build trust and fill their pipelines through inbound marketing.
Erik Jansen
Erik Jansen began his career in 1999 at an independent Internet Service Provider and later led the online business of the largest entertainment retailer in the Netherlands. In 2010, he pursued his entrepreneurial ambitions in online publishing. In 2012, his company was acquired by Elektor, the company he now leads as the Managing Director.