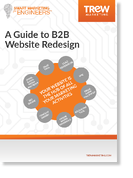 Your website is the hardest working, 24-hour-a-day employee in your marketing organization. This ebook, tailored to technical B2B business and marketing leaders, guides you through TREW's proven website redesign process.
How to Engineer a High-Performing Pipeline

Discover how sales and marketing teams can partner together to use inbound marketing techniques to fill and manage a growing pipeline.