8 min read
2020 Wrap Up and Look Ahead to 2021
Take a look back at the most popular Content Marketing, Engineered podcast episodes of 2020, and what's in store in 2021.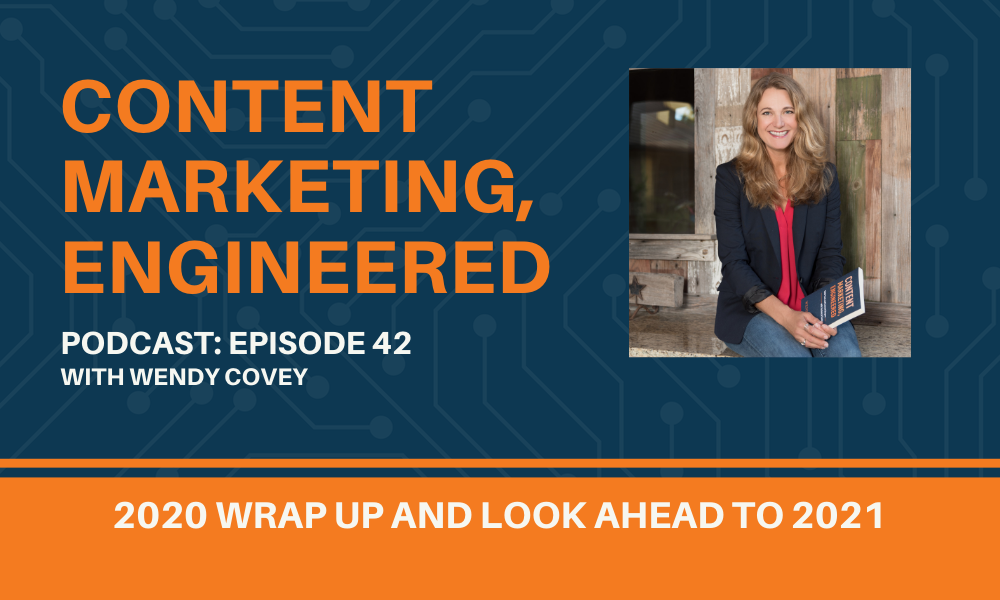 On this episode I take a look back at some of the episodes that were most liked and downloaded by our listeners, including a few of my own favorites. This will be a great short-cut if you are new to the podcast. The range spans executives sharing their stories of how content marketing has transformed their businesses to practical tips for content marketers in the trenches. We also heard industry trends from thought leaders in content marketing.
I also provide a sneak peek at episodes coming in early 2021, including a series on LinkedIn and coverage of our newly published research report, 2021 State of Marketing to Engineers, conducted in partnership with GlobalSpec.
Here is your 2020 rewind list of episode highlights.
For technical executives:
For technical writers:
For technical marketers:
Transcript
Hey, everyone. Well, here we are. It's 2021. We made it. We have put 2020 behind us. And, you know, I, I know that most of you listening are pretty glad that that year's in the rearview mirror. But I will say there were some good things about 2020 also. And so that'll be part of where I focus today as well as give you a peek into the show plans for 2021.
So when I reflect back on the fifty and change episodes recorded in 2020, one of the things that stands out is that shelter in place in covid his probably about six weeks into doing the show. And so throughout the thread of those episodes, we had some interesting discussions personally over where the guests were in their work life, in their personal life. That one was recorded out of their daughter's bedroom. Another person came to us from their basement, someone else from their closet.
So just the creativity of of people and, you know, the will to overcome difficult circumstances to keep business moving. Another thing about twenty twenty is, you know, one of my goals for this show was to educate marketers, but also business leaders about the power of content marketing and the way that it can bring to your company's bottom line, top line growth. And to that end, I hope that you caught several business leaders that came on to the show, including Ken Wolcott from Qosina, with Jeff Olsen from Hiller Measurements, Chris McLaughlin from Vertech, Jack Barber from Exotek, and JD Sherman, who at the time was the CEO of HubSpot.
And all of these guests had something in common in that they had seen how content marketing either helped them shorten their sales pipeline, helped them bring in more leads and build trust with their technical buyers and even improve the brand equity of their company. So those are great episodes to catch. Also, we had several guests come on and provide tips on creating better technical content. And it was it's really important to me that this podcast provide both strategic advice and visionary ideas, as well as just practical tips that you can go implement.
And so go look at Lance Looper from TREW Marketing and Peter Matthews from Knowles Precision Devices, because both of these gentlemen gave excellent practical advice on how to create stellar technical content. And speaking of technical content, we also had Morgan Norris on many times, she's a brand strategist for true marketing and she came on and interviewed me some as we launched the book that was a big deal last year, launched online training for technical writing. But Morgan also came on to talk about brand storytelling, crisis communications, which let's let's be be real.
That might still be something we all need to prepare for in 2021. Hopefully not, but you never know. So check out that episode. And then she has covered customer interviews and how to successfully interview customers and take that information and inform your messaging. But I'll tell you what, my top five had to be the following, there was an episode on how to create CAD content, and that was from Adam back at CADENAS PartSolutions. And, you know, I think this is an important episode because our research has shown that CAD content is valued over most types of other content when it comes to putting content behind a form.
And I think a lot of marketers don't think about creating content or they're intimidated by the process. Not sure where to start. So Adam does a very good job of that episode, educating on why it's important and how to get started with that type of content. So if you didn't if you missed that one and you're a product company in particular, go go check that out. Now, go do a search on. It's another one is white video should be a top investment.
And that was with Alban Brooke, of Vidyard. And if you're like TREW marketing, you are making a conscious effort of adding more video to your company content in 2021. And so he gives a lot of great advice for that. So check that out. Also, we had Jeff Atkinson and he talked about Google's upcoming algorithm change and how to prepare for it, and the change hasn't happened yet, but it is definitely on our short term horizon here in 2021. And so there are a lot of on page SEO activities you can do to prepare. And so if you're not aware of this change looming on the horizon, go back. Search Jeff Atkinson, Google's new algorithm, change and watch.
That's another one is a high powered marketing with Paul Roetzer, our friend over the A.I. Marketing Institute. And a lot of marketers are still in education mode. You know, we all know sort of what artificial intelligence is, but not sure necessarily how to apply it to our day to day marketing jobs. And he gave just a wide range of different ways in which we can leverage this technology through all kinds of things, whether it be analytics or repetitious activities that we do things to predict behavior, predict whether someone is interested in sales reaching out to them.
So host of ideas there. Check that out. And then another popular episode was why marketing is not respected and what to do about it. And this was one of my episodes. And I'll tell you, this was near and dear to my heart because I have seen so many times that marketers are shooting themselves in the foot within their companies and limiting their career growth by making some common mistakes. So this is a very popular episode, one of the most downloaded.
So go check that out, see if there's some tips that you can use to further your own career. So those are my top five. Let's take a look into twenty twenty one so my guests line up for the first couple of months here includes a few guests talking about LinkedIn best practices. So we want to focus on how to use the tool to further your network, to gather leads, to create buzz, to pull people into your website. So that'll be one of those episodes.
And then the other one is how to create solid content for you to be effective on LinkedIn. We'll also delve into LinkedIn advertising as well. So that'll be a series. And then coming up very soon this month, we're releasing our annual State of Marketing to Engineers Report with GlobalSPEC. And this year's report is it's pretty cool. We've asked we had a covid edition this year, so we asked a lot of questions related to, you know, when travel shuts down, when sales visits weren't happening, trade shows were happening, where were engineers turning to to find information and make purchase decisions?
We also dove into the popularity or lack thereof of virtual events and webinars. We asked about videos and new this year, we delve into podcasts. And then we took some time to look at retargeting and whether or not that's something that's effective for a technical audience. So this report is releasing, depending on when you're listening this week and so early January, we'll have a webinar coming up on in and also a podcast talking about some of the highlights from findings from the report.
So that's what's on the near-term horizon for this podcast. I would love to hear your ideas of topics that you would like for us to cover. And then if you're interested in being a guest, then give me a shout and let me know why you think it'd be a good guest. We have a form on trewmarketing.com/podcast where you can fill that out and you can also subscribe to the podcast while you're there.
And if you're like what you're hearing, I would love for you to give us a five star review on your favorite podcast platform. Don't forget, we also create a video version of this podcast you can find then on YouTube. We started that about midway through the season. So not every episode is there, but quite a few of them. And that's about it. I appreciate you listening, wishing you a happy and productive and lucrative twenty twenty one and look forward for more fun to come on content marketing engineers.