Co-Founder and Brand Strategist
With 25 years of global marketing experience and named by The Wall Street Journal editors among the Ten Most Innovative Entrepreneurs in America, Rebecca co-founded TREW Marketing in 2008, and led TREW team in building strategic, thoughtful, and sustainable marketing programs for a wide variety of companies. She was instrumental in creating a culture at TREW that is honest, collaborative and always committed to finding the smartest solution to achieve defined goals and objectives. Today, her focus is in helping TREW clients define their brand position and message - a critical step in creating a client's marketing foundation to drive awareness, pipeline performance in identified target markets. As a respected business leader and manager, she also serves as a personal coach and executive communications advisor, and following the implementation of EOS at TREW, she now helps client leadership teams implement EOS and advises on topics such as organizational development, purpose, vision, leadership communication, and culture and values.
In 2016, Rebecca released her debut book, Smart Marketing for Engineers: An Inbound Marketing Guide to Reaching Technical Audiences. In it, she details the steps, from the start with positioning to the end with measurement, to using an inbound marketing methodology to generate awareness and demand in B2B technical markets. Rich in data showing engineers' online content and browsing behavior and preferences, the book is filled with lists, templates, and examples from B2B engineering and scientific companies in industries including automotive, military/aerospace, manufacturing, IT and oil/gas.
Prior to co-founding TREW Marketing, Rebecca managed marketing programs at a variety of technology and marketing companies and was a member of the marketing leadership team at National Instruments for 14 years, rising to Director of Corporate Communications and Investor Relations with responsibility for global PR and internal, external, and leadership communications programs. With over two decades working in scientific and engineering industries, Rebecca is known for her passion and technical understanding of complex topics and a sincere appreciation for the impact of scientists, engineers, and academic professionals on society.
Rebecca has presented and written extensively on the topic of how to effectively market to technical audiences as well as how to do so using a modern, inbound marketing approach. She has served as a guest lecturer at The University of Texas at Austin and Texas A&M University as well as a featured speaker at marketing and industry conferences, from NIWeek and Embedded World to Content Marketing World. She was featured on one of LinkedIn's top marketing podcasts, The Marketing Book Podcast, and has been a regular contributor to other podcasts, and and technical publications such as EE Times on the topic of marketing to engineers. She has written and co-authored hundreds of blog posts, articles, and e-books, including TREW's popular Smart Marketing for Engineers series, including Build Your Foundation, Product Launches and Lead Generation. Rebecca has enjoyed supporting her hometown of Austin, Texas for decades, from serving on the Campus Advisory Council for her kids' school in the Austin Independent School District to becoming the founding president of the Booster Club for the Air Force Jr. ROTC program at Reagan High School. She served as a volunteer robotics coach for over 10 years with K-12 students and was one of eight selected McBee Fellows in Civic Entrepreneurship with the Austin Area Research Organization. She is a past board member of Leadership Austin, the Development Committee at KIPP Austin Public Schools, the United Way Capital Area Resource Advisory Cabinet, and the Campus Advisory Council of Murchison Middle School. In her downtime, she enjoys the outdoor lifestyle and live music of Austin and spending time with her family at their home away from home in the Texas Hill Country on the Pedernales River. She is also an avid skier and gets to the mountains to take on the moguls any time she can. Rebecca graduated magna cum laude from Boston College and studied at Université de Grenoble in France (conveniently close to Alp skiing!).
2018 Speaking Engagements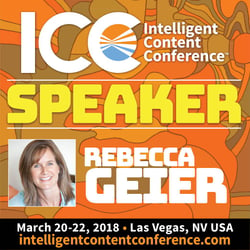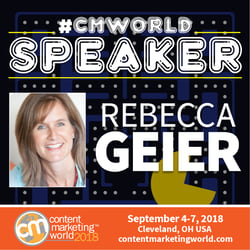 Keysight Technologies
Marketing to Engineers Keynote
Santa Rosa, CA
Content Marketing World
Industrial Manufacturing Workshop
Cleveland, OH
The Transformers Association
Marketing to Engineers Keynote
Ft. Worth, TX
Intelligent Content Conference
Keynote: Say No to Grow
Las Vegas, NV
Feb 2018
Embedded World
Nuremberg, Germany
2017 Speaking Engagements
October 2017
MS&T 2017/American Ceramics Society
Pittsburg, PA
September 2017
Content Marketing World
Industrial Manufacturing Workshop
Cleveland, OH
September 2017
The Alternative Board (TAB)
The Engineer's Buyer Journey
Webinar
July 2017
ANSYS Corporation
Grand Challenges Marketing to Engineers
Canonsburg, PA
May 2017
NIWeek
10 Steps to Build Your Brand Position
Austin, TX
Awards
Rebecca and TREW co-founder Wendy Covey were named by the Wall Street Journal among the Ten Most Innovative Entrepreneurs in America.
TREW Marketing has been named a Top Agency by B2B Magazine and the Association of Marketing and Communications Professionals has awarded the agency two Gold Marcom Awards.
Under Rebecca's direction, the National Instruments PR Team was honored in 2007 and 2008 by PR Week as one of the Top Corporate Communications Departments in America. Her team was also named the "Best PR Team in Texas," in 2003, by the Texas PR Association. In 2006, the team was again honored by PRSA for best employee communications program in honor of National Instrument's 30th anniversary.