2 min read
Develop Your Content Plan—Map It Along the Funnel
April 26, 2016
Engineers and scientists are searching for information throughout the entire buying cycle from the initial research "awareness" stage at the top of the funnel to the "opportunity" stage at the bottom, where they make a purchasing decision.
Because the majority of the buyer's journey happens before the prospect reaches out to your organization, it's important to carefully map content to each stage and engage your target audience through multiple digital marketing touch points. In Rebecca Geier's book, Smart Marketing for Engineers: An Inbound Marketing Guide to Reaching Technical Audiences, she explains how to create a plan across the sales funnel.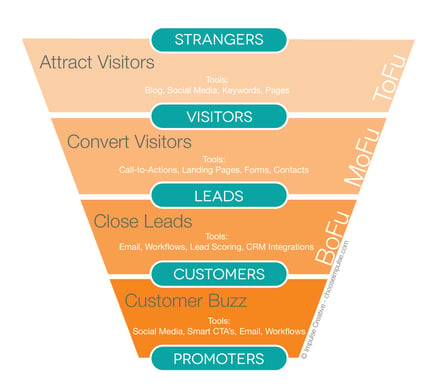 Brainstorm Content
To create this plan, start by brainstorming content ideas and assign each idea to the marketing funnel and to a key product, service, or campaign for your company. Geier recommends the follow questions to spark ideas:
What tough questions do your customers consistently ask you?
What are the top 3-4 current trends that are relevant to your products or services?
What are common challenges you see customers face that you could explain to help others avoid, evaluate, or work through?
What are the business risks associated with the application areas you work in and what can you share about how to mitigate these?
What real-world examples can you share to illustrate your expertise?
"Free" and 'Gated" Content
As you brainstorm, be sure you have a variety of "free" and "gated" content. Free content is available to visitors without their completing a form, such as case studies blog posts, and news releases. Gated content is higher-value or premium content visitors can access only after completing a lead form, such as technical white papers, webinars, ebooks, and software downloads.
Identify Next Step Content
For each content piece, identify an offer or a next content piece with a corresponding call to action that takes them further down the funnel. By doing this, you create a path for visitors to find your company and continue engaging to learn more.
Recommended Content Publishing
If you are just starting out with marketing planning, Geier recommends that the minimum annual content publishing you should strive for to see results should include:
Two case studies
Two pieces of gated content (white papers, eBooks, webcasts)
Three news releases
12 blogs
Four new product or service Web pages
Four eNewsletters
As you brainstorm, consider a variety of media types. Remember, some people prefer written content such as blog posts and white papers while others are more visual and prefer images such as detailed blog diagrams infographics, or application photos. Still others want to watch short product demos or webcasts.
With your content plan defined by product or campaign and stages of the funnel, create a simple content calendar to help organize and manage content creation. Created and managed simply in Microsoft Excel, a content calendar is broken down into four quarters or 12 months of the calendar (or fiscal) year and defines the following:
Channel
Content type
Topic
Publish date
Author
Reviewer
Target audience persona
Keywords
Sales funnel position
With you content mapped along the funnel and calendar developed with timing and authors assigned you need to make sure the hard work of creating this high-quality content pays off by optimizing, amplifying and repurposing to make sure your content has the best chance of being found when your prospect searches.
To learn more about content planning and see example plans, download Smart Marketing for Engineers.