This ebook, tailored to technical B2B business and marketing leaders, guides you through TREW's proven marketing planning preparation, including a checklist.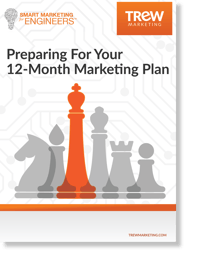 Your 12-month marketing plan is an agile document and should be designed with flexibility in mind, customized to your business goals and needs.
Taking the time to map out a clear, strategic direction will ensure a cohesive marketing plan that maps to your personas through campaigns and is time bound and budget driven.
In this ebook, we at TREW Marketing outline the steps we recommend you take to prepare for your marketing plan, including:
Before a Marketing Plan Comes a Business PlanDefine Your Ideal Customer: Your Personas
Develop your 12-Month Marketing Activity Plan
Analyzing Your Previous Marketing and Sales Metrics
Develop Meaningful KPIs
Turn Strategy into Action – the 12-Month Activity Plan
Create Your Marketing Planning Checklist