4 min read
Pillar Pages: Where Your Content and SEO Live
Topic clusters have become the latest trend in both search engine optimization (SEO) and content marketing. HubSpot added topic clusters into its content strategy offerings this past fall and then eliminated their keyword strategy tool earlier this year. We've said it before, but keywords are waning and topic clusters are in.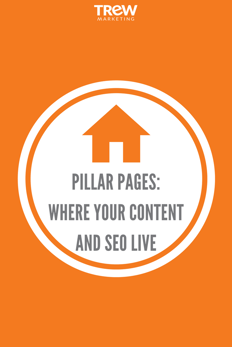 While you may be hearing more and more about content topic clusters, you may not have heard much about pillar pages. Pillar pages are long-form in design and house your topic cluster content. These pages are extremely important to creating a successful topic cluster that brings users to your website and helps convert them into leads along their buyer's journey
What is a pillar page?
A pillar page is where your topic cluster is housed. A pillar page covers your topic thoroughly and completely, while also linking to internal and external content that dives deeper into segments of your topic like blog posts that answer frequently asked questions about your product or service and provide lead-generating content like white papers or ebooks. With rich, quality content on a subject coupled with links to more in-depth content on a subject, pillar pages have the ability to help your website rank higher in a search engine. In addition, these pillar pages are filled with calls-to-action (CTAs) to landing pages that will help convert visitors into leads.
How to create a Pillar Page
1. Build out your topic cluster

Before you create a pillar page, you first need to start by building a topic cluster. Your main topic should be a service or product you offer. It's helpful if you already have many pieces of content on this particular topic, but you can always develop more content as you build your topic cluster and pillar page. Even if you have content built up on a topic, you should look for areas where you may have content gaps within your topic cluster. To learn more about building a topic cluster, read this blog post.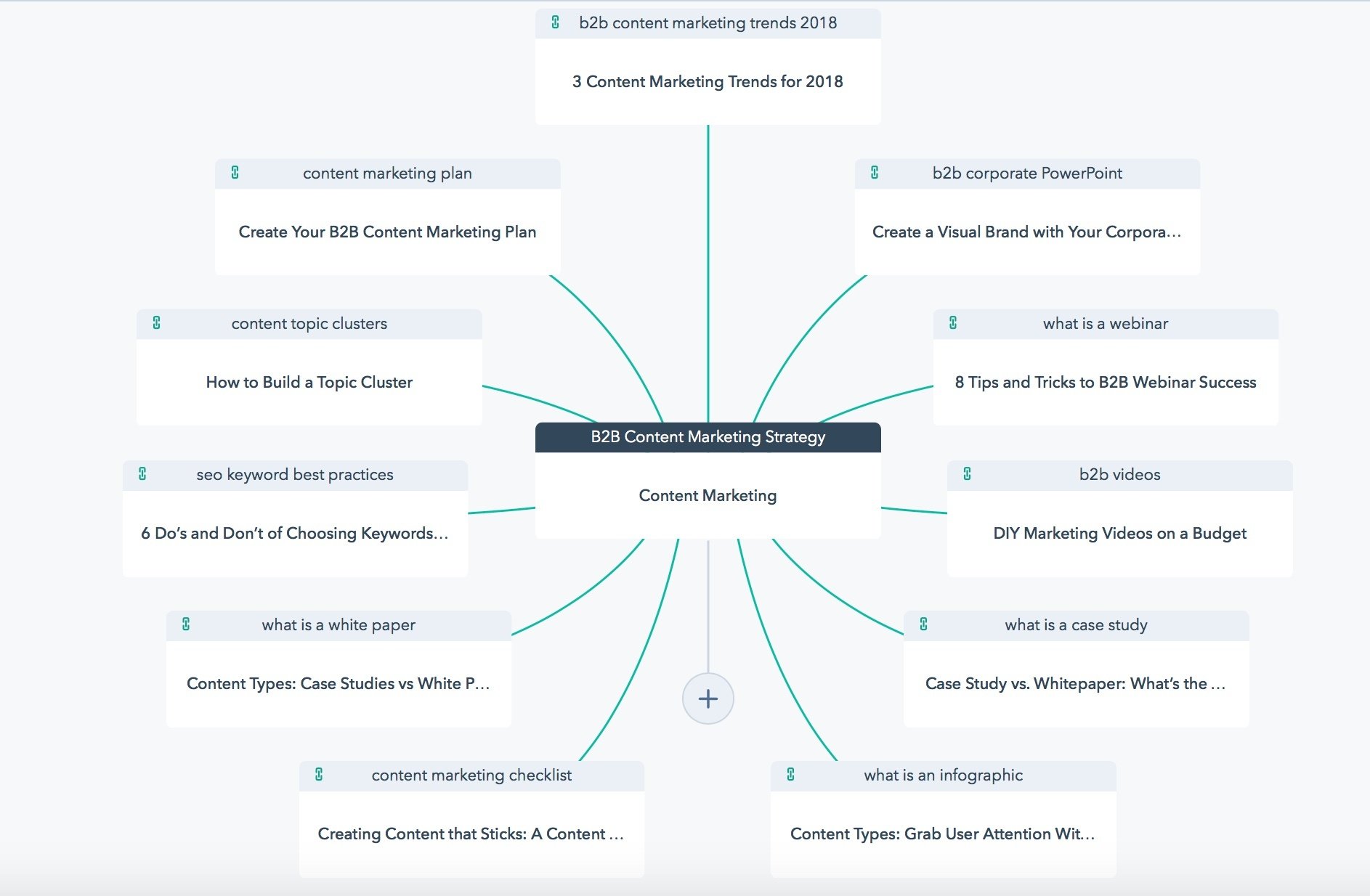 Here's an example of a topic cluster using HubSpot's tool.
2. Cover your topic thoroughly on your pillar page
Your pillar page should be a page where visitors can go to learn all about your topic. If you already have service pages on your website, you should convert these service pages into pillar pages to make your job a little easier. Be sure to fully and completely cover your topic keeping in mind your buyer personas and what they are looking for when they come to your pillar page.
For example, if you are a systems integrator specializing in cybersecurity, then you should develop a pillar page around all these services. Your cybersecurity pillar page could include content on cyber threats, your cybersecurity methodology, and what makes your services superior to the competition.
When it comes to websites, content doesn't just mean words and paragraphs. Make sure you find visual content including images and graphics, that represent your topic and help users better understand your written content.
3. Link to and from relevant sub-topic content
While your pillar page covers your topic thoroughly, technical audiences will want to continue reading in-depth content along their buyers journey. To further engage your visitors, you should link to subtopic content that covers your topic more in-depth.
To continue the example from above, if your pillar page covers cybersecurity, then your subtopic content might be a video demo on patch management, a blog post on emerging cyber threats and a white paper on building a secure control system network. You can link to as many pieces of subtopic content as you want. You also can include external links to other relevant content.
Subtopic content can be blog posts, case studies, videos, infographics, white papers or product pages. Be sure that all your subtopic content link back to your pillar page. Read our content types blog series for ideas on what kind of content to link to on your pillar page.
Use dynamic calls-to-action to inspire users to check out your subtopic content. The goal for every website visit should be to convert a user into a lead. This completes your topic cluster and will help boost SEO for all pages in your topic cluster. Be sure to give white paper and other content with landing pages special treatment on your pillar page so you get more conversions.
Get inspired by pillar pages
There's no right way to design a pillar page. You want to be sure that your pillar pages stand out visually with a great web design, but remember quality content should be the main focus. Be sure to include pictures and graphics to break up content and visually engage visitors further. Here's an examples of a pillar page that we have done at TREW.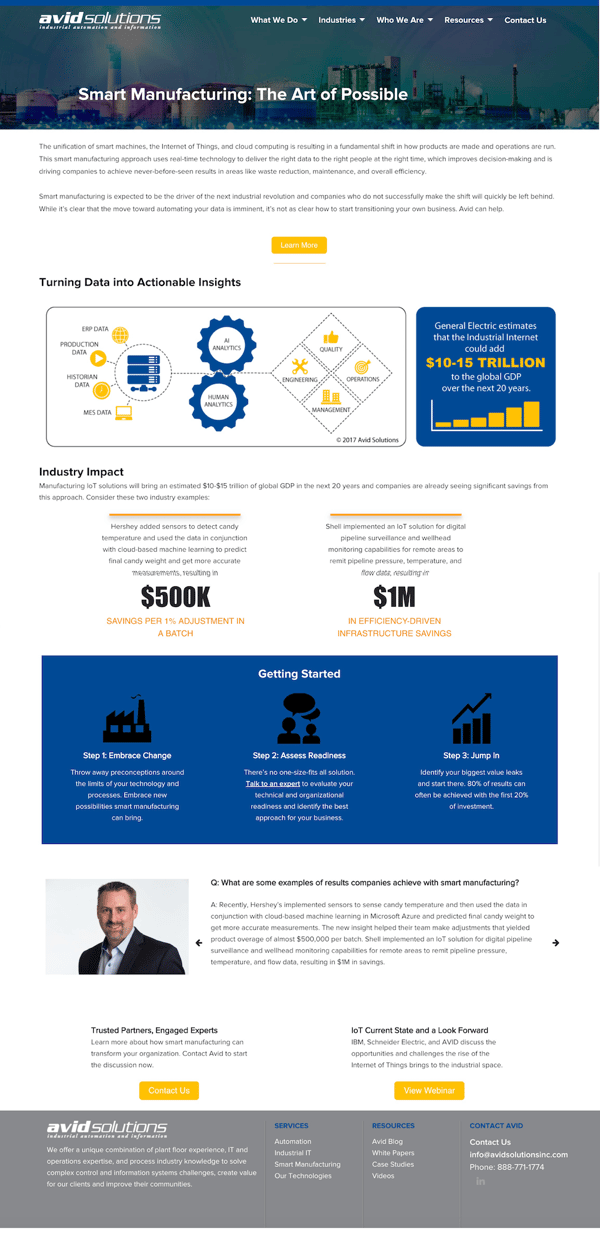 TREW designed and built this pillar page for Avid Solutions, a system integrator with expertise in smart manufacturing.
Want to learn more about web design that boosts your SEO? Learn more about web design by visiting this page.
To learn more about developing topic clusters and pillar pages, contact our SEO specialists to learn more about working with TREW to help boost your search rankings.

Marketing Manager
TREW Marketing is a strategy-first content marketing agency serving B2B companies that target highly technical buyers. With deep experience in the design, embedded, measurement and automation, and software industries, TREW Marketing provides branding, marketing strategy, content development, and digital marketing services to help customers efficiently and effectively achieve business goals.