4 min read
How to Increase Leads with Content Along the Buyer's Journey
Inbound marketing is all about creating and promoting content that attracts, converts, closes and delights your buyer personas. To successfully do this, you need content for each stage of the buyers journey. Additionally, you need content for each specific buyer persona who enters your marketing funnel so you can successfully turn web visitors into customers.
Inbound marketing uses content and your website to attract, convert, close and delight customers.
Your marketing and sales teams need to work together to guide buyers through your journey with content that is aligned to each phase. For example, leads will likely be looking for information on best practices to solve a pain point, whereas marketing-qualified leads (MQLs) and sales-qualified leads (SQLs) are looking for specific information about your company such as pricing, product specs or customer case studies. By knowing which stage someone is in, you can supply them with content that resonates.
Here's how B2B buyers search and find new vendors in this digital age. Learn more about the buyer's journey here.
Start with Content that Attracts
Inbound marketing starts with attracting visitors to your site. Top-of -the-funnel content is generally high-level information that visitors access freely on your website. Top-level web pages, news releases, blog posts, short videos, company and product collateral should be free because this content helps people learn more about your company, products and services in the attract phase.
Examples of Top of the Funnel Content:
Blogs

How-to blog post
Tips and tricks blog post

News releases

Product launch press release

Short videos
Infographics

Expected ROI/benefits-oriented infographic
Be sure to include a next step or CTA in this content that leads visitors into gated, lower-level content to convert them from visitors to leads.
Spend Time Creating Content that Converts
As you move through phases from attracting visitors to converting leads, your offers should be premium content that features more in-depth, technical information, gated by a form. As the perceived value of a piece of content rises, so does the amount of personal information a web visitor is willing to share to access it.
When deciding whether or not to gate content, one rule of thumb is to think about the level of technical effort the content took to create. Did this white paper require the involvement of subject-matter expert engineers? Is it more in-depth than your free content? Does it offer valuable how-to information or technical tips or trends that your audience desires and can't easily find elsewhere?
Examples of converting content include:
Technical white papers
Thought leadership trend pieces
E-books
Tutorials
Webcasts/webinars
Research reports and surveys
Resource kits with multiple pieces of content
Online training or course material
Interactive Calculator
Technical project-related templates (e.g., reference designs)
Because producing premium content requires a significant time investment, and because readers expect the content to be valuable, they will be open to the idea of completing a lead form. Putting a lead form in front of your premium, gated content, creates the opportunity to generate leads. Learn more about creating high-converting landing pages here.
Close Prospects with Content
You've attracted visitors with informative blog posts, then converted these visitors into leads with high-level white papers that have been gated with a landing page. How do you turn these new leads in clients?
The close phase should use automated email workflows to prove your experience and knowledge. Nurture contacts with relevant case studies, blog posts or white papers after they download a content offer from your site.
Examples of content that converts:
Case study
Marketing automation
Customer testimonials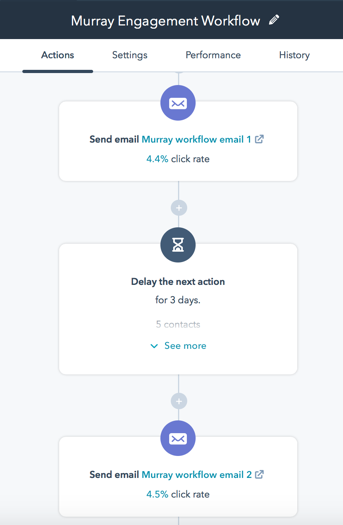 HubSpot allows you to create workflows to nurture buyer personas as they learn more about your services and unique differentiators.
Continue to Delight Customers with Content
Your content plan doesn't stop after you've closed a new client. Build a credible relationship with your client by sending them company news and relevant content right to their email inbox. You can easily set up email workflows with marketing service providers, such as HubSpot. Customers will dig deeper into your site to discover what else you offer that helps them do their jobs better, faster and/or cheaper.
Examples of delight content include:
Enewsletter
Employee bio blog post
Company culture blog posts
Surveys
Map Content Along the Flywheel
Map out content for each stage of the flywheel that moves visitors from one phase to the next. Start by prioritizing personas and identifying the content they need in order to build out a content plan for each user paths. This is typically done through a collaborative discussion. Brainstorm your content with your subject-matter experts and map content for each buyer persona and industry you do work with.
Here's an example of a content plan mapped along the sales process: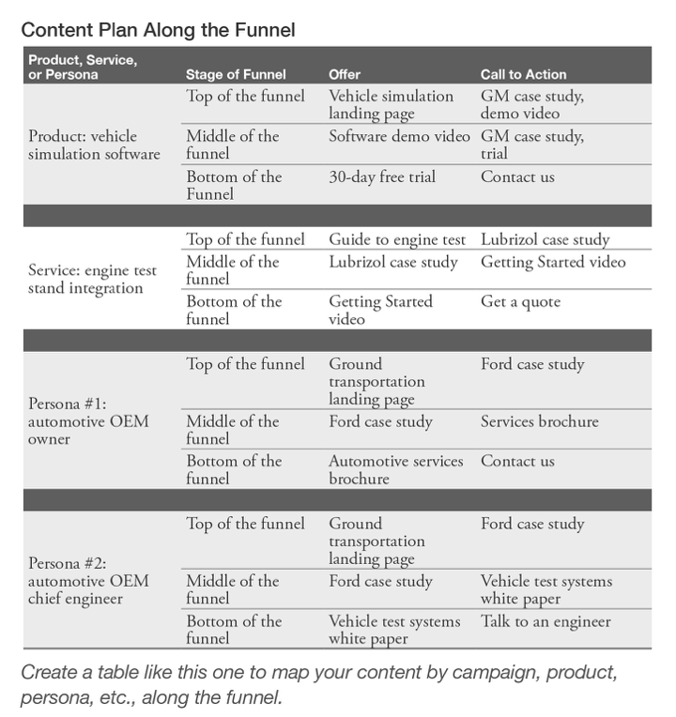 Learn more about generating leads through technical content in our free Ebook: