4 min read
Content Types: Grab User Attention With Infographics
This is part two of our blog series on content types. Read part one on white papers and case studies here, and stay tuned for future posts on more content types.
As the world becomes more and more digitized, we as marketers must fight harder for attention from our key audiences. This is not an easy task as research now shows that the human attention span has declined from 12 seconds in 2000 to 8 seconds in 2015.
As digital marketers, we know that we must work harder to get our target audience engaged with our website and content. Users have so much content vying for their attention. Our job is to entice our audience with interesting content that grabs their attention while proving to them we are a trusted resource.
After surveying engineers, we know that engineers want to see images and graphics included in a vendor's web page. When asked what kind of content they prefer on web pages, 41 percent of engineers said they wanted images and graphics included on web pages.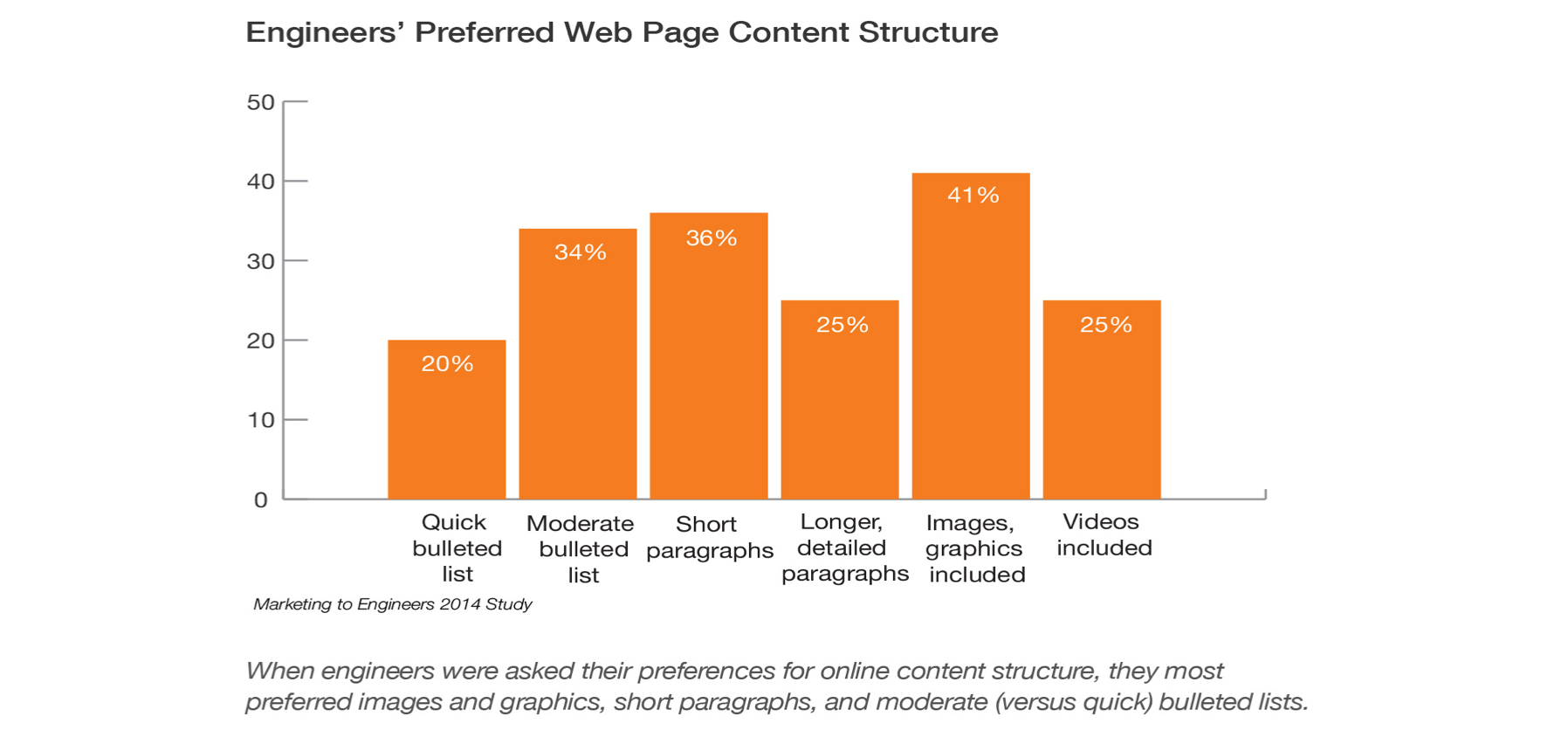 Technical marketers have a harder time coming up with images to display solutions. It's often hard to get clients (and their corporate departments) to agree to take pictures on the manufacturing line. Even when you do get permission, the images don't always turn out the best due to poor lighting that is common in manufacturing plants.
Many technical companies resort to using stock images to help make web pages more interesting. While you can find stock images of manufacturing solutions, it is common and frustrating to see your competition using the same stock images as you.
So what's the best visual content to reach engineers and keep them interested in your website? The answer: infographics.
What's an infographic?
An infographic is a visual representation of data. Shared infographics turn data and complicated subjects into visually interesting content that draws a user's attention.
Technical content is easier to understand when it is presented visually to your audience. An infographic should break down complicated data into simple and concise points with pictures and graphics that support that content.
Infographics aren't just nice to look at. At TREW, we have seen clients increase web analytics by adding infographics to web pages.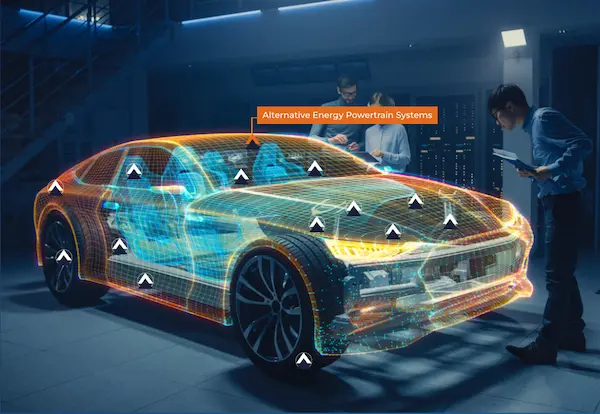 Interactive infographics helped Genuen increase the average time users spent on a web page.
Genuen added interactive graphics to their website and saw an increase in how long users stayed on their web page. Users can hover over pictures to see examples of applications Genuen can design and build.
Before adding these interactive graphics to their Automotive expertise page, users averaged less than a minute on the web page. After adding in the interactive graphic, the average time spent on the page increased to more than two minutes.
Data also shows that infographics are an important piece to any content marketing strategy. According to SerpLogic, infographics are liked and shared three times more than other content types.
In the world of SEO, creating viral social media links helps your website show up on search engine results pages (SERPs). By creating infographics designed to reach your targeted audience, you can help boost your site's SEO.
How do you create an infographic?
To begin creating an infographic, you need to come up with a good topic. You want to pick a topic that is core to your business and one that can be visually represented. Look at what pages on your website get the most views and interactions, then brainstorm infographics that could make these pages even better.
Once you've found your topic, do your research. Find facts and statistics that you want to include. This also helps you become a valuable resource on your topic.
After your research is done, sketch out your idea for an infographic on paper before starting the design process. There are lots of resources available to help you design your infographic.

Here is a great example of an infographic on smart manufacturing by Avid Solutions.
Once your infographic is designed and perfected, write a blog post around your infographic to show your subscribers and share on social media networks.
Be sure to incorporate your infographic in white papers, ebooks and other relevant marketing materials. I have re-used infographics on trade show banners, service flyers and white papers.
Track your web data to see if adding an infographic performs well on your web page. Compare metrics such as time on page, average page views and bounce rate for the page in question before and after adding the infographic to see how page performance of existing pages changes.
---