7 min read
3 Steps to Improve Your Website: Reduce, Re-label, Restructure
These days, engineers are searching for your products and services online. As trade shows and cold calls become less effective methods of reaching today's buyers, technical companies are finding success reaching buyers through their web presence.
We polled engineers across the globe on how they look for new products and services and found that engineers prefer to search online and read available content before talking to a sales team.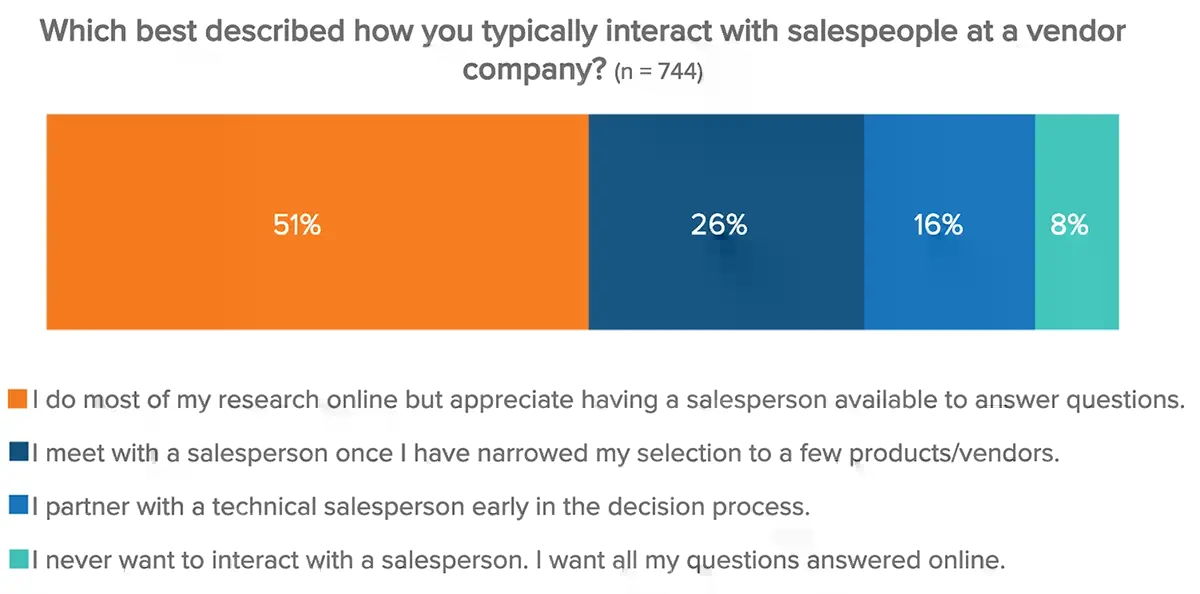 In our
report, we noticed that more than half of the buying process is happening online as prospects interact with digital content on vendor's websites before contacting sales.
If your website isn't being found by potential clients now, then you need to think about improving your website. Website redesigns take time and money, but you can take steps to improve your site today as you plan for a website redesign.
Before you can start improving your website, you need to understand web violations that distract and confuse visitors on your site.
Too many choices on one page – 10 links here, 7 buttons there, and enough banner ads to make your head spin
Content and link labels using internal company verbiage, making it difficult for new visitors to make heads or tails of what they should click
Compelling content buried multiple levels deep into a site – such as professional, high-quality product videos or case studies about a prominent customer
Not enough content, imagery and CTAs for users to interact with
When communicating online, remember that you're not in the driver's seat – visitors navigating through your website are in control. And, web users are notoriously fickle, spending only about 10 to 20 seconds on a page to peruse its offerings before clicking or bouncing.
In addition to the challenge of short attention spans, a growing body of evidence suggests that the more someone has to use their brain when making decisions – "cognitive strain" – greatly influences web behavior. The harder you make your web visitors think, and the more decisions they have to make, the less confidence they'll have in the choices they make, and in your offerings. The result is a less favorable outcome for you.
So if web visitors are in the driver's seat, how can you ensure more favorable outcomes? TREW's advice: Always consider short attention spans and cognitive strain when designing your site's structure, information flow, and content placement. Simply put, make your site more efficient to make it more usable.
Below are three key areas where you can make big improvements to website efficiency and usability:
1. Reduce Choices for Reduced Headaches
Before you redesign your home page, product pages, or other key site sections, sit down and ask yourself these three questions:
What's the goal of this page or site section – its reason for being?
What action(s) do I want a user to take when visiting this page or site section?
What do I think a web visitor to this page will want to achieve from it or find compelling?
Prioritize your content and offerings based on your answer to these questions; anything that doesn't support the goals and top actions should not be on the page or should be deprioritized to the bottom. (I'm looking at you, promotional sidebar with banners and blinking images!) This is a great way to reduce the clutter.
Example: TREW client Marvin Test Solutions focused on prioritizing specific content during their recent website redesign. Below, in figure 1 - the old site was text heavy and offered too many options, so web visitors didn't know where to look or what to click on to quickly get to the information they sought. In the new redesign – figure 2 below – there is brevity of text and a focus on a few key actions for visitors to take to dive into the site.
2. Re-label for Clarity and Easy Navigation
Some websites make the mistake of labeling navigational links with internal names or obscure branded terms that aren't descriptive enough for the outside world to understand. If a new visitor to your site can't figure out which link will get them where they want to go within a few seconds, your labels aren't intuitive enough.
Take a look at the below example from TREW client Bustec. If you were a web visitor looking for DIO function cards for data acquisition, which of the two sidebars would you find more helpful and easy to use?
An exercise for you: Open your website right now, and take a look at your link labels in your menus and sidebars. Think about the outside world, and especially those in your audience who aren't yet familiar with your company. Would those new users immediately understand the labels you've given your links, or are they internal words and acronyms that only a diehard customer or internal employee would understand? Your answer will reveal the action you need to take.
3. Restructure to Unearth Your Best Content
When you meet a prospective client, you probably focus on putting your best foot forward and ensuring your top sales team is at bat. But what about the online world? Just like you don't hide your best sales staff from prospects, don't hide your "cream of the crop" web content many levels deep on your site. Let the cream rise to the top!
Carve out a prominent place on your home page or top-level product and service pages to promote this compelling content, such as client quotes, case studies, and how-to videos. Be sure your highest-priority content and messaging is situated near the top of each page, above the fold, and as a result all ancillary content will sink down below the fold.
When client Parallon Business Solutions wanted to prominently highlight its rich content archive, TREW built it a new site section focused on just that. One click from the home page brings web visitors to a searchable index of videos, case studies, and presentations that demonstrate the company's commitment to thought leadership and its deep expertise in healthcare management.
Reduce, Re-label, Restructure: These three simple principals of web usability can greatly increase the chances that your target audience will find the content YOU want them to see, while helping you build trust and credibility with an easy-to-use website. The more you can empower your visitors with a highly usable site, the more likely you'll achieve your web and marketing goals.
Does your website need some love? Don't know where to start? Contact TREW today to discuss our Web marketing services, including website audits and complete redesign.