6 min read
8 Tips and Tricks to B2B Webinar Success
Webinars tend to be seen as difficult, time-consuming, and requiring specific expertise to pull off. The barriers to entry seem daunting, and it can be difficult to convince management and your company's technical experts to participate. However, not only are webinars easier to organize and host than they appear, but they also can result in huge marketing and sales successes by generating new, engaged leads and opportunities.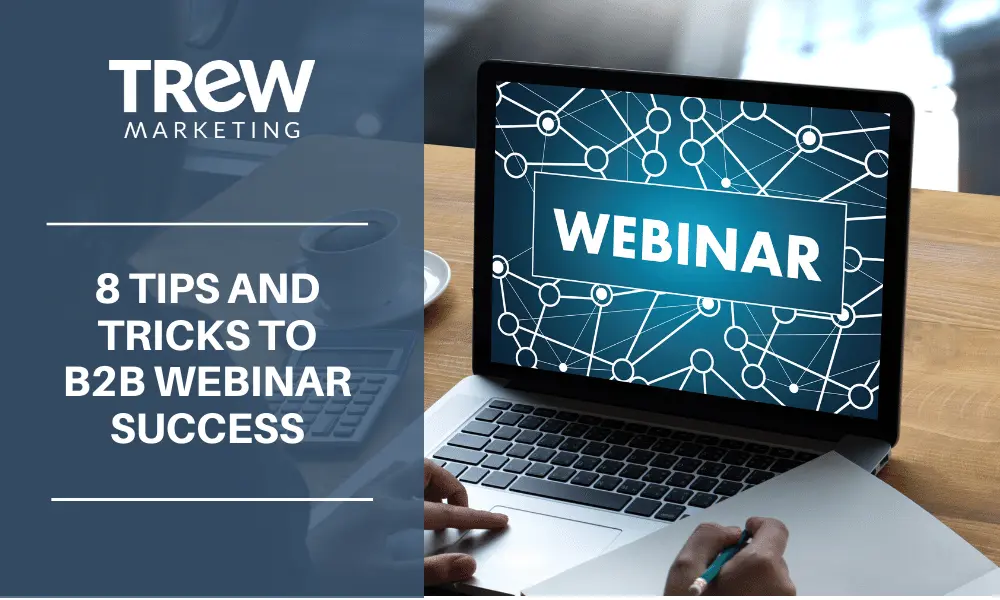 According to TREW's 2020 research with IEEE GlobalSpec, 79 percent of surveyed engineers consider webinars to be somewhat or very valuable. Webinars offer a chance to interact with an engaged audience for close to an hour on average, generating educated and qualified leads. In a time of reduced travel and social distancing, webinars can also help nurture sales prospects you would have previously seen in person.
GoToWebinar, a popular webinar-hosting platform, analyzed data from more than 250,000 webinars held in 2019 to provide insight into webinar trends and best practices. Below, we summed up the top findings from GoToWebinar's study along with our tips on how to make webinars work for your company.
1. Promote early and often
The study found 12 percent of registrations occur 4+ weeks before the webinar date, so plan to give yourself at least 4 weeks to promote your webinar.
We typically start promoting 4 weeks out and increase the promotional cadence at one week out. The study found 59 percent of registrations occur the week of the event, with 17 percent occurring the day of! Thus, it's important to start your promotion at 4 weeks out to get the early birds, but then focus effort throughout the last week to get the bulk of your attendees.
2. Use email as a promotional channel
The most used promotional channels for webinars are email, social media and websites/blogs. Email is by far the most successful though, generating 57 percent of GoToWebinar's registrations and more than half of TREW's webinar registrations.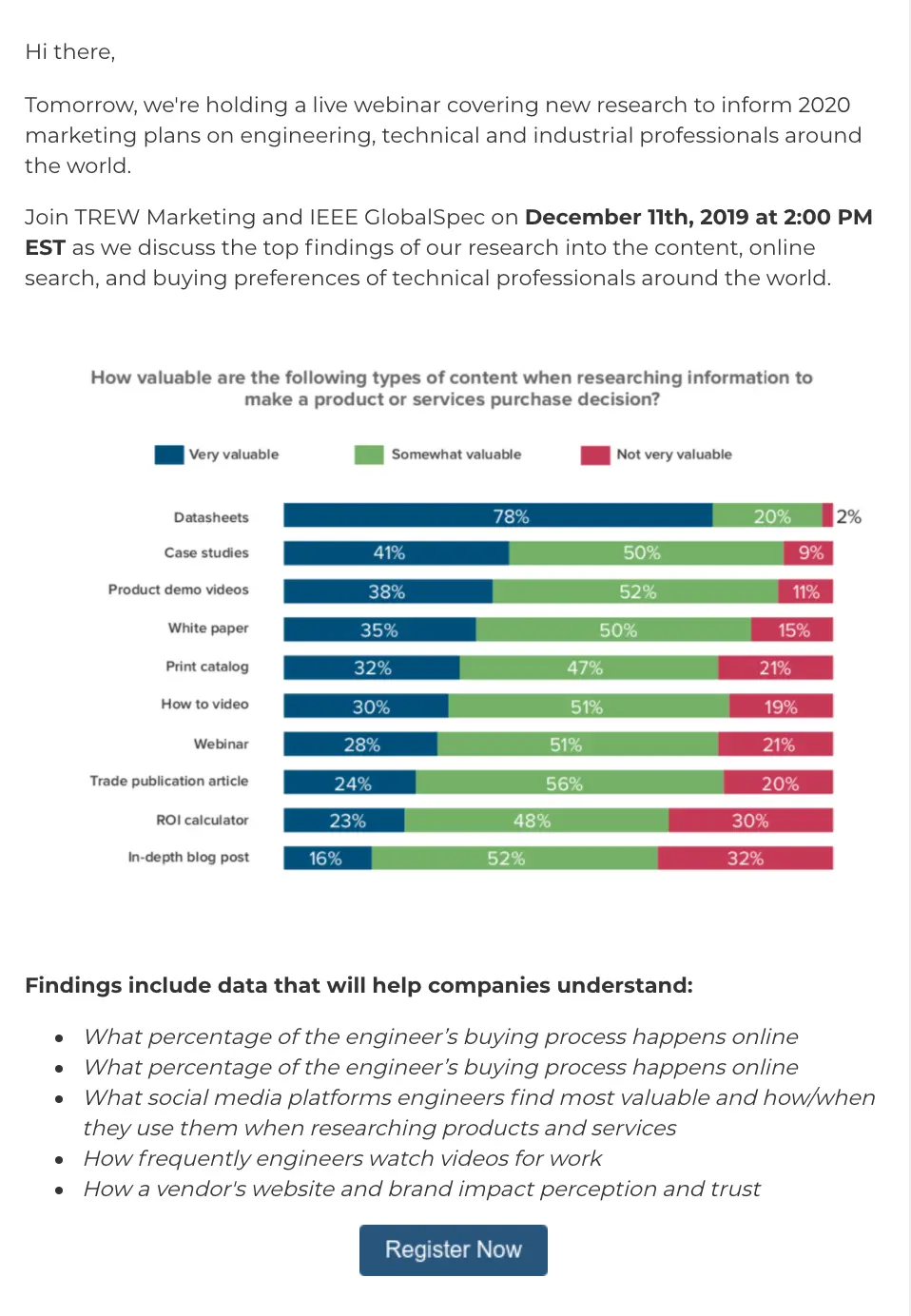 Example webinar promotion email
Maximize your emails by sending them at optimal times; Tuesday is the best day to promote, and registrations spike between 8-10 a.m. local time. You'll get the most bang from your promotional buck by sending emails on Tuesday mornings to your database.
With that being said, don't focus solely on email for promotion. Add the webinar registration to your website and if possible, promote it on your homepage. Write a
, with a CTA to register. Share frequently on social media, and consider trialing paid social media ads. By testing different channels and keeping an eye on the results, you'll quickly figure out what works best for your organization.
3. Ask partners to help
Calling on partners to help promote or even co-host your webinar can lead to a huge increase in reach and registration. Choose partners with relevant audiences to the webinar topic, and tailor your ask based on your partnership agreement and the value the partner organization will get out of it. Partnership promotion asks can range from sending one tweet or email about the event to co-hosting the entire campaign with you.
For example, TREW partners with IEEE GlobalSpec each year on our
. Partnering with IEEE GlobalSpec has led to record-breaking webinar registrations for both companies, and a slew of highly engaged new leads.
4. Schedule wisely
According to the research, Wednesday and Thursday are the best days to hold a webinar, followed by Tuesday. Not surprisingly, the weekend is the worst time to hold a webinar.
The best time to host a webinar based on average attendance is 1 or 2 p.m. EST (10 or 11 a.m. PST). Working cross continents can introduce a bit more of a scheduling challenge, however, so you may need to test different times based on where most of your audience is based.
5. The longer, the better
Contrary to most other marketing channels, longer webinars perform much better than shorter ones. Webinars that are 60 minutes long attract the most attendees when compared to shorter webinars. There is an attendance drop-off after 60 minutes though, so we record capping the event at an hour.
The average consumer attention span is dwindling and is believed to be 8 seconds long, but the average webinar attendance time is a whopping 57 minutes. Take advantage of having an audience for this long to make a positive impression with high-value content.
6. Engage your audience
One of the benefits of live webinars is having the opportunity to engage with your audience through polls, surveys and Q&A. Save 10-15 minutes at the end of your webinar for questions and answers, and hold polls throughout the webinar.
In my experience moderating webinars for TREW and many of our clients, polls can re-focus your audience's attention and re-engage them with your topic. We see very few attendees drop out of the webinar when we use polls, and our engagement metrics and audience questions spike after posting a poll.
A poll question from a recent TREW webinar.
Also consider setting up a post-webinar survey with three to five questions. This can be a great way to get instant feedback from your audience on the webinar and on other topics they may be interested in.
7. Offer a recording
GoToWebinar found that marketing webinars average 56 attendees, which is an average 44 percent of all people who registered. In past years' research, they've reported 26 percent of registrants only want to watch on-demand, and many registrants will opt for recorded over live (2017 research). Offer a gated recording on your website to reach these people, repurpose your content and extend its shelf-life.
With these numbers, you might be wondering why you should even bother holding a live webinar first. Live webinars give you a chance to engage with your audience in ways a recorded webinar never will. We always recommend hosting a live webinar when possible, then utilizing the recording as an evergreen piece of gated content.
8. Follow up
Webinars tend to be more engaging than any other marketing channel (see that 57-minute attendance metric above). Considering this level of engagement, it's crucial you follow up with your webinar attendees after the event. Depending on the webinar topic, it may make sense for sales to reach out directly to webinar attendees to schedule a demo or call. Follow-ups based on survey responses may also be appropriate.
Don't ignore the registrants who didn't attend either; with a 44 percent average attendance, there will inevitably be a large pool of people who never make it to your webinar. Send a post-webinar email to all attendees with the recording and other resources to give these registrants a chance to interact with your brand.
---
Do you have webinars in your content plan? If not, use these tips to get started and try out your first webinar in the new year! You can find more information about webinars in this Content Marketing, Engineered podcast episode.
For more help incorporating webinars as part of your content plan, download our content marketing ebook or check out Wendy Covey's new book, Content Marketing, Engineered!

Erin has worked with more than 40 technical companies across website strategy, content development, sales enablement, and marketing tool stack development. She's a strategy-first marketer with a passion for persona development and a deep understanding of how marketing metrics tie into the bottom line. Erin holds a B.S. in public relations with a minor in anthropology from the University of Florida. She lives in Austin, TX, with her husband John and their dog and cat.
TREW Marketing is a strategy-first content marketing agency serving B2B companies that target highly technical buyers. With deep experience in the design, embedded, measurement and automation, and software industries, TREW Marketing provides branding, marketing strategy, content development, and digital marketing services to help customers efficiently and effectively achieve business goals.