4 min read
5 Web Hero Headers that Capture Technical Buyers' Attention
Whether you're meeting in-person at a trade show or a customer finds your company via Google search, first impressions are important. Companies were once judged based on their store fronts or conference rooms. Now, buyers are making judgments and gathering information about you based off of your website.
When we surveyed engineers and technical buyers about their marketing preferences for our 2019 research, we found that a company's website had considerable impact on engineers' perceptions of the company as a credible, technically competent vendor for 52% of respondents.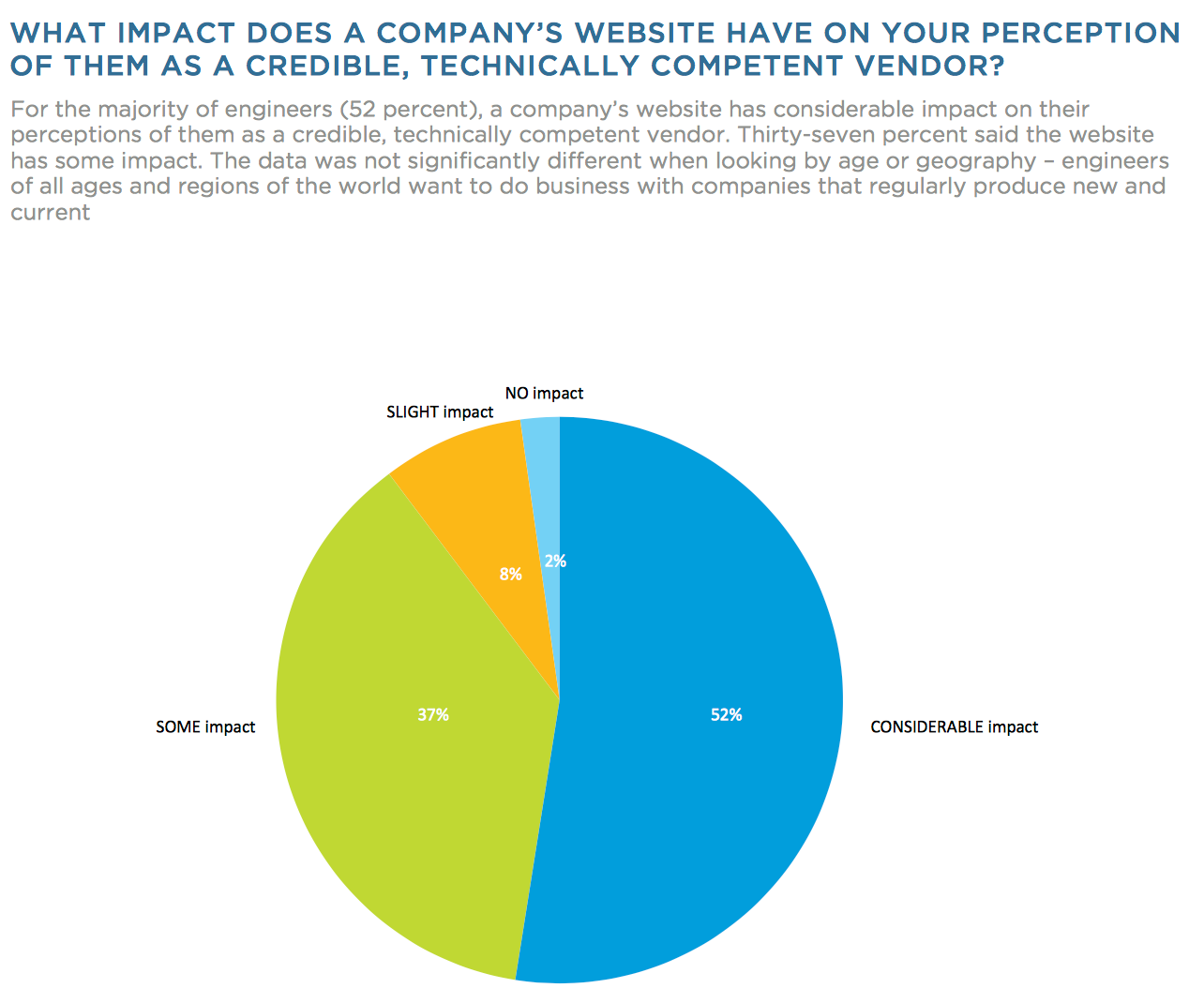 52% of engineers said a company's website has considerable impact on their perceptions of them as a credible vendor.
When it comes to your website, your home page will get the most visits out of any other page on your website. A homepage should strategically capture user's attention and showcase how you solve your customers' problems.
Because your homepage is so important, you need to pay attention to your hero heading and anything that falls above the fold (or before the scroll) on your homepage.
It can be challenging to brainstorm web headings that captivate your audience while also summarizing exactly what your company does and what makes you different from competitors. To help, we have five hero headings that capture technical audiences while showcasing a company's unique differentiators.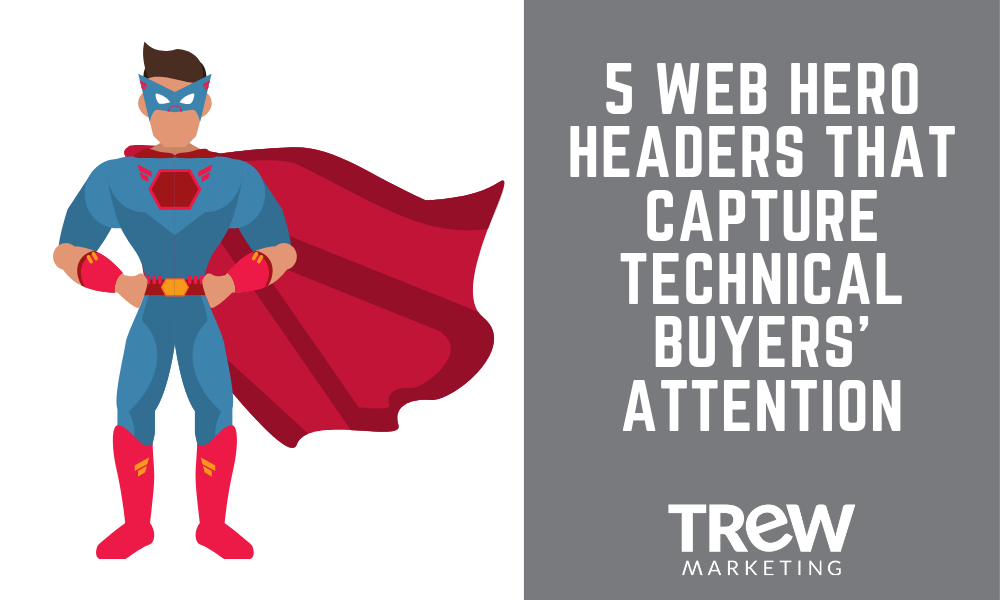 1. Venable Instruments: Power Systems Test Instruments that take accurate and precise measurements, analyze measurements to make decisions, and synthesize and stimulate feedback loop.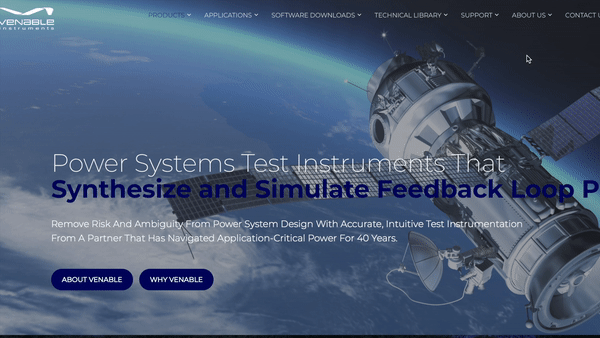 Venable Instruments uses typing animation on their homepage's hero header to capture reader's attention while touching on the benefits of their products. The homepage messaging does a good job of speaking to common pain points that come with power systems test instruments. Instead of focusing on the features of Venable's frequency response analyzers, the hero image focuses on the benefits such as measurement analysis and feedback loop stimulations.
Scrolling hero headers, like this, are gaining popularity as companies find they can creatively showcase high level messaging in a creative and fun way. For companies with a few different products, animated headers like this can give you more flexibility to expand on all your services and industries.
2. Wineman Technology: Better Product Quality Through Test – Evaluate your product's future performance today, with test systems and fully simulated test environments to get to market faster.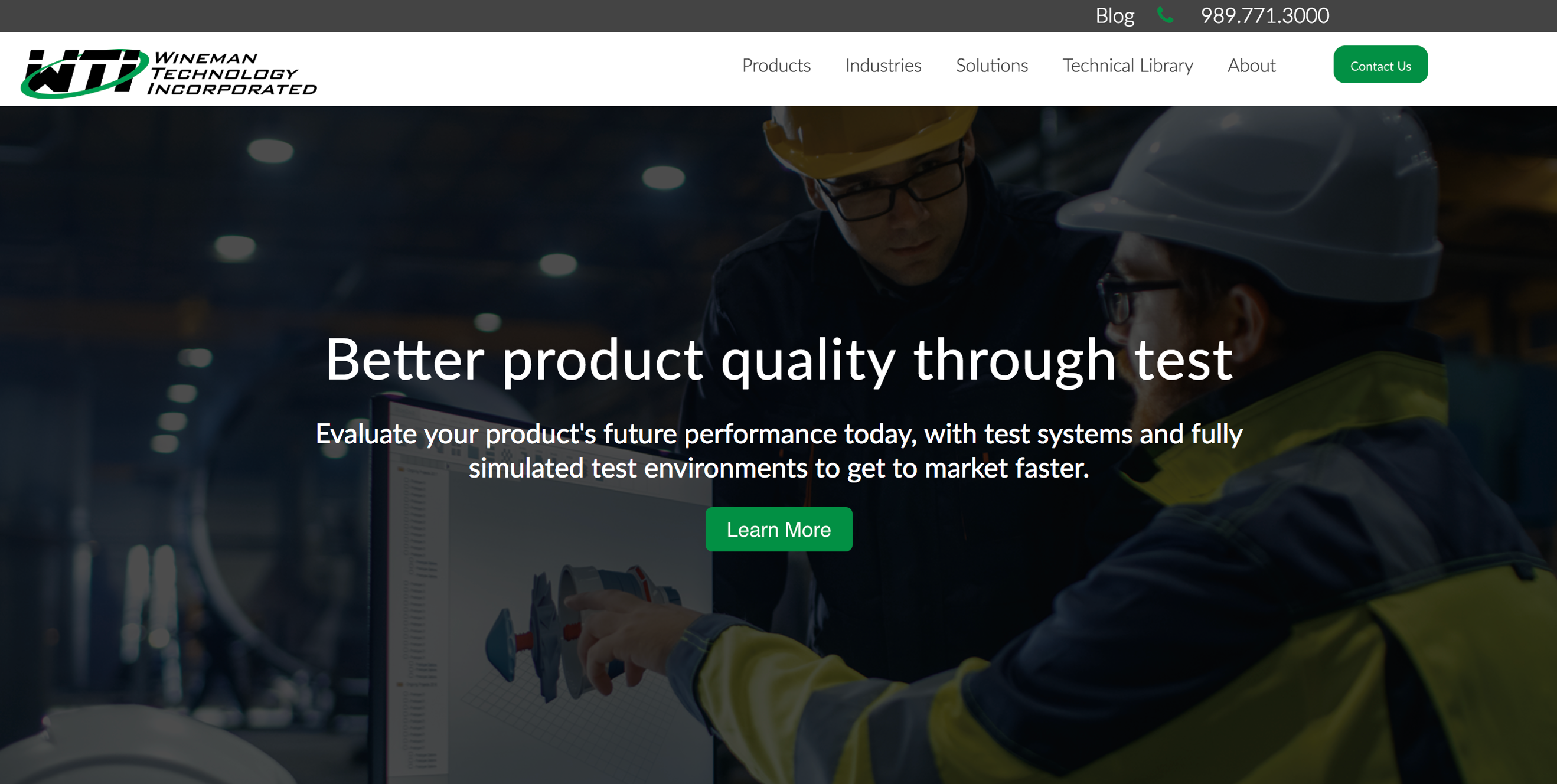 This hero header on Wineman Technology's homepage perfectly describes what WTI does and the benefits the company brings to their clients. Visitors immediately understand that WTI creates custom test systems that help companies create better quality products. This header is simple, concise and powerful.
WTI's header and sub-header speaks to common customer problems that Wineman uniquely solves. By highlighting customer pain points, WTI is strategically showing web visitors that they have the experience and knowledge to solve product quality problems for their customers.
3. Silex Technology: When It Absolutely Must Connect – Transform your products into secure, reliable wireless devices that deliver a completely connected, always-on experience.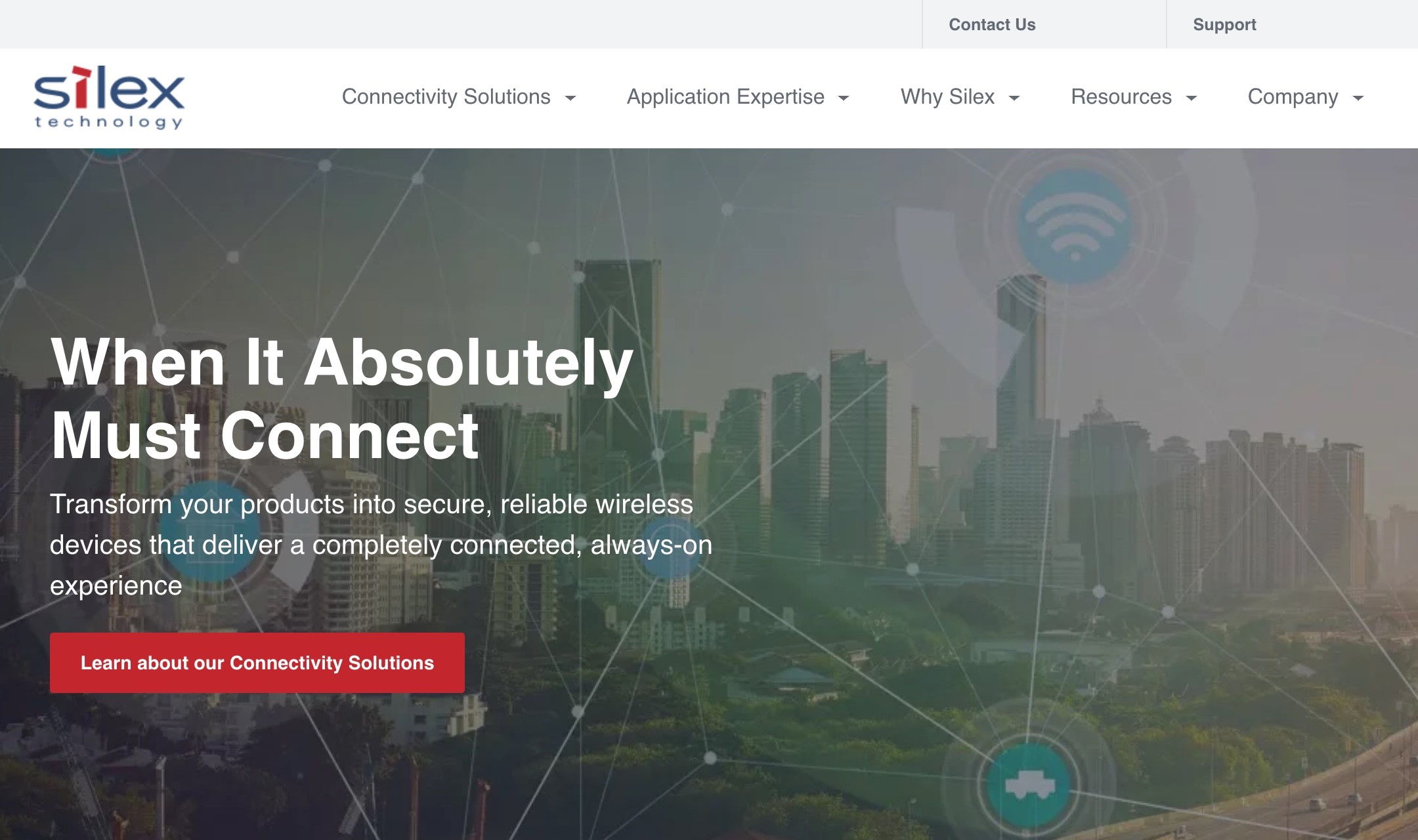 Silex Technology used their tagline, "When It Absolutely Must Connect", as their main header on their homepage. Using taglines as headers doesn't always work because sometimes it can become repetitive throughout your site – especially if your logo includes your tagline – but this works for Silex. The hero image used by Silex corresponds with the text and helps bring their tagline to life on their homepage.
4. Vertech:
Industrial Automation and Information Solutions for the Digital Enterprise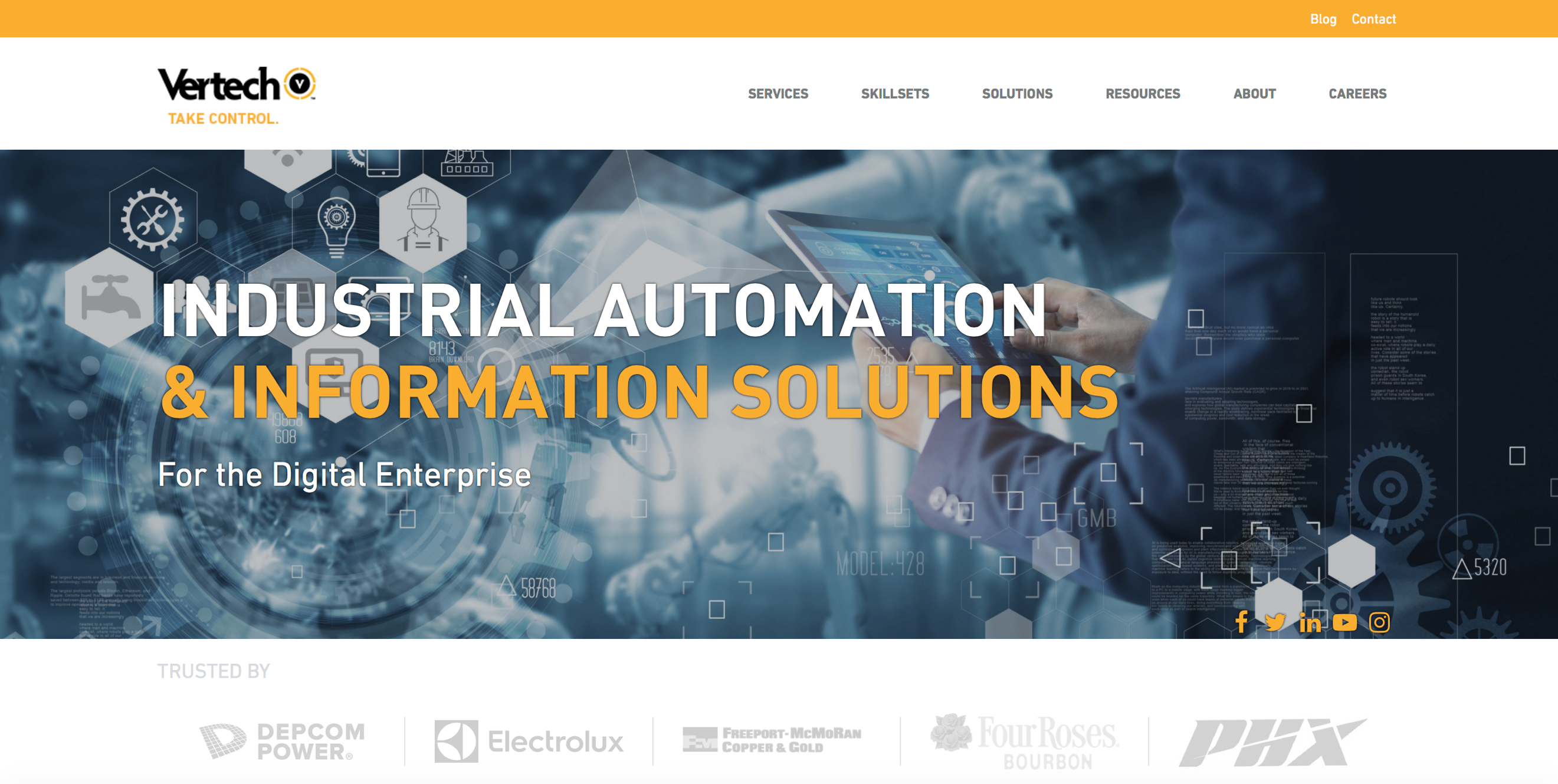 As a control system integrator with expertise in digital factories, Vertech's hero header focuses on what kind of solutions they provide. Their hero header text is simple compared to some of the other examples here, but it works. The hero header image does a good job of depicting industrial automation. This header shows web visitors that Vertech is a system integrator with the skills to implement modern control system technology that allows plants to improve efficiency, visibility and security. Vertech also showcases client logos on their homepage, showing their expertise.
5. Hallam ICS:
Inspired Engineering – Client-centered engineering that inspires better campuses and communities.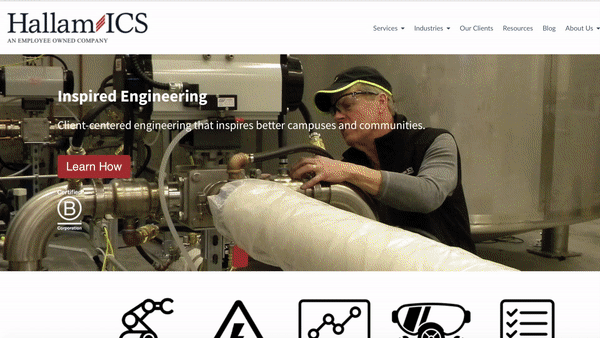 Hallam ICS uses their culture to capture attention on their homepage header. After talking with clients, Hallam realized that clients continued to come back project after project because they liked working with Hallam. Hallam used this feedback to their advantage by making it a part of their brand positioning and messaging. They showcase this messaging on their homepage with a slider graphic that shows real images of Hallam engineers.
---
Watch our webinar, Build a Better Technical Website, to learn more about the B2B website development process.