4 min read
Growth-Driven Design vs. Traditional Web Design
A well-designed website is essential to online success. According to a recent HubSpot survey, 94% of respondents cited poor design as a reason they do not trust a website. On the flip side, an intuitive, well-designed website positively impacts how visitors view your company, it also improves lead conversion through easy-to-see calls to action driving conversions to your technical content. Before you decide how to redesign your website, let's look at the current model of traditional website design and compare it to the new Growth-Driven Design approach.

Traditional Website Design
If you have redesigned your website in the past 5 years or a full design from scratch, you know how traditional website design works. The process involves a full-scale approach, including defining all of the marketing goals and site goals before beginning to build wireframes and QA/content entry at the end after programming.
HubSpot noted some risks to the traditional model, including the time the initial launch takes, audience behavior changes over time, and new user demands throughout the process. Your website is the hub for all of your marketing activities and your most efficient salesperson, making it worth really digging into the cost and time commitment before starting the project. Then there's the consideration that the increase in mobile usage, with more searches now on mobile than on desktop.

After all of this work, once the website redesign project has been completed, you won't be able to make large edits until you decide to do a redesign with major updates a couple years down the road, which can limit any possible changes in the meantime.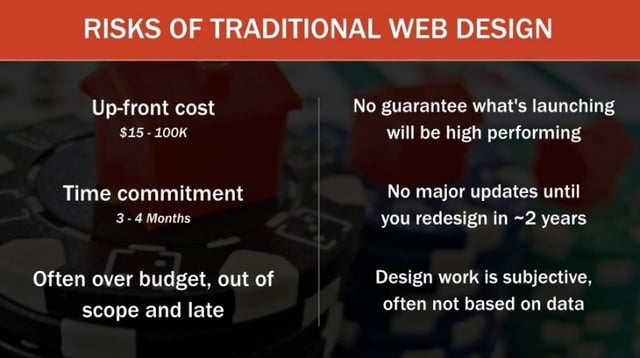 Growth Driven Design
Now that we've laid out some information about traditional website design, we want to introduce a newer inbound approach to website design: Growth-Driven Design. This approach helps mitigate the risks noted above.
With Growth-Driven Design you design your site in phases using an agile approach and get a "launch pad" site up in one month. From there you can immediately measure impact of the new design and evaluate user behavior and data over the first month. Then you iterate on your design and content monthly based on real-time user behavior of your target personas to flesh out your site, making small, incremental changes like landing page optimization, word choice changes, CTA buttons, premium content placement, etc. Along the way you also build a prioritized wish list of additional items you would like to implement into your design that take into account new changes to your business or additional requirements.
"The Internet is always advancing, so if you're not moving forward, you're moving backwards. Failure to continuously improve your website is a key reason why brands often feel their brand experience is trailing behind their competitors. It's also a key reason why brands feel they need to totally redesign their website every few years." –Growthdrivendesign.com
Growth-Driven Design focuses on three main principles: minimizing the risk of website redesigns, continuously learning & improving, and informing marketing & sales. For minimizing the risk, a systematic approach is used to shorten launch time since continuous improvement will be done along the way, after the base launch. In this fashion, continuous research occurs, ensuring that the visitors will get the best experience out of the website. This way they won't show up to a site one day and think it's an entirely different entity – slight changes will be made along the way rather than abrupt ones. Learning about these visitors helps your marketing and sales teams know what the customers really want, helping to convert and drive leads.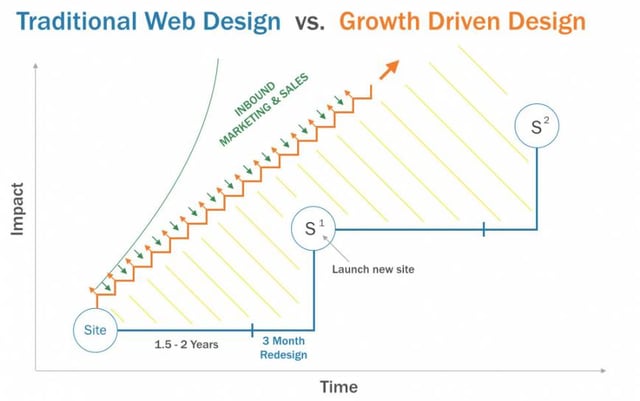 In order to track these real-time results, Hotjar software works directly with the site to learn what areas users really like verse the parts they don't spend much time interacting with. The software can show heatmaps that visually represent users' mouse activity, show actual recordings of mouse movement down a page, run polls and surveys for first-hand insight, and more. The integration with Growth-Driven Design can bring your website to the next level, as it can be customized and changed along the way to meet your target audience's exact needs and wishes – all taken from real-time site interactions.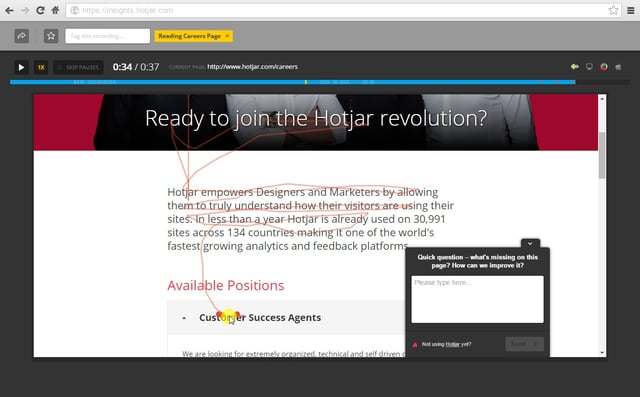 Learn more about how Growth-Driven Design can work for your company or take the next steps toward redesigning your website, by downloading our free Ebook, A Guide to B2B Website Redesign.
This post has been updated from its original publishing on December 10, 2015