3 min read
Top 6 Topics for Sales + Marketing Alignment Sessions
Time is money.
This popular colloquialism becomes painfully obvious to business leaders who gather their sales and marketing teams for alignment meetings, only to find the discussion degraded to complaints without solutions, ideas without context to company strategies, activity metrics without a tie to business ROI.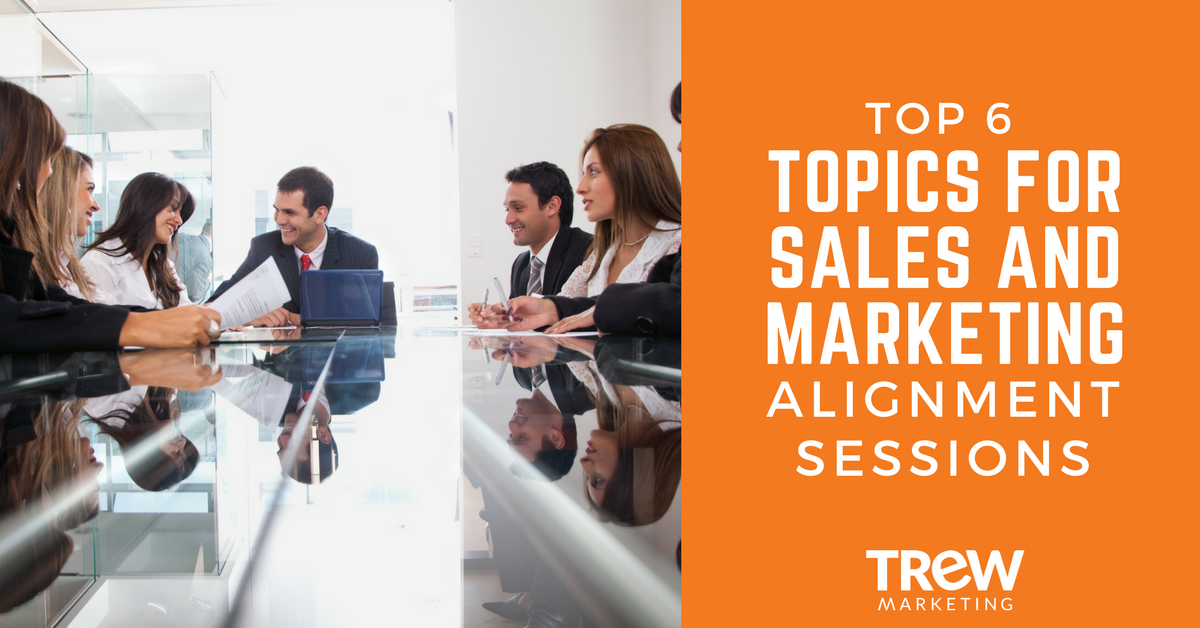 Your sales and marketing team are valuable resources, and studies have shown that when working together, your company is 50 percent more likely to achieve or exceed sales quota*. A key way to foster this teamwork is through thoughtfully planned working sessions.
As opposed to a routine update, working sessions are intended to tackle a heady topic from strategy to implementation and measurement. They require some advanced planning so that the team is quickly brought up-to-speed on the topic, can add impactful feedback, and the group has the ability to make decisions, often including a go-forward plan for implementation.
Working sessions have a virtuous "side effect" of knitting the group closer together through the process.
Here are 6 Sales + Marketing working session topics to consider tackling each quarter.
1. Persona Profile Development (or Annual Review)
By defining buyer persona profiles, the team can better customize their message, marketing outreach channels, and make a greater impact when engaging prospects.
Resource: Defining Audience Personas
2. Value Proposition and Content Asset Map
In this working session, the team will discuss your value proposition and content assets by persona along each stage of the buyer's journey. This process often uncovers messaging gaps, or a need for content assets during particular stages.
Resource: Develop your content plan and map it along the funnel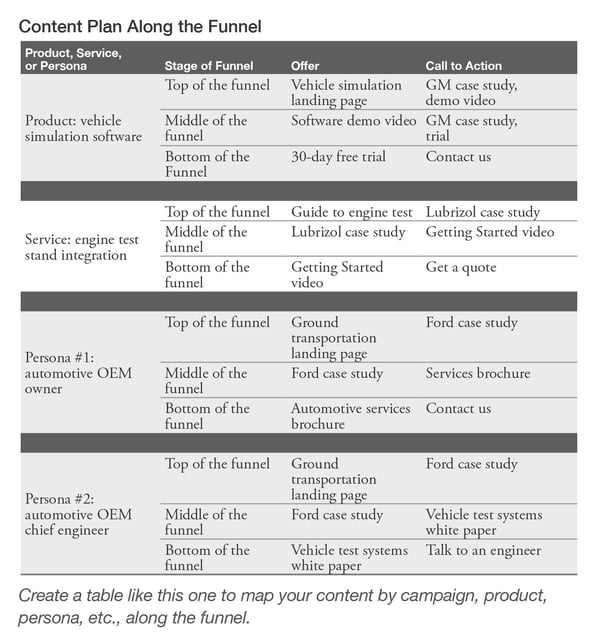 3. Brand Positioning and Messaging
How is your brand perceived internally and externally? How consistently is the company communicating, both through key messages and visual branding? Through this working session the team can understand the importance of a strong brand, identify gaps in brand consistency, and address a plan to improve them.
Resource: How does your brand measure up?
4. Product/Solution Launch Planning
Launches are a powerful way to build awareness and make quick revenue gains. Particularly when entering a new market or reaching a new user, launches take much thoughtful planning.
Resource: Smart Product Launches for Engineers
4. Pipeline Conversion Model Development
Your sales + marketing team should not only be aware of each other's targets along the funnel, they should own and manage the company's conversion model together.
Resource: How to Engineer a High Performing Pipeline
5. Lead scoring model (or a prospect rating criteria)
What is a qualified lead? When are leads ready to be passed from marketing to sales? A sub-set of your pipeline model, lead scoring (or the more basic prospect rating criteria) is a highly important alignment topic for sales and marketing.
Resource: 10 questions to answer when creating a B2B sales enablement strategy
6. Corporate and Sales Social Presence
Social platforms present an opportunity to engage prospects and customers where they are. Working session topics include research data and anecdotal experience on social, corporate approach, and opportunities for (efficient!) salesperson social engagement.
Resource: Social Media Strategy: define, action, measure, analyze, improve, repeat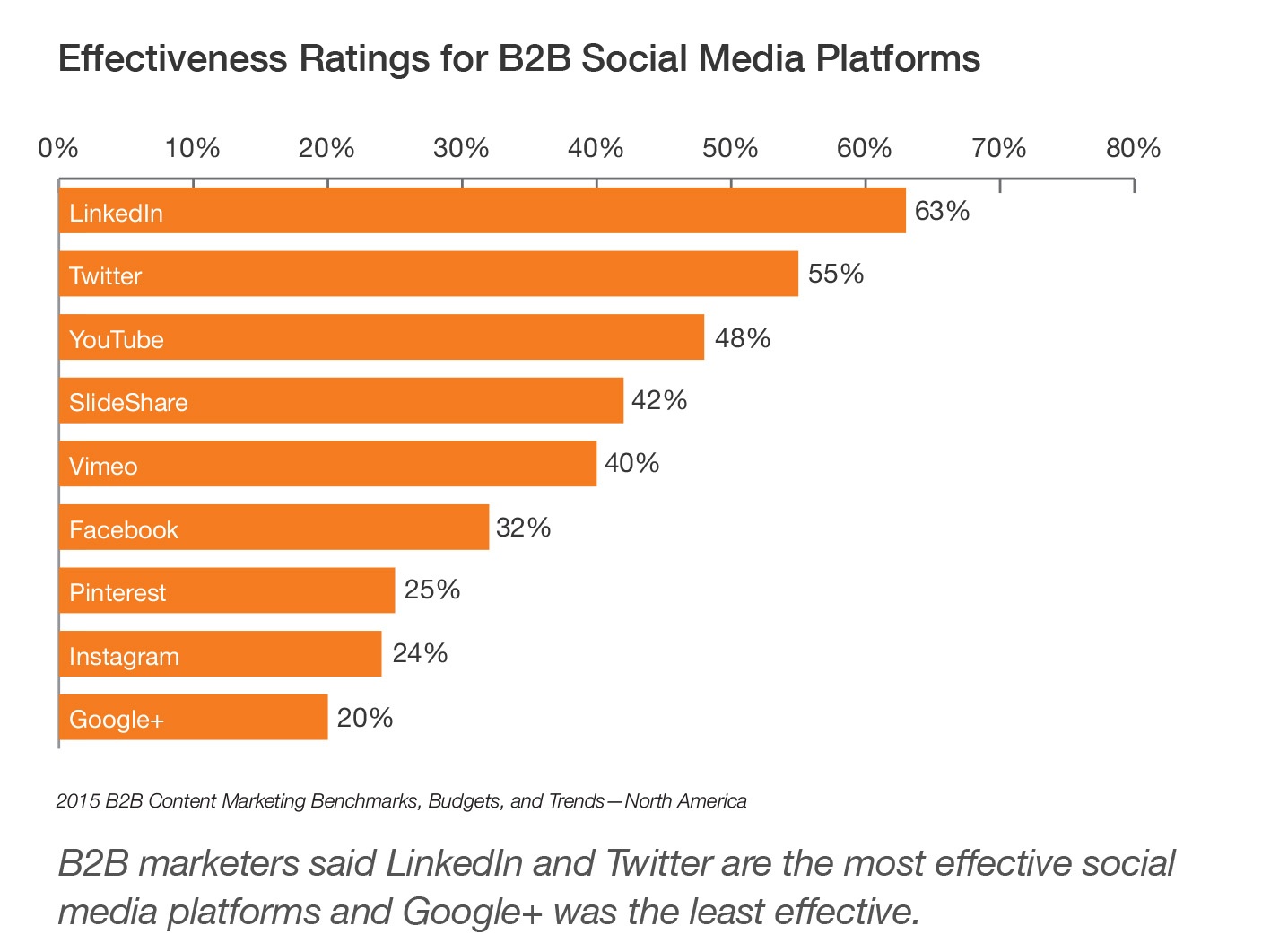 Ready to plan your next sales + marketing working session? TREW Marketing's onsite workshops are designed to facilitate group discussion, utilizing homework and workbooks to prepare, engage, and ensure an outcome with traction. Schedule a meeting with a TREW Consultant to learn more.
*Data Source: Research Report -- The State of Sales Enablement, Aberdeen Group