6 min read
Build a Strong B2B Social Media Strategy in 6 Steps
Social media has an interesting place in the world of B2B marketing, with some companies ignoring social or relegating posting to the summer intern; some companies posting regularly but not actively fine-tuning their content strategy or approach; and still others devoting entire employees or teams to social strategy, content creation, audience engagement and reporting.
There is no blanket answer to "how much time should my company devote to social media" or "how often should we post", or even "what should we post and to which channels". That's where developing your individual strategy, based on your company's goals and audiences, comes into play.
We're going to dive into the steps to develop a company-specific social media strategy today, starting with goal setting and overall marketing alignment.
1. Define Your Social Media Goals
Define your goals for social media, including how social as an approach fits in with overall marketing strategy and goals.
Common social media goals include:
Driving traffic to the company website or blog
Generating new contacts
Converting existing visitors to leads, and/or converting leads to marketing qualified leads
Building a community with engaged contacts, customers, employees and partners to drive advocacy and brand loyalty
Augmenting customer service, by providing an accessible customer service channel

Your specific goal(s) will impact the types of content you share, the amplification tactics you use and the success metrics, so goal setting is a vital first step when building a social strategy.
Take a minute here to also identify which personas use social media the most actively, as this will impact the content you share and the channels you use.
with IEEE GlobalSpec shows channel preference can vary widely by age group. According to our 2020 research, engineers under 35 place the most value on YouTube, while engineers 66+ find professional community networks most valuable.
2. Review Historical Performance & Metrics
Review your past social activity and metrics with your new goals in mind to identify what is/is not working currently and where you see opportunities. If your goal is traffic generation, look closely at which channel or channels are driving the most traffic to your site. If you're most focused on lead generation, see which channels have the highest conversion rate or are generating the most leads overall.
You can go a level deeper too. If you are specifically looking to increase qualified leads from social, look into the contacts that have converted from social in the past. Who are they, where do they work, how do they engage with your website/social/content? You may find, upon review, that the contacts from one source are bad-fits, but that another platform is sending fewer but higher-quality contacts and should be prioritized.
This is also a good time to look at your current followers across channels and identify who is following and interacting with you. This will likely change channel to channel- Facebook may be employees and their families, whereas LinkedIn could be customers, partners and potential prospects. Based on your goals, you may want to cultivate different audiences by channel and have differentiated strategy and content for each audience.
3. Research What's Working (and Not Working) for Relevant Companies
At this point, you have your goals, priority audiences and an understanding of past performance. Now it's time to review what is and is not working for others in your industry to generate ideas, and which channels are the best fit for your audience.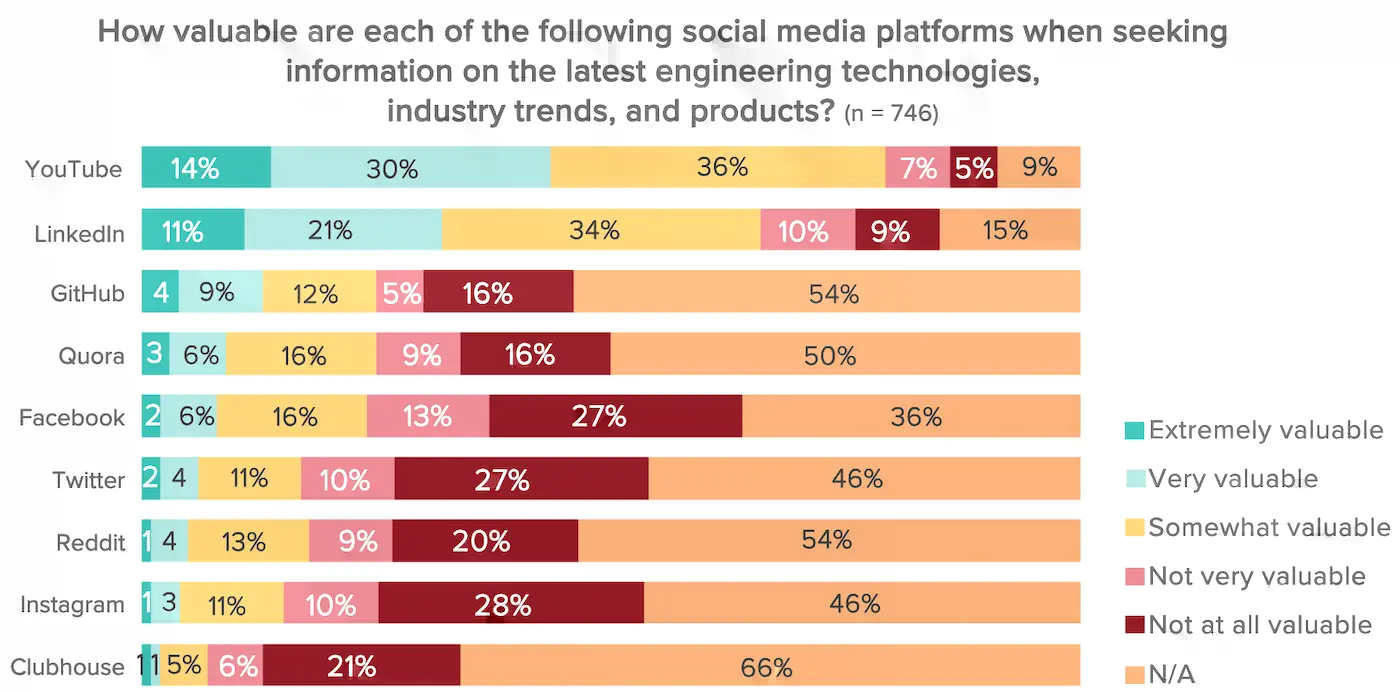 Pick a couple relevant companies- competitors, partners, and others in your general industry- specifically looking for companies with large, engaged followings. For each company, look at the platforms they are active on.
For each platform or social channel, review:
The content they share- do certain content types attract higher shares or more engagement? How frequently do they share each content type?
The posting cadence- how often do they share content? Is there a certain day or time with consistently higher engagement?
How does cadence and content change between social channels?

This review will give you ideas of what works for similar companies with a similar audiences, and it can be a good starting point when building out your social strategy and content calendar.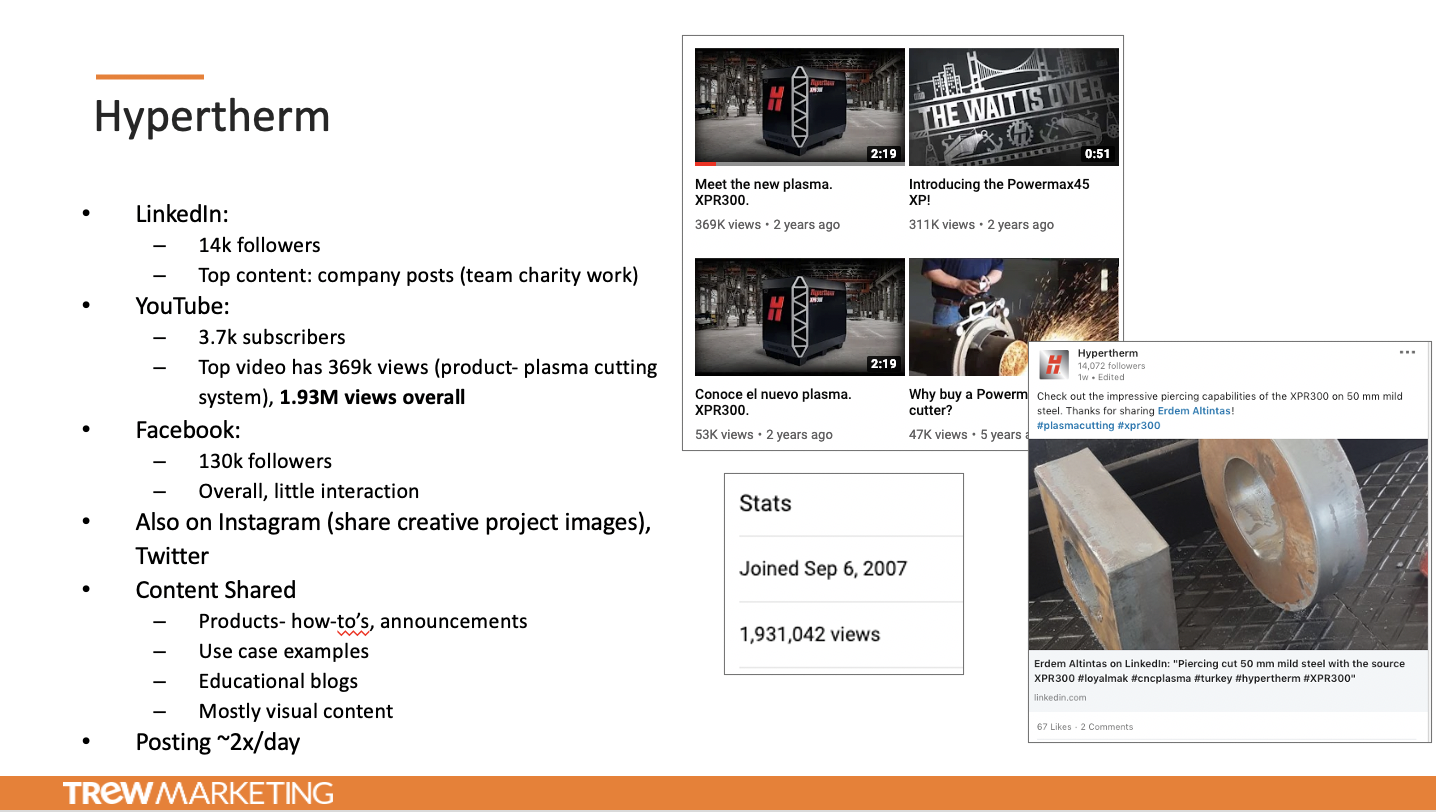 Example for a competitive social media comparison
4. Build Out a Plan and Social Media Calendar
For each priority social media channel, outline who the audience is, what your post cadence will be, and the content types to share, along with how often each type should be shared. Use your goals, past performance, and competitive research to build an informed strategy for each channel.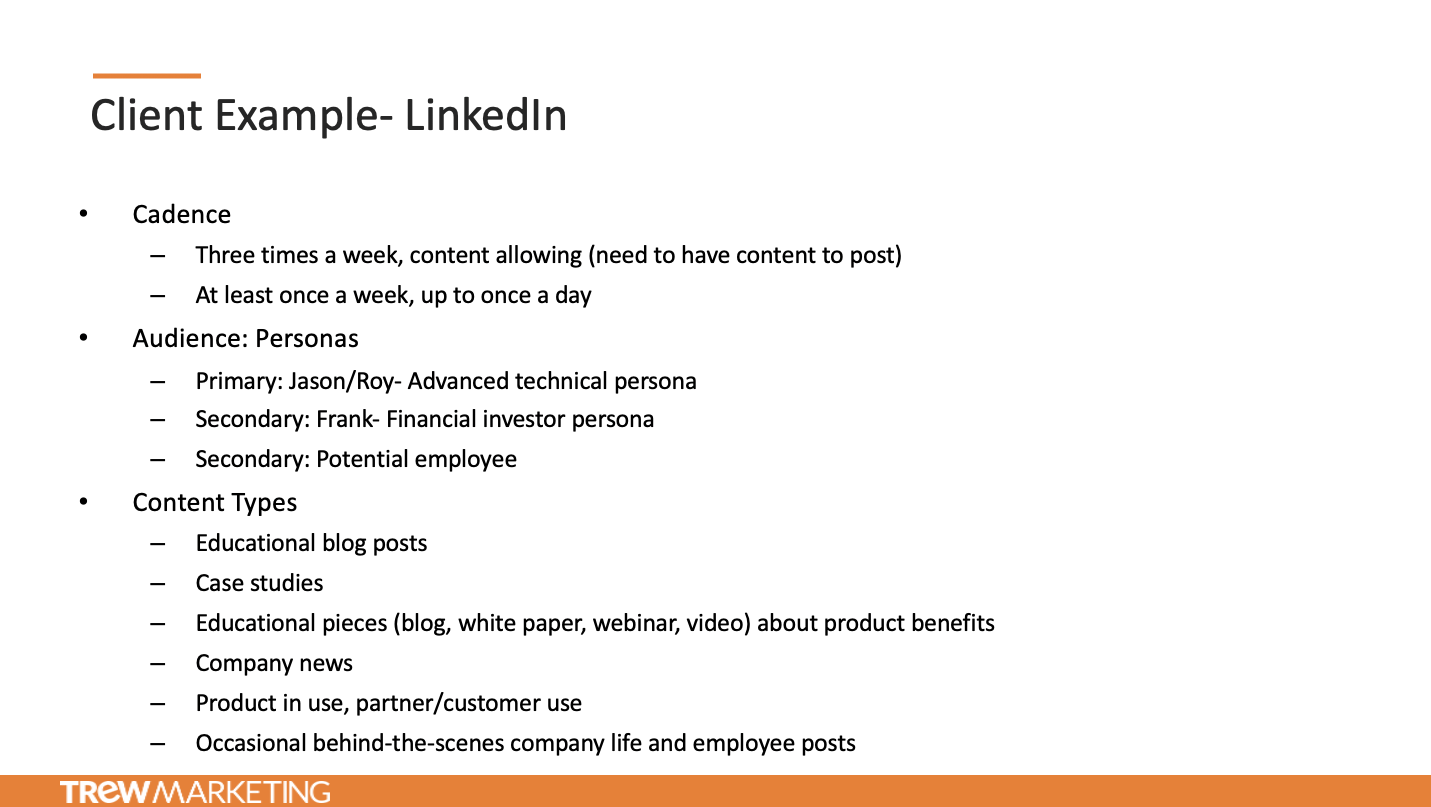 Example strategy for LinkedIn

Based on this plan, develop a content calendar with specified post days and content types. From there, you can start selecting pieces of content to share.

Example content calendar

Content selection can stem from a few areas- timely events, such as webinars; new content; high-performing or relevant evergreen content; partner promotions; and relevant news or industry articles from third parties. A social media calendar will make it easy to balance these different content sources while ensuring you're still following the content types identified in your strategy.
If you're struggling to select content, consider doing the following:
Add calendar placeholders for new content, such as weekly blogs or new white papers.
Add placeholders for resharing new content, to ensure it doesn't just get posted once but is shared multiple times while fresh.
When working on a timely marketing event, add calendar placeholders to promote the event on a weekly basis, then several times the week of.
Review your top performing content for the last year, and routinely pull evergreen content to share from this. This also ensures you don't miss content pieces or overshare one resource.
Keep a running list of evergreen blogs and gated content to share when you need ideas.
Keep a list of partners or industry news sources to source relevant news, if you are sharing third party content.
Coordinating with other departments for content ideas or upcoming promotions.
5. Amplify Your Reach + Engage New Audiences
Unless you already have a strong social media following, just sharing content to your existing followers is not enough. Consider ways to amplify your reach on social media, such as:
Encouraging employees to share content and company posts out to their professional networks. This is an especially easy ask when employees are involved in the content creation.
Using relevant hashtags to make posts more visible to relevant audiences who may be searching related topics.
Running ads to amplify posts to targeted audiences.
Engaging with users by promptly responding to comments and direct message within 12 to 24 hours. To grow your audience, you must actively engage with them!
Joining relevant groups and engaging in the conversation with shared posts and commentary.
6. Review and Revise
Check in on your social media performance and how you're tracking to goals monthly and quarterly. On a monthly basis, track overall relevant metrics- referrals to the website by channel, shares, follower count, etc.
After a quarter, take a deeper look at which post types and channels are driving the most desired interaction. Revise your strategy and social media calendar accordingly. Over time, you'll want to take this deeper look at least once a year to ensure what has worked in the past is still working or to make any needed changes.
---
Social media success is dependent on having the right content to share. If you're not seeing the expected results or are having trouble coming up with the content to share in the first place, take a look at our Content Marketing: Year 1 ebook.

Erin has worked with more than 40 technical companies across website strategy, content development, sales enablement, and marketing tool stack development. She's a strategy-first marketer with a passion for persona development and a deep understanding of how marketing metrics tie into the bottom line. Erin holds a B.S. in public relations with a minor in anthropology from the University of Florida. She lives in Austin, TX, with her husband John and their dog and cat.
TREW Marketing is a strategy-first content marketing agency serving B2B companies that target highly technical buyers. With deep experience in the design, embedded, measurement and automation, and software industries, TREW Marketing provides branding, marketing strategy, content development, and digital marketing services to help customers efficiently and effectively achieve business goals.