Providing the best possible digital experiences is one of the killer features of effective account-based marketing (ABM) programs. When strategies are personalized, coordinated across channels, and designed for maximum appeal, it's difficult to overstate their effectiveness. In my experience, planning valuable interactions between prospects and your brand is where you find bona fide, move-the-needle success. Every interaction is an opportunity to demonstrate your value.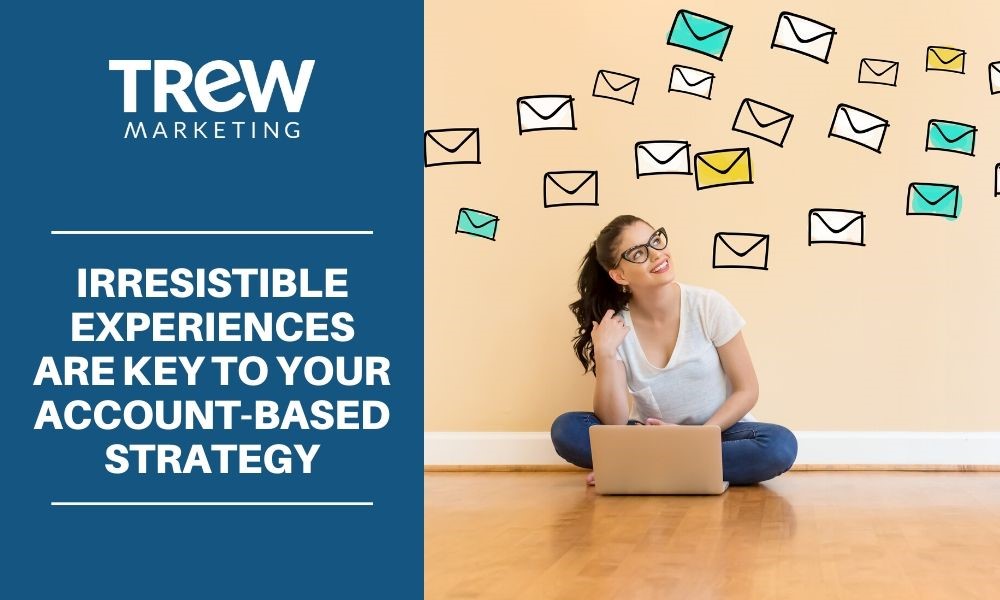 Potential customers know who you are long before you know who they are. They have a pretty good idea about what you can do for them and they know who the competition is, too. The one-two punch of being valuable and being first is the spark for any account-based strategy.
Personalization is the key to adding value. This is nothing new to ABM. You have a variety of ways to include identifying elements in the mix that can grab buyers' attention even when they're inundated with messages. Your challenge is to break through not just with subject lines and ads that incite clicks but also offerings that make a measurable difference in how customers get their jobs done that day. For particularly high-value prospects, such as known buyers or a few key decision makers, customized content including webinars or on-site workshops is gaining popularity. But as you cast your nets wider and farther across the digital landscape, you need to manage adding real value at scale.
For example, writing personal emails to 10 high-value leads is a much better use of your time than contacting 1,000 people for whom you know only their names and titles. Applying the personal touch of that 1:1 email to a few thousand prospects starts with understanding who they are. What headaches do they share? What industry pressures do they face? Personalization, and even hyper-personalization, can be transactional, such as referencing your prospects' recent LinkedIn posts. It can also be sophisticated digital experiences like building custom landing pages or putting prospects' logos in banner ads. The goal is always the same: to catalyze a moment when prospects realize you know them well enough to add real value to the interaction. Understanding the content your audience consumes, influencers they follow, blogs they subscribe to, and articles they read is invaluable. As a bonus, this data may be readily available. The information individual contacts, particularly executives, share on social media can be particularly enlightening, so you should prioritize monitoring Twitter, LinkedIn, and other social media platforms. Executives are also posting more POV blogs on their corporate sites. Reading these blogs provides a glimpse into their state of mind and retweeting prospects or referencing blogs or articles they've shared is an effective way to demonstrate familiarity when it's time to make contact.
The most valuable resource for gaining actionable insight is probably your own sales team. Tight collaboration between sales and marketing is crucial and for too long these two groups have been siloed to the detriment of both. Having two teams racing after one customer is a lesson in inefficiency. A little coordination, from mining data to building contact databases to identifying specific contacts to pursue, will go a long way. This also sets the table for working together on account tiering and campaign planning, so you can the funnel together, all the way down to the product demo. The more account-oriented you become, the more your marketing team can influence prospects and your sales team can generate leads. This coordination can take on more urgency in today's post-pandemic climate, and to learn more about how marketing can help a grounded salesforce, check out our blog on the topic here.
Now that you've done the footwork of triangulating the available data, you need to create not just topical but compelling engagements. Whatever means you use to get in front of your prospects, you should demonstrate that you're knowledgeable about their current challenges and offer them solutions.
Existing content can come in handy here. You've invested resources in creating it already, so get as much out of it as possible. Once you know your audience, you're likely to find that reusing a white paper or blog for a hyper-personalized sales-enablement piece is just a matter of changing the title or graphics to fit. Adding the prospect company's name to the cover page or dropping its logo into an infographic gives your SDRs the compelling content they need to draw that company to a meeting. Tailored content is tough to ignore, and it offers the perfect opening to show where your expertise and the prospect's problem intersect.
Before you send anything, though, ask yourself if your value proposition sets you apart in some way. If your content could come from any of your competitors, it's not ready. Look at it from the prospect's perspective. Are you promising productivity and profitability? Yawn. So is everyone else. Targeted communications featuring generic business tropes are the worst. Whatever it takes to get it right is worth it. You are setting them up to be a long-term partner, so treat these first interactions accordingly. You have something they want or know something they don't, so you can establish yourself as a partner.
When it all comes together, you have a program that uses data effectively, places the right resources in front of the right prospects at the right time, and lets you align spending with the activities most likely to impact your ideal customer. You can use these same strategies to increase your influence in existing customer accounts. Don't stop with an SQL. Carry it through the life cycle of the customer to maximize lifetime account value. Are customers showing up at your events or registering for your webinars? Make sure to engage them. In the 2019 TOPO Account Based Benchmarking Report, 75 percent of survey respondents reported higher retention rates when they use account-based strategies with customers.
The definition of account-based marketing is fuzzy. It's not only a strategy but also a philosophy for how you deliver your service to market. According to Marketo, companies are 67 percent better at closing deals when sales and marketing are aligned.
When an account-based program is working well, it doesn't matter if sales or marketing gets to your prospects first. The victory is in getting to them before they go somewhere else. And once you reach them, make that interaction count.
For more perspectives, check out this Content Marketing, Engineered podcast featuring SalesLoft CMO Sydney Sloan: Account Growth Strategies.