Brainstorm notes on hotel bar napkins.
Conversations that take you so far down tangents you've forgotten what your company does.
You need something that's memorable but not too off-the-wall, specific but not excluding, and exciting but accurate …
Your tagline.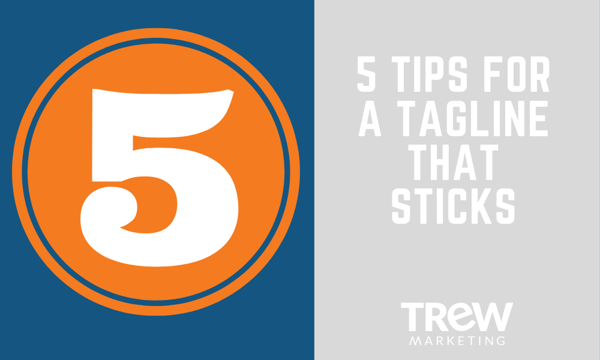 While it is a semantic branding piece that helps you in your overall messaging, tagline development doesn't have to stop you in your tracks for months. Here are five practical tips you should consider as you're creating your tagline:
1. Intrigue
You want your tagline to resonate at a potential customer's first glance of your company, to draw a customer in and to make them want to know more about you and what you offer. You want it to enhance your brand, not cause a reader to question what it is that you're doing or selling.
Starmount's is a great example of an intriguing tagline: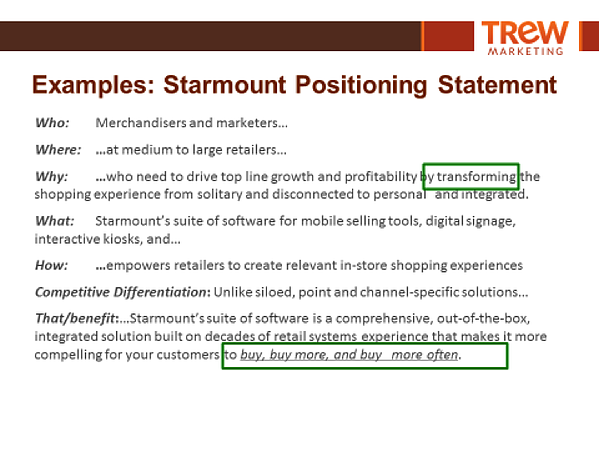 Starmount sells a suite of software for mobile selling tools, digital signage, and interactive kiosks. The company wanted to give the idea that their software helps retailers transform the complete shopping experience from solitary and disconnected to personal and mobile, and their tagline shows it. The light alliteration makes the tagline easy to read and say, and the play on "making sense" makes it familiar and friendly, just like their customers want shoppers to feel when they approach in-store displays.
2. Differentiation
Focus on what makes you unique. To do this, think about your last 5-10 customer wins. What was it that made customers ultimately choose to do business with you and not a competitor? Maybe it was your company culture, specific aspects of your technology, your service, or your process or approach. Define what those differentiators are, and use them in your tagline.

Kline Technical Consulting is a security integrator that develops advanced security systems, from tracking enemy forces to leading anti-piracy efforts to securing special compounds and assets to implementing large cyber warfare networks.
Kline Technical Consulting's differentiator is that they're experienced in fierce, airtight security solutions that are engineered to meet very specific scenarios, and you easily understand that when you read their tagline.
3. Precision
Most likely there are words that are overdone in your industry. Maybe it's the idea of "value" or "quality," or even generic nouns like "tools" or "systems." Leave these words out of your tagline. You only get a small phrase to make an impact, and using words considered jargon are a waste of space.
At one point, multiple airlines had almost identical taglines:

Western Airlines - The only way to fly. Delta - You'll love the way we fly
Consequently, we know that there's a way to fly and every airline thinks they're it. The organizations aren't willing to differentiate and none of the taglines are memorable.
Later, Southwest Airlines revved up a campaign saying, "Southwest Airlines. THE low fare airline." Though a blunt statement and a bold stance, Southwest picked a differentiator and stood by it, and consequently, they avoided the "way to fly" jargon and created a memorable position in the market.
Seek not just to say the same phrase a different way, but to really decide what it is that makes your company different, and stand confident in that differentiation with your tagline.
4. Action
When your company offering is primarily a service, use an action verb to immediately bring your customers into what it is that you do for them. It would be easy to create a tagline that focuses on an end result, but if your value add is the way you approach a solution, convey that in your tagline.
Trek Global creates open-source-based ERP solutions for $50-250M businesses.

Their tagline gives you the idea that they walk through the ERP process with you, and don't just deliver a standard, COTS solution. And their differentiator is just that – they guide customers through the process of evaluating and developing an ERP system that's just right for each customer's needs. A tagline that focused on the end results with no action verb (for example, "The right ERP system for you") would lose emphasis on the whole process, and thus the differentiator.
5. Few Words
As a best practice, make your tagline 5-6 words or less. Keeping your tagline short will help it to be memorable, force you to hone in on your differentiator, and make it easy to integrate with your logo.
Alfamation is a global provider of functional test products and solutions for the automotive, consumer electronics, telecom, and medical industries. Alfamation services many industries, but their key thread is that they work with customers to create solutions for next-generation test systems.

The company's concise tagline fits well with its logo and says just what it is that it offers – with Alfamation, you can make a reality that test solution that you can now only imagine.
In Summary: Best practices
When you're developing a tagline, brainstorm and then take a step back. Leave your notes aside for a few days and see what you think when you read the taglines again with a clear mind, as a prospective customer would for the first time. Reflect, and ask yourself:
Who is your target audience? Would these words capture their attention?
Is it specific to your company, or could it easily be the tagline of any of your competitors?
Does it contain words that are overused?
If you offer a service, does the tagline explain what you help customers achieve?
Is it too long?
When you need a break from brainstorming a tagline, take a look at these other posts about messaging development and advertising at first-glance:
To learn even more about brand positioning and messaging, download our free ebook, Smart Messaging for Engineers.