With podcasting, B2B companies can serve up content human-to-human that showcases your culture, your expertise, and ultimately expands your reach and deepens existing relationships.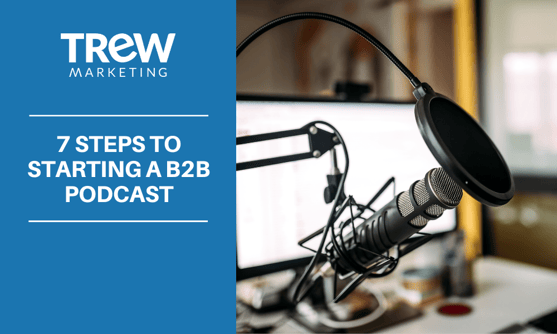 Over the past six years, podcasts have steadily grown in adoption, with double-digit growth in 2019 and again in 2020. According to the Infinite Dial report by Edison Research and Triton Digital, the majority of Americans saying they have listened to at least one, 40% of those ages 25-54 listen to podcasts monthly. Podcast listeners in the U.S. averaged five podcasts per week.
While this time of business-as-not-usual pandemic persists, and your company spokespeople or subject-matter experts are locked down from travel, you may have been given the perfect timing to start your company podcast.
To hear the following advice in action, check out my new podcast, Content Marketing, Engineered (shameless plug!).
Here are 7 steps to starting a podcast:
Choose a Format That Fits Your Needs


Typical formats for B2B podcast are:

- Interview: Within a predetermined theme (e.g. RF technology, system integration, cloud application security), the podcast host will interview different related experts. This style can save you time, as your guest is helping create the podcast content. It also provides the opportunity for you to expand your podcast reach through your guests' networks.

- Commentary: With this style, a subject matter expert (SME) is designated as the podcaster, and the podcast provides the means to educate and build thought leadership for both the SME and the company. This format is well-suited to companies that already have an SME positioned as your company spokesperson (such as a CTO or Fellow).

- How-to: Instructional content is quite popular for engineers, and could help you build a following quickly. The trick is to plan topics that lend themselves to audio only, not needing video or other visual support to explain the content.

Choose a Cadence you Can Sustain


How often you podcast depends on your podcast goals and what is realistic with your bandwidth. Whatever cadence you do choose, you'll want to commit to so that your listeners know what to expect. Weekly may be too intensive to maintain, so perhaps start with a monthly podcast to get some traction going. Then, if this seems manageable, consider raising the frequency over time.

Another strategy is to record a whole podcast series, and push all episodes at once. This has some upsides, as you can put more concentrated marketing effort towards the launch.

Podcast Production is Easier and Cheaper Than You Think


Don't let the technical side seem like a giant hurdle. There are simple, low-cost tools you can use to produce a quality podcast. Here are the top items you'll need:

- USB Microphone with pop filter

- Recording and editing software

- Podcast hosting platform, such as Buzzsprout

Avoid Word Vomit and Robotic Scripts


Your speaker should sound natural and engaging, and take pains to be succinct and to the point. If they ramble too much particularly at the start, listeners may drop off early, and worse -- not return for future episodes.

By outlining the material and practicing verbal delivery, your speaker will get a feel for timing, balance of material, and be less prone to rambling. Scripting can take this process one step further, but beware of having the robotic tone of a stilted script reader rather than an approachable human.

Record and Edit


After recording your podcast, you'll move into the editing phase. Best practices for editing include:

- Cutting out repetitious or rambling content

- Adding a catchy intro, with the podcast name and music

- Smoothing out the sound quality to avoid large variability in loudness

Provide Transcript and Additional Resources


Make it easy for your listener to simply listen to your podcast by providing them with the transcript and/or additional related resources on your website. This is not only a helpful service for the listener, who probably shouldn't be taking notes while on the freeway or run through the neighborhood, but helps you further engage them once they visit your website.

Brush Up on Podcasting Hosting Platforms' Launch Steps


When you are ready to launch your podcast, there are specific steps that need to be taken in order to be listed on the major podcast directories (e.g. Apple, Spotify, Google). With each, you'll need to set up your directory listing, complete with thumbnail artwork, a title, and an RSS feed to a hosting platform such as Buzzsprout where your podcast content will live. Top hosting platforms have shortcuts to help ease the directory listing process, in addition to other features that make their low-cost subscription fee worth the investment.
Once your podcast is launched and listed in directories, you'll want to follow content promotion best practices for attracting podcast subscribers.
If you are interested in hands-on help starting or improving your podcast, we can help! Contact TREW Marketing.