5 min read
4 Crucial Elements to a Website Redesign
Your website serves many roles. It has the unique ability to serve as both an outbound and inbound marketing tool, as a way to communicate your brand image to your audiences, and as a response mechanism for prospects interested in learning more about your company, products and services. You can think of your website as a valuable, 24-hour-a-day employee in your marketing organization. It's always on, always ready to communicate your brand value and always focused on generating leads.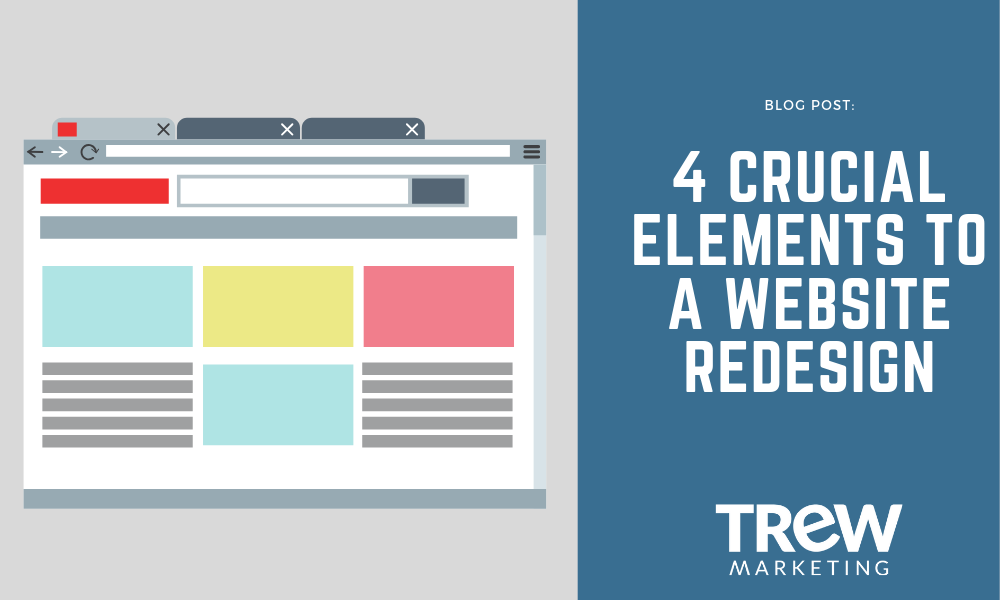 However, many engineering and scientific companies have websites that do not effectively engage their target audience. Typically, this is because:
The site is outdated visually and navigationally and doesn't offer updated information
The content is low-quality or is not optimized for the online visitor experience
The content was written from an internal perspective and doesn't fit the audience's needs
The site fails to attract visitors through search or convert visitors into leads
The company's brand and value are outdated and not well-represented
The site doesn't allow visitors to interact with the company online
Do any of these problems sound familiar? If so, it's time to take on a website redesign. To help you on your journey, here are four elements necessary for your website redesign.
1. Strategy
Before you can draft and design web pages, you need to clearly organize your website to fit your needs and allow your buyer personas to navigate easily through your website. Start by strategizing your website navigation. Brainstorm what pages you must have for your site, and group them with other relevant pages. Many people make the mistake of creating web pages for every topic under the sun that relates to their company. Be strategic when it comes to organizing your website. A simple website that thoroughly covers 4-5 core services and/or products will perform better than a website that has tons of web pages.
We like to say developing your website strategy before redesigning your website is like having an architect draw up a blueprint before building a house. You need to fully understand the detailed requirements you have and you need to lay a solid foundation before you begin building. Your website plan should work in the same way.
A big mistake we see many companies make when redesigning their website is jumping headfirst into the design phase before ensuring their web strategy is well-defined and their foundation is set. This can lead to a site that doesn't fit your needs or your customers' needs, and one that fails to help you achieve your marketing goals.
Here are three steps to take to develop your web strategy:
Identify your business, marketing and sales goals
Prioritize your site's target audiences
Develop your sitemap
2. Content
Inbound marketing is all about creating and promoting content that attracts, converts, closes and delights your buyer personas. To successfully do this, you need content for each stage of the inbound marketing funnel. Additionally, you need content for each specific buyer persona who enters your marketing funnel so you can successfully turn web visitors into customers.
Your marketing and sales teams need to work together to guide buyers through your funnel via content that is aligned to each stage. For example, leads will likely be looking for information on best practices to solve a pain point, whereas marketing-qualified leads (MQLs) and sales-qualified leads (SQLs) are looking for specific information about your company such as pricing, product specs or customer case studies. By knowing which stage someone is in, you can supply them with content that resonates.
Learn how to strategize your website content so it pushes users through your sales funnel by reading this blog post.
3. Imagery
The biggest web challenge today is designing for a dwindling human attention span. Thanks to smart phones, the average human attention span has dropped from 12 seconds in 2000 to 8 seconds in 2015 according to a study by Microsoft.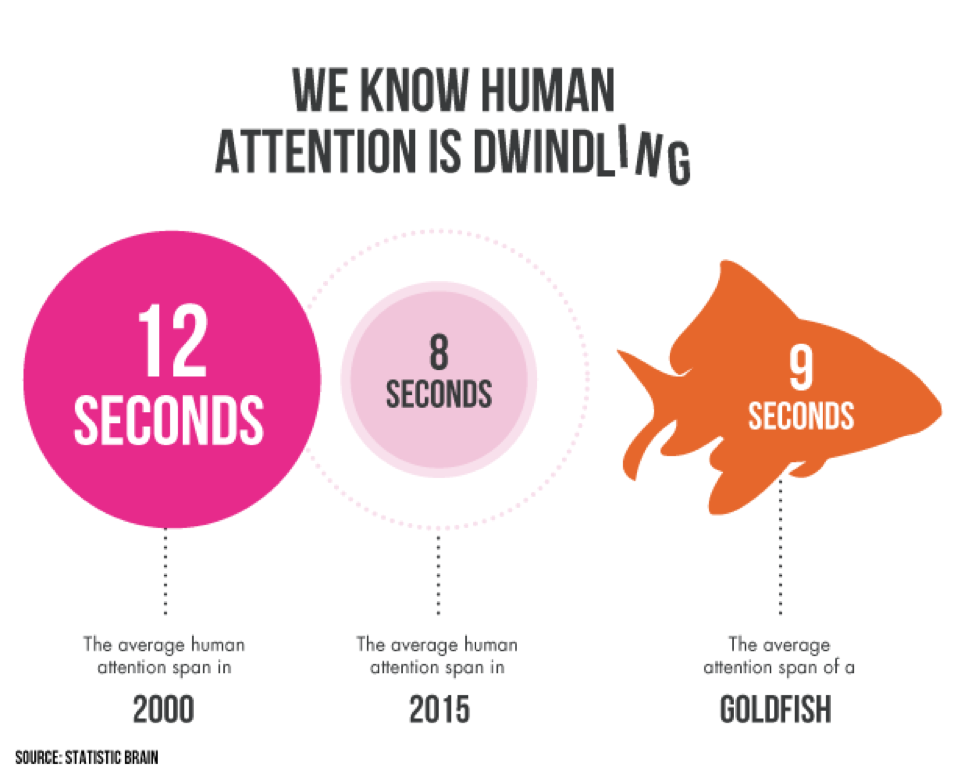 The effective use of graphics on your website can immediately grab user's attention, communicate to your audience what you stand for, and present your company's personality. In addition, imagery SEO (search engine optimization) done right can boost your search engine rank and actually attract new organic visits to your website. But like all things web, there is a strategic way to implement images for success and effectiveness.
Here's some tips:
Use meaningful, high-quality imagery
Incorporate stock imagery sparingly and carefully
Add graphic icons to illustrate points while making a visual point
Enhance scanning with smart imagery in body text
Make your CTAs visually stimulating and clickable
As a rule, use at least 3 images per web page
Don't be afraid to re-use imagery throughout your marketing materials
Remember to optimize your images for search
Learn more on incorporating strategic imagery on your website by reading this blog post.
4. Search Engine Optimization
To get found by your buyers, you need to optimize your site to rank well on search engines. Use on-page and off-page SEO best practices to improve your organic search metrics.
Research shows technical B2B buyers are using search engines to find new vendors and products. When we surveyed engineers on how they find new products and vendors, we found that search engines are rated as a very valuable source at a higher rate than all other sources.
How valuable are the following sources when seeking information on the latest engineering technologies, industry trends and products?

As research has shown, the top three content sources engineers find most valuable are all online: search engines (43 percent), supplier/vendor websites (37 percent), and trade publication websites (29 percent).
If your website and content aren't optimized to perform well on search, you are losing out on business. To effectively reach new buyers online, you must put together a search engine optimization strategy for your website. SEO is a complex and always-changing game for B2B marketers. To help you succeed in search, we've put together a basic SEO checklist. Access our free SEO Getting-Started Guide here.
---
Watch our webinar, Build a Better Technical Website, to learn more about the B2B website development process.