Content is the fuel that powers your marketing plan and takes you toward your goals.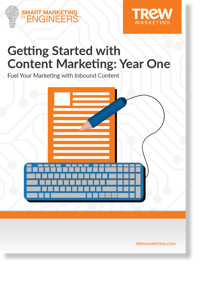 Content is a critical component to any inbound marketing program. It's how new people find your company's website. Content educates prospects and compels them to continue to learn about and engage with you, and ultimately builds trust between your business and your prospects and customers.

As a B2B technical company, you need a way to generate and convert leads in today's digital age. Your marketing objectives include growing awareness, credibility, and brand trust; attracting new visitors and converting them into contacts; and generating more marketing-qualified leads.
So how do you manage and prioritize all of your objectives to meet these goals? Download our ebook on content marketing to learn how to:
Define Your Target Audience
Develop Your Content Plan
Create Topic Content Clusters

Measuring Results
Get started with content marketing by downloading our Getting Started with Content Marketing: Year One Ebook.