11 min read
WordPress vs. HubSpot vs. Squarespace
My roots in website design and development began in WordPress ten years ago. Back then WordPress was the standard CMS solution. But through the years, other CMS options have changed the game.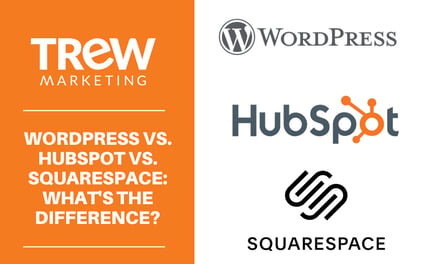 If you've ever wondered "What's the difference between WordPress, HubSpot and Squarespace", this blog post is here to answer all your questions and break down key differences and features between each CMS.
The Basics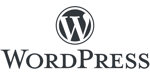 WordPress
WordPress is a Content Management System (CMS) that started out as a blogging platform and has grown to become one of the most popular online publishing platforms. The key benefits of WordPress include cost-effective pricing, a wide array of resources and tons of plugins that integrate with marketing and business software.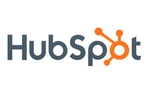 HubSpot
To compare, HubSpot is a marketing automation platform with a CMS built-in. With HubSpot, you can have your website, blog, landing pages, email marketing, CRM, marketing automation, social media and analytics all housed in one location. You can use the drag and drop editor to easily build web pages and emails.
HubSpot is a great platform for companies with a content marketing strategy in place. For companies who are just starting out in digital marketing and don't have content built up, HubSpot may be too costly and advanced for your specific needs.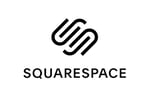 Squarespace
Squarespace is a newer company that has risen in popularity since Salesforce bought them. Squarespace is a CMS for the DIY-marketer. Squarespace offers different tools and extensions that plug into your website to add functionality on top of a drag and drop interface.
Squarespace is designed to be very user-friendly for the non-web savvy company. It's fairly low cost and offers an easy intro website, but companies with more advanced web needs will find it a bit limited in terms of functionality and customization.
Design
WordPress
Your WordPress site's design begins with the theme you choose. This is both the good news and the bad news with WordPress. Many WordPress themes will fence you in on design aspects for your website when you pick your theme.
As far as customization goes in WordPress, you will need to understand some basic CSS and HTML coding to customize your theme and website. It's a necessary to have a trusted web developer in your corner to help with custom design needs for your site.


HubSpot
HubSpot gives you much more freedom when it comes to the design of your website. You can pick a theme with overall design styles and sample pages in the HubSpot Marketplace, or you can design the framework of each web page on your own in HubSpot's Design Manager. Themes include a set of pages that can be easily customized with different page modules and styling, unlike most WordPress themes.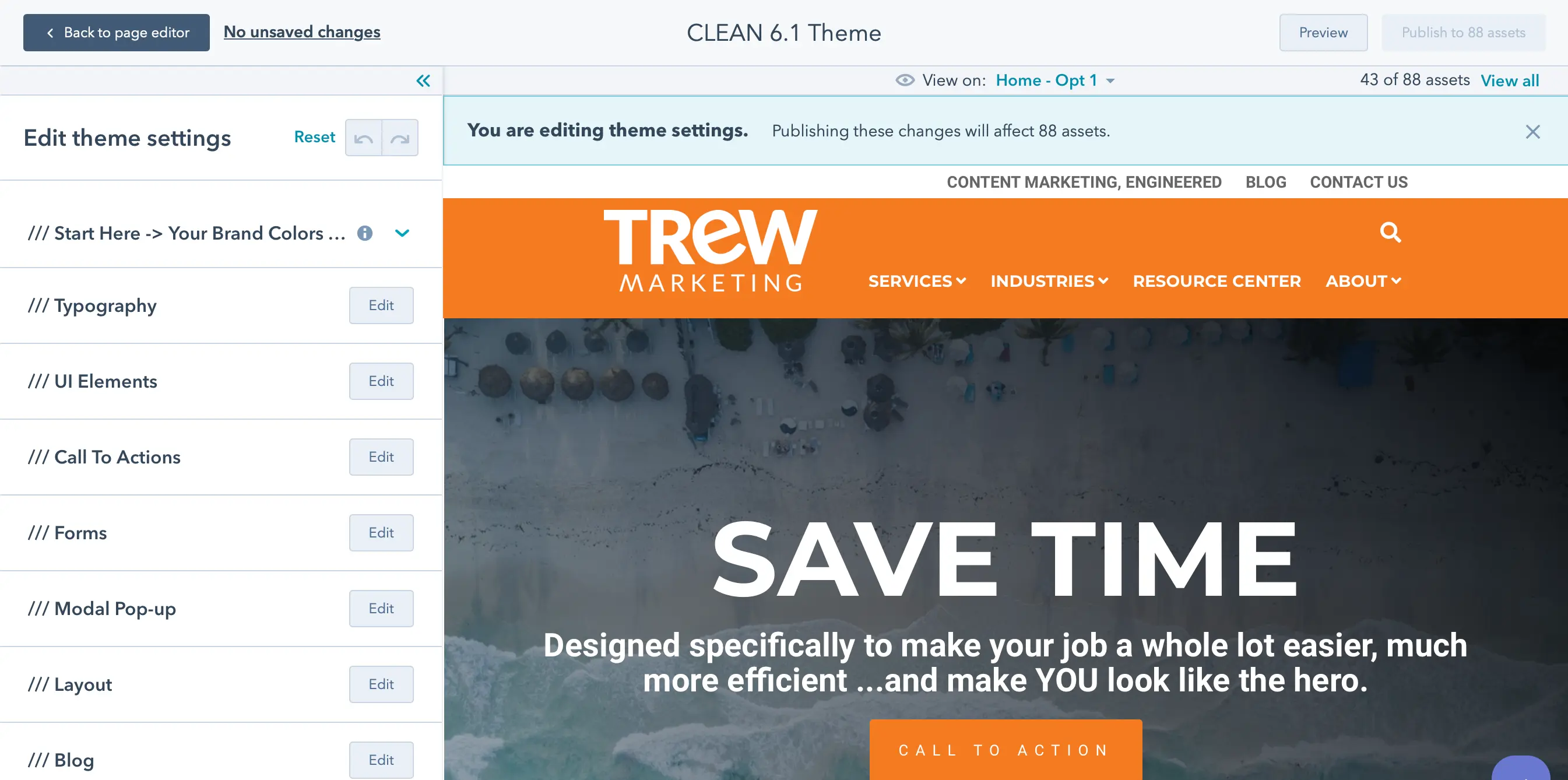 Here's a preview of HubSpot's drag and drop editor.
With HubSpot, you may also need to know basic CSS and HTML coding to customize your website. The new HubSpot CMS has made the customization of pages much easier for the non-developer, but adding new functionality or fundamentally changing functionality will require knowledge of code.


Squarespace
Squarespace is super user friendly when it comes to design. You pick a template then can make edits and drop in other modules if you like.
In my opinion, HubSpot and Squarespace are easier to use than WordPress. That being said, there are WordPress themes, such as Divi by Elegant Themes, that come with their own on-page editor that is easy-to-use and looks very high-end. But like I said earlier, it's all about your theme when it comes to WordPress.
Ease of Use
WordPress
WordPress is awesome when everything runs as it should, but can be a real pain when things don't work properly. If you've worked with WordPress long enough, you understand what I am talking about, and you probably have an experienced developer on call for when these problems pop up.
With WordPress, you run into many problems with plugins and updates affecting your website. This can be frustrating and costly because the problem isn't always apparent. Be sure to routinely back up your site when updating your plugins.
HubSpot
HubSpot is extremely user friendly with its on-page editor and design manager. You can easily make edits as you browse through your own website. All system/software updates are handled by HubSpot, and there is little to no maintenance needed for third-party integrations. This is one of the easiest web options to maintain, as HubSpot includes support and security updates in the service.
Squarespace
You don't need any code experience with Squarespace. It is very user-friendly and website beginners can easily build a site within Squarespace. There is little to no maintenance involved, other than keeping content up-to-date.
SEO
Google and other search engines do not base page rankings on what platform your site is built on. SEO best practices can be applied to any site. There many plugins and resources in both WordPress and HubSpot for marketers who need help elevating themselves on SERPs.


WordPress
To optimize your SERP ranking on WordPress, you need to download a SEO plugin. You can't even set a meta description on your page without a plugin!
I am most familiar with Yoast, which is a free plugin that, among other things, allows you to set your keyword on each page then breaks down areas to improve rankings on each of your keywords.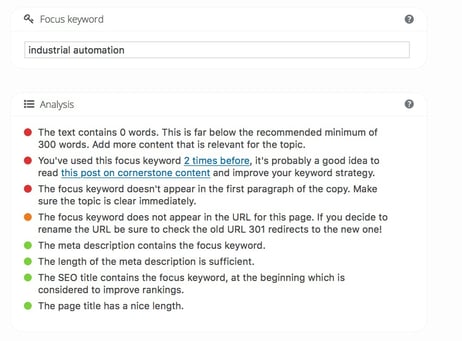 Here is an example of Yoast's SEO page breakdown in WordPress.
HubSpot
Because HubSpot was created to help digital marketers, it's more focused on SEO optimization than WordPress. Each page has built-in SEO settings for title and meta description, and you get recommendations on each page as well.
HubSpot can also scan your entire site and give you feedback on what areas you need to improve to rank better. All features are built-in, which means that you do not need to add a plugin or integration to optimize your site.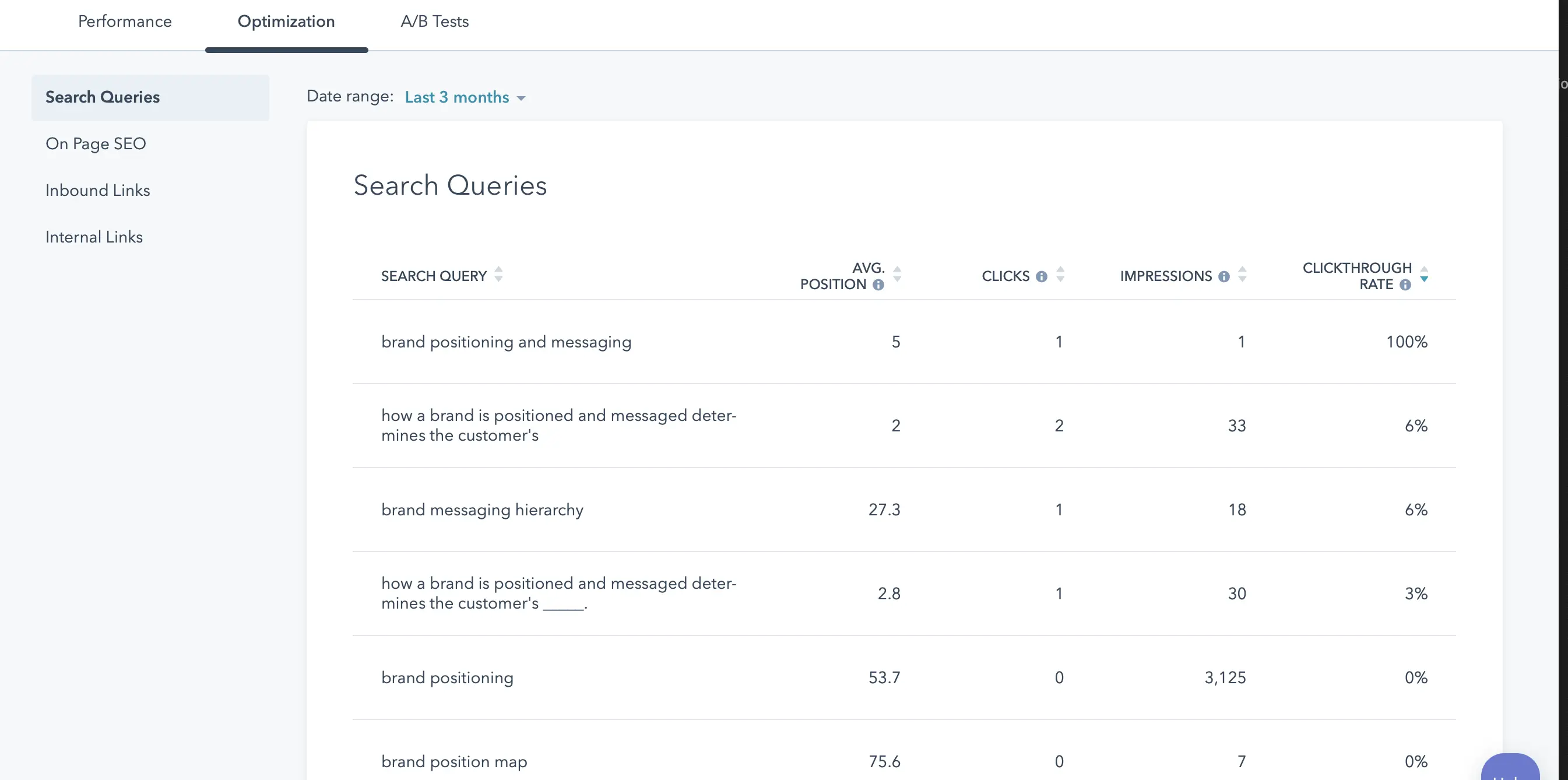 Finally, Hubspot also has a SEO strategy tool that allows you to incorporate topic clusters--the latest trend in SEO optimization.


Squarespace
Squarespace allows you to set SEO content on each page in the form of an optimized page title, meta description and alt-text for photos. However, Squarespace does not offer SEO strategy tools like topic clusters or SEO auditing tools to give you performance insight and areas to improve.
When it comes down to it, you can't blame your search performance on WordPress, Squarespace or HubSpot--you're in charge of incorporating SEO best practices. But in my opinion, HubSpot allows you to integrate SEO best practices easily and strategically into each of your web pages, while WordPress and Squarespace makes you work a little harder when it comes to SEO optimization.
Email Marketing
WordPress
WordPress does not offer email marketing services, but it does allow some easy integrations with third-party email marketing platforms. WordPress works with popular email marketing services, like Mail Chimp and Constant Contact.
HubSpot
Email marketing is a different "hub" of HubSpot than the CMS, so you would likely want to add a marketing plan to send emails from the system. HubSpot offers email in it's marketing free, starter, pro and enterprise subscriptions. Each tier has a different price point and feature set, but all include marketing email in some form.
The benefit is that your email marketing is a part of the same tool as your CRM and website, making it easy to capture a user's email information, then add users to email marketing automation strategies. You also can build advanced workflows in HubSpot to better reach targeted audiences with the higher tiers.
HubSpot's email marketing is very similar to Mail Chimp, Constant Contact and other email marketing services. It's simple to create email templates and segment your subscriber lists with HubSpot. I really love that you have your email marketing in the same place as your website content so you're not switching between two separate platforms.


Squarespace
Squarespace also offers email marketing as an add-on. You can easily build emails from templates and access your analytics all in one place. Squarespace's email marketing tools aren't as comprehensive as HubSpot's, but is a great start if you're just getting started with email marketing.
Analytics
WordPress
WordPress gives you its own analytics on your website in the main dashboard, but you're better off using Google Analytics and plugins to understand how users interact with your site. There are many plugins available that seamlessly install Google's tracking code onto your web pages.


HubSpot
HubSpot offers more insight into your site's marketing and sales analytics. With HubSpot, you have all of your analytics from web pages, landing pages, social media, email marketing and CRM all in one place, making it easy to create reports on your marketing campaigns.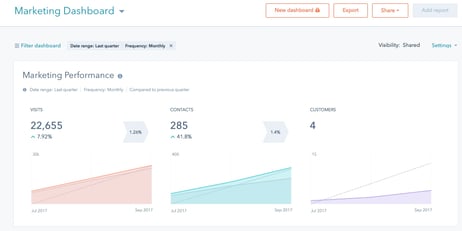 Here's a view into HubSpot's Marketing Dashboard
Even with HubSpot's analytics and reports, you still will want to track your site's performance in Google Analytics. For those who don't have a big marketing focus, analytics might not be a priority for you. If you want useful data and insight into your marketing efforts and spending--HubSpot has the advantage over WordPress.


Squarespace
Squarespace also gives good analytics data from it's platform. You can integrate your site with Google Analytics easily. You also can have both your email and web data in one place with Squarespace.
CRM
WordPress
WordPress is not a CRM tool, but you can integrate your site with most CRMs. There are a ton of CRMs out there, so there is a small chance your CRM won't integrate with WordPress, if you're on a less popular CRM.
HubSpot
HubSpot comes with a free CRM, and they even promise that it will always be free. HubSpot's CRM is user-friendly and comparable to other CRMs out there. It's beneficial to have all of your contacts and leads in the same platform as your website. If you do decide to use another CRM with HubSpot though, there are many integrations (some built and maintained by HubSpot) or third-party integrators to help.


Squarespace
Salesforce owns Squarespace. If you have a Squarespace website, you'll likely get roped into using Salesforce because it easily integrates website data with CRM data. But the two are still separate platforms.
Support
WordPress
WordPress has a support community where you can post questions to get help with issues. You can try to submit an issue to WordPress, but in my experience, it takes awhile for WordPress to reply back to you. You can typically find a solution by searching or posting in WordPress's support community.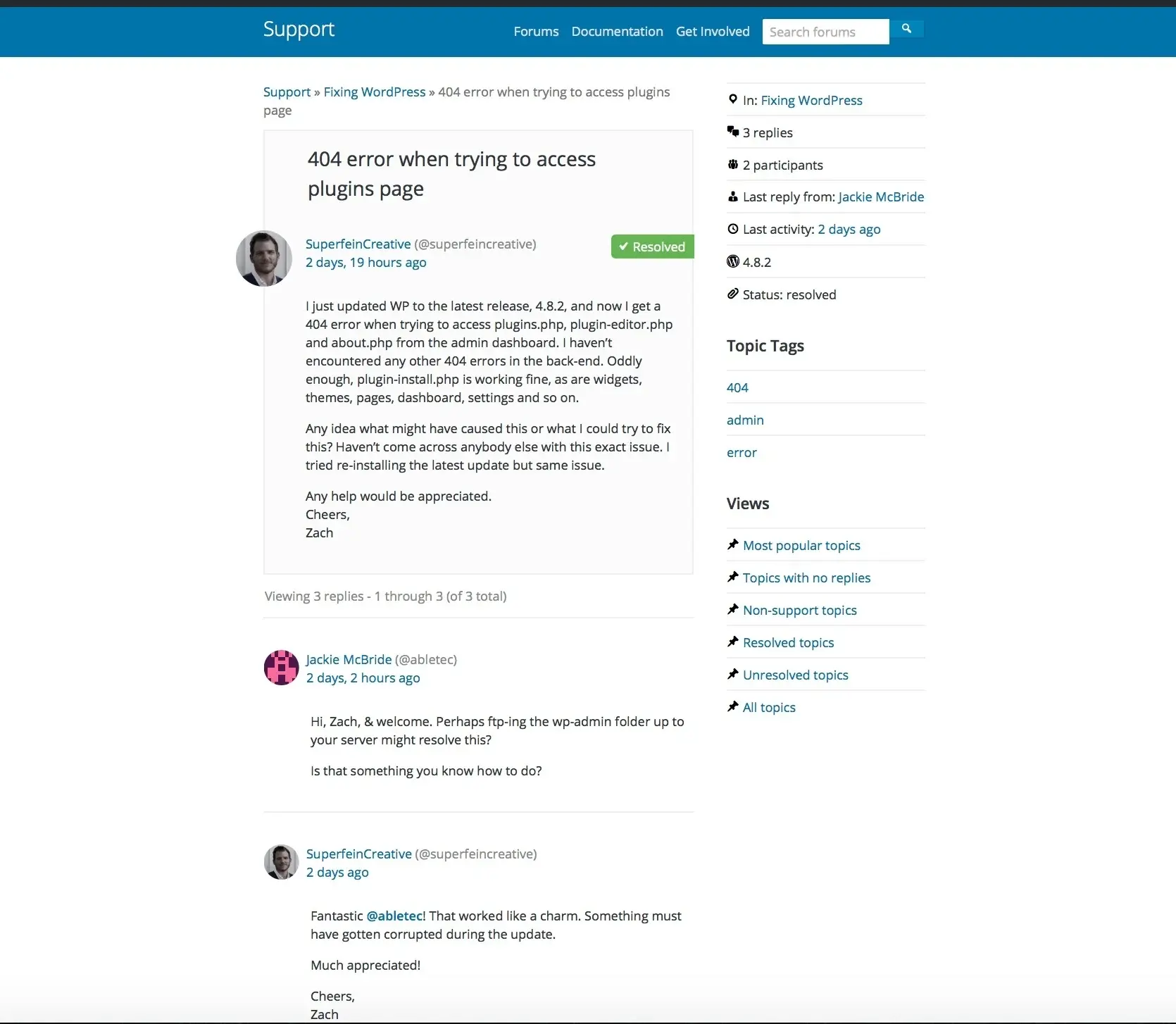 Here's an example of a support thread on Wordpress
Many times, WordPress issues stem from problems with your theme or plugins. Most paid themes and plugins offer support for these kinds of issues. This is the benefit to purchasing a theme or plugin in WordPress.


HubSpot
Support tickets are replied to within a few hours of submission (if not minutes) and HubSpot's support team seems to know exactly how to fix the problem or can give you easy-to-follow directions.
HubSpot also offers training and certification on inbound marketing, design, email, CRM, marketing automation and more. I also use HubSpot's blog as a valuable resource for troubleshooting or to implement a custom design.


Squarespace
Squarespace also has 24-7 support. As this platform grows in popularity, it's becoming easy to find blogs and demos online to help with any issues you have with Squarespace.
Price
WordPress
You can set up a very basic website in WordPress for free. To get a customized and professional looking WordPress site, you will need to pay for: domain registration, hosting, premium theme, premium plugins, security services, and storage and backups services. You also need to budget money for developer services for advanced custom designs and in case of an emergency. All of these costs associated with WordPress can come lower than the price of HubSpot- but can also easily exceed if something on your site breaks or if you need to hire someone to maintain your theme and plugins.
HubSpot
With HubSpot, you get all of your site functionality in one system without plugins, but this also comes with a higher starting price. The CMS Professional is $300/month, although there may be discounts for an annual plan vs monthly. Any marketing tools on top of this are an additional cost.
HubSpot is definitely the higher-priced option, but you get what you pay for--which includes your website, blog, CRM, analytics and marketing tools all in one easy-to-use platform.


Squarespace
Squarespace offers different pricing tiers based on your needs and budget. For your website, you will pay around $18-40 a month. To add on email marketing, it will cost between $5-48. Squarespace is definitely a better value, but you lose some advanced marketing options that HubSpot brings.
And the Winner Is...
At the end of the day, it really depends on your specific needs when it comes to picking a CMS.
If you are a small company without many resources or a focus on content marketing, HubSpot may be too advanced and costly for you at this time. WordPress and Squarespace offer a cost-effective solution to your digital marketing needs.
For those companies with dedicated resources and marketing employees, HubSpot offers more support and resources for building an effective content marketing strategy. This comes with a higher price tag, but the cost of integrated marketing data--that helps drive and nurture leads through your sales and marketing funnel--is well worth the cost.
---
Watch our webinar, Build a Better Technical Website, to learn more about the B2B website development process.