4 min read
Stop Expecting Engineers to Write Marketing Content
You likely have many subject matter experts and levels of marketing expertise floating around your marketing organization. For that reason, creating content often becomes everyone's problem (read: no one's problem). There are a lot of hallway conversations and a lot of big ideas, but very few actual words on paper.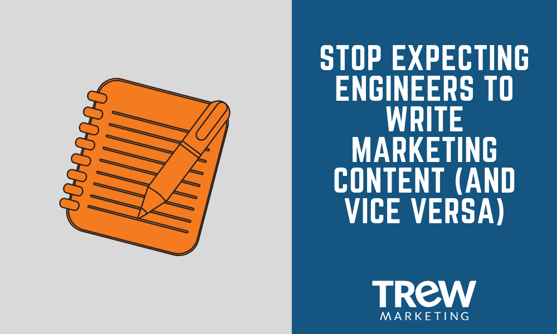 Defining who will create your content and how it will get created will ensure those big ideas come to fruition with words on a page.
Options for Content Creators
Think outside the box. There are many options for marketing content development, and we will look at the benefits and weaknesses of each:
Subject-matter experts (SMEs) create all content
Marketing creates all content
Marketing leads content creation with support and expertise from SMEs
Marketing and SMEs hand-in-hand with outsourced partner
The first two options provide lone-ranger situations with little accountability or support. Don't do them. Here's why:
Subject-matter experts (SMEs) create all content
Having SMEs (untrained in marketing) create every piece of content is laborious and expensive. They're so entrenched in the details of their product or service that it's difficult to take a step back and produce content that's engaging to prospects, not to mention their time is highly valuable, their billable rates are high, and they shouldn't spend time working through specific sentences and flow of a concept.
Marketing creates all content
On the other extreme, when marketing creates all content (or blindly outsources all content) without input from SMEs, it's nearly impossible to get to get deep, specific product or technical detail needed for meaningful content.
For example, in the case of marketing to engineers, marketers will often digest specs or benefits of a new product and turn around a news release headline with a superlative: "New signal generator creates the fastest high-speed serial data signal". Most engineers would re-work this headline. Even if their signal generator is the fastest on the market today, they know that their target audience (also engineers) will balk at a claim of fastest/highest/best. They know that technically, there may be a faster (albeit inefficient) solution by combining different filters and instruments and they don't want to be technically wrong. These nuances are lost when marketing or an outsourced firm creates all content without the SMEs. Remember, your contacts can spot "marketing speak" with the trained eye of a gazelle keeping an eye out for predators at the water hole. Often, it just takes one whiff of marketing speak to send them running to the hills. Ultimately, the content produced from these lone-ranger efforts is inaccurate or fluffy, immediately eroding trust in your brand.
The last two options allow for a partnership between marketing and SMEs, ultimately using the best skills of both. Here's why:
Marketing leads content creation with support and expertise from SMEs
We know that to create high-quality, trust-worthy, accurate content our engineering audiences will value, we need to involve SMEs. After years of asking the question, our research consistently shows that engineers around the world trust content written by engineering experts at vendor companies more than any other.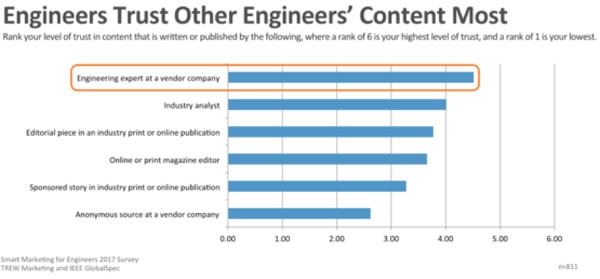 However, we hear all the time from marketers at technical companies that their #1 content marketing challenge is getting SME's bandwidth.
If you secured an SME commitment to help create a piece of content, make sure you follow through with a tight process and clear expectations that respects their time and prioritizes their input. Set detailed timelines and ask for any conflicts such as travel or project deadlines they may foresee so you can adjust. And, each time you send a draft for review, let them know what you're looking for in return. Depending on content type and how much source material you had, the expectations for review will be different, but here are some general expectations for an SME to review a white paper:
1. Stick to a Time Limit
A comprehensive review will probably take 60-90 minutes. Less time and you may not get the detail you need: more time and your SME will be re-writing sections or heading down a rabbit trail on a new detail that may not fit your topic or audience.
2. Assess the Overall Framework
Are these topics covered well and in the right order, as if you were having a casual conversation with a prospect? Edits here often look like shifting the order of a paragraph or suggesting different wording for a headline, subhead, intro, conclusion, or intro sentence for a section.
3. Review Technical Terms
Are there insider or industry terms that would better speak to the audience and our expertise? Edits here often look like simple wording changes -- for example defining that a company is ISO 9001 certified is more powerful than saying that company has a quality management system. Or, the term IOT is commonly accepted by engineers and doesn't need spelled out as "Internet of Things" -- to the contrary, spelling it out on every reference makes you look as if you don't fully understand your audience.
4. Evaluate the accuracy of technical detail
Are there any places where you can provide a measurement or quick example to show value? Edits here, for example, could be that an engineer with knowledge of specific projects can replace "extreme temperatures" with "temperatures up to 130*F", which immediately creates a clearer picture.
Marketing and SMEs hand-in-hand with outsourced partner
Whether or not you choose to outsource your marketing is a function of resources and requirements. If your content marketing goals and plans are significant, you will need either a well-trained internal team, or an outsourced partner. Read more about outsourcing your marketing to find out if it's a good option for your company.
Learn more about how to carefully plan your content and develop high-quality technical content at a consistent cadence by downloading our free content marketing kit.