6 min read
The Rising Significance of PR for B2B Engineering Firms
Public relations (PR) is becoming increasingly vital for B2B engineering companies looking to expand brand awareness beyond their owned channels. With today's buyers consuming technical information across many formats, a strategic earned media program allows brands to share their message through trusted third parties. Executed effectively, PR magnifies reach, establishes credibility, and fuels growth.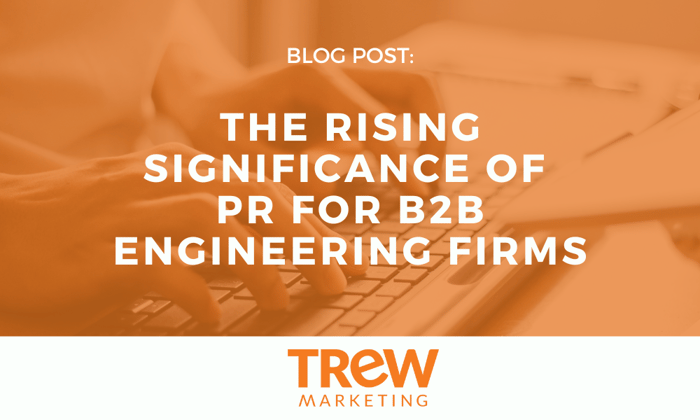 Why Engage in PR as a b2b engineering company?
PR focuses on securing placements in respected industry publications and podcasts rather than paid advertising. Getting your content, quotes, and stories featured in outlets your target audience already follows provides valuable exposure and trust. The key benefit of PR for engineering firms is that it allows you to tap into external channels your audience already engages with, without having to build those platforms yourself.
According to recent research, nearly half of engineers say they consult trusted industry resources like online trade publications and/or directory websites.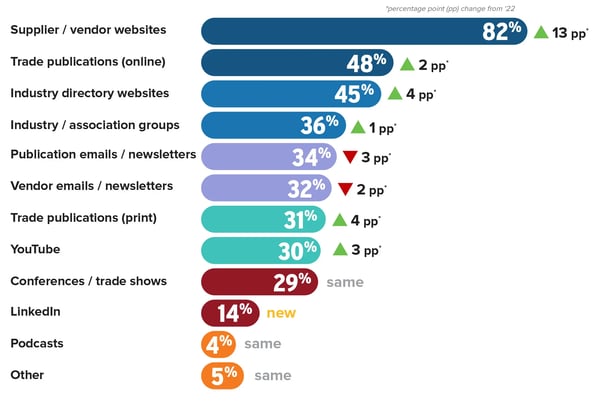 Based on this research, trade publications are the second most valuable platform after your own website.
Earned media placements distribute your messages through existing publications and programs your prospects already pay attention to. This amplifies your reach and credibility by meeting buyers where they already are. Engineering brands can gain visibility in front of highly targeted, engaged audiences without creating their own channels from scratch. PR offers an efficient way to expand into new platforms and get your voice heard in trusted industry outlets.
How PR Builds Brand Awareness
An integrated PR strategy targets trade publications, reporters, conferences, and influencers that align to your goals. Securing byline articles and profiling executives in engineering magazines broadcasts your messages and achievements to new audiences.
Reaching out to the right media contacts opens up opportunities to share your expertise across multiple formats. This could include contributing technical articles to respected industry publications, having your leaders interviewed for magazine features or podcasts, participating in reporter panels at conferences, or even guesting on YouTube shows valuable to your audience.
The output may vary, but the strategy remains consistent - actively and consistently engaging press outlets where your buyers' attention already lies. This earns media placements that lend third-party validation while allowing you to organically introduce your brand to relevant new communities. A multifaceted earned media approach expands your reach exponentially.
a Long-term investment in PR involves time-based announcements and evergreen Thought Leadership
Strong media placements require nurturing trusted, long-term relationships with press contacts through valuable engagement over time. This is not a one-off pursuit. There is a difference between time-based PR announcements and evergreen news. Time-based PR centers around product launches, partnership announcements, leadership changes, and other events fixed in time. Evergreen PR focuses on insights, trends, and thought leadership that hold relevance no matter when it is published.
For example, a product launch would be time-based PR - the news has the greatest impact around the launch event itself. However, contributing an article discussing emerging industry trends would be evergreen, since the insights don't tie to a fixed event. Thought leadership should focus on evergreen topics. This content - whether contributed articles, data reports, or executive commentary - builds credibility by showcasing your niche expertise on ongoing discussions valuable to your audience.
The most effective PR plans incorporate both time-based announcements and persistent evergreen thought leadership. The former grabs attention, while the latter nurtures relationships over time. PR success requires a strategic combination of both.
Ways Spokespeople Can Engage in PR
Successful spokespeople are key to a PR campaign -- when you reach out to an outlet and they're willing to engage with your brand, you'll need a reputable person at the company to participate in the interview, write the article, or engage in the opportunity.
This will be easiest if you've already established spokespeople within the company. Ideally, these are senior technical leaders who have built a reputation for themselves.
Here are a few ways engineers can engage in PR:
Comment on relevant industry articles
Share and promote reporter content
Pitch byline articles and accept interviews
Present at targeted conferences
Engage with media at company events
The PR landscape enables engineering brands to advance marketing by securing earned media placements. Developing an integrated public relations strategy is now essential for growth.
Using News releases as a PR tool for engineering companies
Wiring an official news release through reputable distribution services like PR Newswire or Businesswire provides additional benefits beyond specific media pitching. News releases published on trusted platforms gain higher search visibility and third-party credibility.
Reporters rely on newswires for official verified announcements as starting points for their own coverage. Newswire distribution also associates your brand name and keywords with the release content, improving SEO. Published releases remain on the wire for months or longer, creating lasting search engine visibility and backlinks. While pitching media contacts is critical for placements, wiring a polished release amplifies discoverability and sustains your message over time.
Steps to a PR Campaign for engineering companies
Executing an orchestrated PR launch requires planning, preparation and follow-through. Use this checklist to ensure you kickoff a high-impact campaign and sustain momentum.
Set positioning. Craft clear messaging on what you're announcing and how it benefits your audience. Align this with your overall brand story.
Choose your date (if you're using a time-based announcement). Tie your announcement to relevant events like trade shows or partner news. Avoid dates with major competing news.
Build media lists. Research publications, websites, and influencers your audience follows. Create lists with key details.
Conduct outreach. Email and call media contacts. Make clear asks for coverage. Provide assets and info to facilitate.
Prepare launch assets. Have landing pages, press releases, gated content, updated bios, quotes, and FAQs ready to activate.
Go live. Activate your launch pages, distribute releases, post on social media. Respond promptly to inquiries.
Follow up. Reach back out to share additional info and story angles. Offer access to experts and customers.
Sustain your messaging. Continue promoting the news across your channels. Amplify third-party coverage.
Gather feedback. Ask press contacts what resonated or what else would have been helpful. Learn and refine.
In a world where technical information is consumed through various channels, a strategic PR program is not just beneficial; it's indispensable for engineering firms seeking to thrive and excel in their respective industries. By harnessing the power of PR, you can amplify your brand's voice, connect with your target audience, and ultimately drive sustainable growth in today's competitive marketplace.
Looking for more information about working with media?
Check out the Media Miniseries, a set of six podcast episodes that will help you learn how to work with external news outlets and trade publications to attract new prospects, gain thought leadership, and build your brand.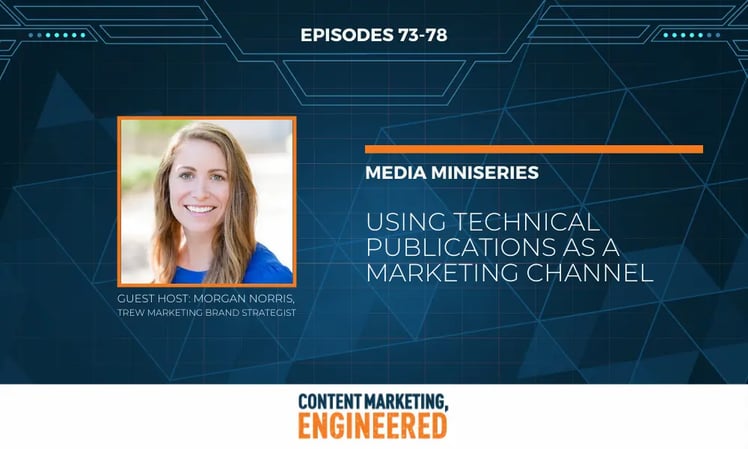 TREW is a marketing agency dedicated to reaching engineering and technical audiences through a range of marketing initiatives. Contact us today to learn more about the services we offer.
SUBSCRIBE TO OUR BLOG FOR THE LATEST UPDATES

Morgan believes that the process of brand positioning and messaging powers companies by aligning corporate leadership, building a story that fuels staff and engages customers, and creating a foundation for consistent content – and she's seen these results come true for TREW clients time and again over the last decade. She holds degrees in Public Relations and Spanish, with a minor in Business from The University of Texas at Austin. Morgan, her husband, and three kids recently moved from Austin to downtown DC, where they enjoy walking the city, visiting the local museums, and playing a guess-who-is-in-that-motorcade game.
TREW Marketing is a strategy-first content marketing agency serving B2B companies that target highly technical buyers. With deep experience in the design, embedded, measurement and automation, and software industries, TREW Marketing provides branding, marketing strategy, content development, and digital marketing services to help customers efficiently and effectively achieve business goals.