5 min read
Create A Playbook for Content Lifecycle Management
Content is a valuable business asset that should be managed as carefully as any product, service, or differentiating intellectual property. A company's ability to efficiently and effectively manage content throughout the entire content lifecycle can mean the difference between marginal, mediocre, or magnificent results.

What is content lifecycle management? It is the process of planning, writing, publishing, organizing, repurposing, and retiring content during its lifetime within your company. As a company scales their content marketing program, managing content can become a challenge. Having a documented content process playbook ensures content strategists across your team can effectively oversee and guide any size content marketing program.
The Content Lifecycle Includes Five General Stages:
Strategic Planning and Gap Analysis
Workflow Development
Writing and Editing
Publication and Post-Publication Maintenance
Remove, Refresh, Repurpose, Retire
Building Your Content Lifecycle Management Playbook
1. Strategic Planning and Gap Analysis
We're starting strong with two tasks in one step! Strategic planning is the lifeblood of content management, and it will help you keep track of each piece of content as it moves through its lifecycle.
Begin your planning process by identifying current content marketing strengths, weaknesses, opportunities, and threats (SWOT). This process helps you identify gaps in your content marketing program, helps your prioritize focus areas, and determine key initiatives to strengthen it.
When creating your content marketing SWOT, consider the following:
Content quality and quantity
SEO (organic traffic, and domain authority)
Website traffic and engagement
Lead generation and conversion
Social presence and content promotion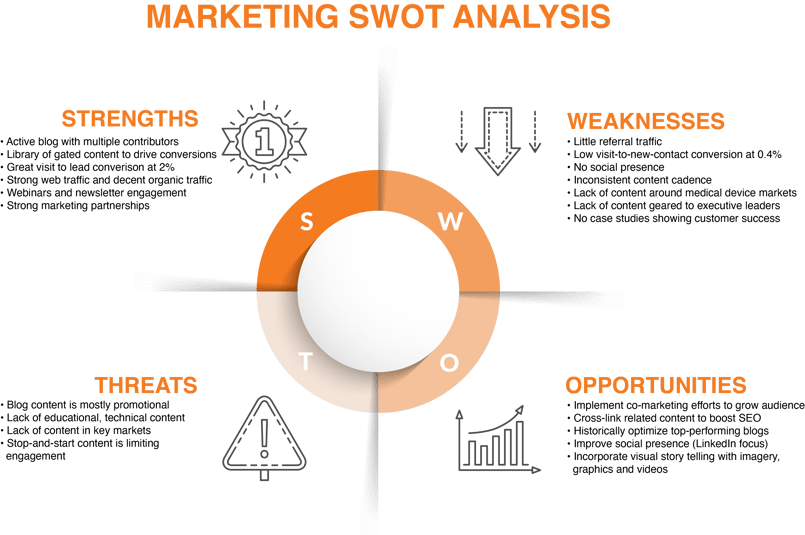 Once you've determined gaps and opportunities, document your content strategy. Key components of a content strategy include:

You'll want to revisit your content strategy and create and update a content audit annually, to help you fully manage your content marketing program.
2. Workflow Development
This is perhaps the most commonly overlooked stage of the process, but the most critical in establishing agreed upon procedures and ensuring alignment across your organization. Start by establishing a plan for how each type of content will move through the process.
Key Considerations Include:
Content roles: writer, subject-matter expert, reviewer, copy editor, final approver
Timeline by content type (i.e. white paper, blog, case study, videos, etc.)
Number of reviews
Editing and feedback consolidation process
Design process
Publication process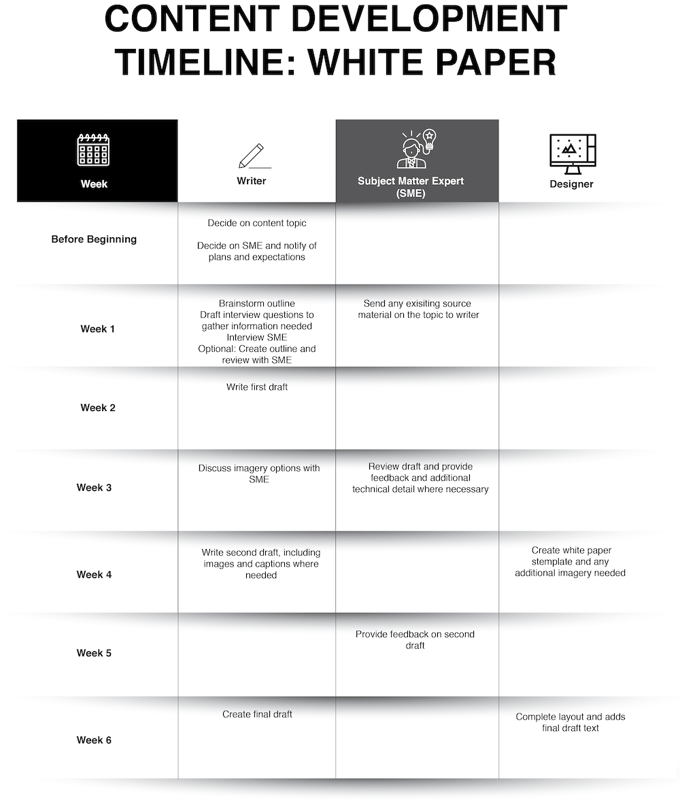 Map out your workflow approvals so you can address any issues when things aren't going according to plan. Establishing workflow approvals can be a double-edged sword. You want to make sure that you get the right approvals for content; however, adding too many levels of approval will delay projects. Also, be sure to ensure a process for what will happen if team members change, people get sick, or a person takes time off during the review/publishing process. Audit your workflow annually to make sure it is working smoothly.
3. Writing and Editing
The goal of this stage is to ensure that anyone involved in content development can pop into your content lifecycle management plan and find everything they need to go from research to a publish-ready product.
While only you know exactly what that includes, here are a few questions you'll likely want to address:
Who is responsible for developing content?
How long should it take to create the content?
Are there resources and source materials for content creation?
Are there documents that define content style, voice, and best practices?
Maintaining consistent, high-quality written content requires consistent, high-quality editing. To ensure this happens with every single piece of content, every single time, you need to have a documented style guide. Make sure your style guide includes tone, voice, grammar, formatting, and other guidance relevant to your brand to make it easy for content creators and editors to deliver a consistent, well-crafted finished product.
The most challenging part of this stage will be striking a balance between providing enough detail so creators can autonomously develop content and too many details that will stifle the creative spirit.
4. Publication and Post-Publication Maintenance
Now that you have created a strategy, identified and filled the gap, and created compelling content that maps to achieving you marketing goals, it's time to publish and maintain it.
Key Considerations Include:
Determine who is responsible for publishing content and to what channels (i.e. website, social media, partner or other third-party websites)
Establish publishing frequency (i.e. technical blogs weekly, case studies and white papers quarterly, videos bi-annually)
Agree on publication success metrics, where you can find results data (i.e. Google Analytics, HubSpot, or other analytics package), determine who will track and report results and with what frequency. Success metrics are essential and tie directly into the final stage below.
Review content results at least bi-annually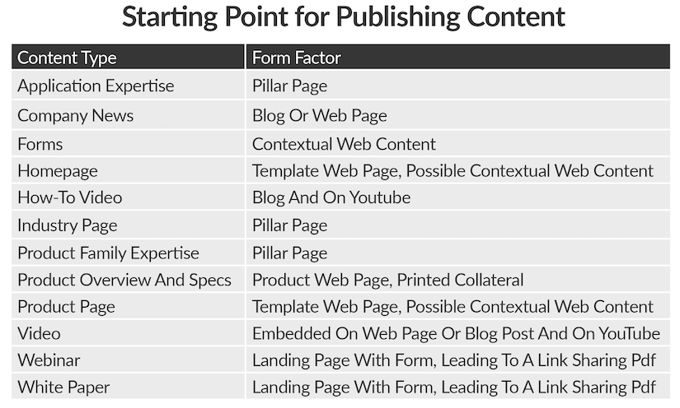 5. Remove, Refresh, Repurpose, Retire
Old content doesn't necessarily have to be put out to pasture. Before you decide to remove or, more likely, retire it — think about how you may be able to refresh or repurpose it to generate traffic and conversions with minimal resource expenditure.
Here are a few indicators that a piece of content might just need refreshing:
It still generates engagement, meaning it had >20 views and a bounce rate <70% over the last year
The message is still relevant to your target persona(s)
The content is still relevant, but the data is old and some new research points and/or graphics will keep it fresh
An additional consideration is that for authored pieces where the author has left your company, you need to reassign ownership and repurpose the piece if it's still relevant content.
For high-performing content, consider repurposing it into other content form factors. For example, you may start with a white paper that you then break up into multiple blog posts and repackage into a recorded webinar. Another approach is to start with smaller content pieces such as a collection of blogs posts, and then repurpose them into one all-encompassing white paper.

Sometimes, you do have to end-of-life outdated content. If a piece checks any of these boxes, it may be time to retire it:
It no longer accurately represents your brand
The content is underperforming — or never really performed to expectations
The focus of the content is no longer relevant (i.e. past product version updates, news releases, news coverage, and events attendance fall into this category)
While you may find you need to switch the order of, or even skip, some of these to fit your company's unique needs, these stages should help almost any content strategist build a solid standard operating procedure to manage a high-performing content marketing program.

Lee guides agency strategy and performance, and she champions the ongoing pursuit of building a great marketing team. She has extensive B2B technical marketing experience across a spectrum of industries and application areas including test and measurement, control and automation, and industrial manufacturing. Her focus has always been on building lasting partnerships that connect marketing strategy to bottom line-business results. Lee lives in Austin, Texas where she is passionate about supporting organizations working to end homelessness and provide affordable housing in Central Texas.
TREW Marketing is a strategy-first content marketing agency serving B2B companies that target highly technical buyers. With deep experience in the design, embedded, measurement and automation, and software industries, TREW Marketing provides branding, marketing strategy, content development, and digital marketing services to help customers efficiently and effectively achieve business goals.