5 min read
How to Write a LinkedIn Profile for a Technical Thought Leader
Recently, we shared how to create messaging for thought leadership. Once you've defined your platform and message, you can use your messaging in external communication. Start with outlets where you can easily control your message, like LinkedIn. If it's time to overhaul your LinkedIn profile, follow these recommendations for each section.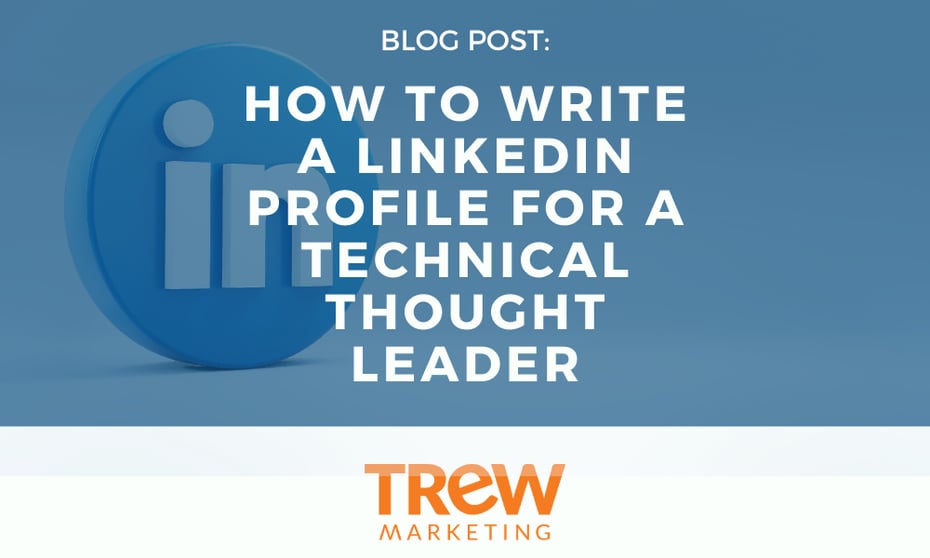 Name: We'll start out with an easy one -- list your name as people know you. If your name is Michael but everyone know you as Mike, make your name on your profile Mike. This will make you easier to find.
Profile Photo: This photo needs to be a clear and relatively current headshot. You should be looking at the camera, and no other people should be included in the photo. If you're speaking or featured, someone may grab this image for promotional materials. If you work in an organization with multiple thought leaders, it's time to hire a photographer to take professional headshots. With professional headshots that have the same look and feel, your organization will be branded across multiple profiles.
Background Image: The background image is a widely forgotten space, but it's prime real estate at the top of your profile. The LinkedIn background image dimensions are 1584 x 396 pixels and you can easily use a free platform like Canva and start with these dimensions. Use your company colors and images that reflect your area of expertise. You can also create a custom image with a specific CTA, similar to an ad, like the first example below.
Here are a few examples of great background photos:
Wendy Covey, TREW Marketing CEO, features a new book, and TREW Marketing colors: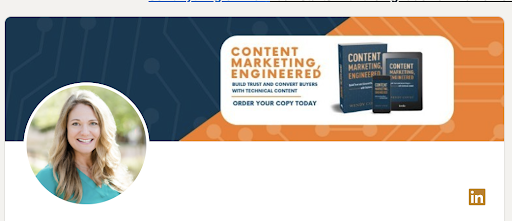 Tyson Tuttle, CEO of Silicon Labs, features the skyline of Austin, where the company is headquartered: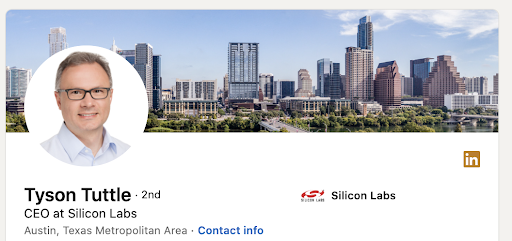 Ben Schuler, CEO of Infinitum Electric, features an electric motor, the company's flagship product: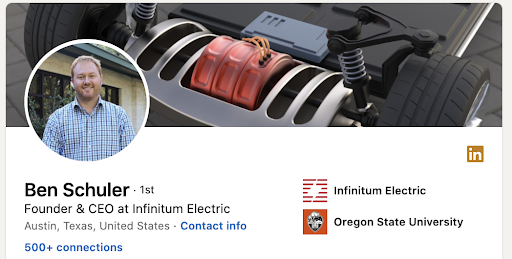 Pro tip: Remember that your profile photo will cover up some of the background image. Make sure that a key aspect of the background image isn't in the bottom left corner.
Headline: This space in your profile is for your title, but LinkedIn gives you some leeway in calling this a headline. You can include more detail about what you do or what you're involved in. Be succinct in your headline and use descriptive words that tie to your thought leadership platform. If you have a podcast, book, or other platform where you connect with followers, include those in your headline.
Adam Grant, author and professor, lists his area of expertise and podcast: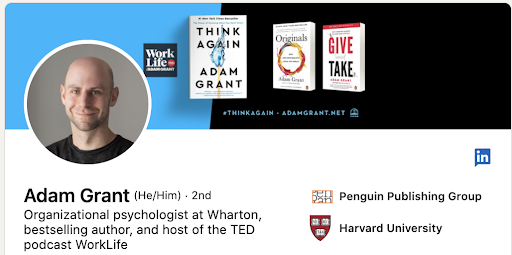 Gary Vaynerchuk balances his leadership and accessibility by including his roles, author information, and a personal connection line:


Pro tip: Don't list "thought leader" as part of your headline. Instead, show you're a thought leader with information about what you're doing.
URL: Take advantage of a custom URL using your name rather than the auto-generated URL with numbers.
About: This is the space for you to use the messaging you created. Talk about who you are and what you stand for. This is not the place to talk about your company, but rather, the topics where you're an expert. You want to show readers why you're an expert in these areas. Add personality and voice to this section and keep the paragraphs short for readability.
Here's an example of Wendy Covey's LinkedIn profile. Without outright saying that Wendy is a thought leader in content marketing for technical audiences, the overview shows why she's qualified, and what she does with the qualification.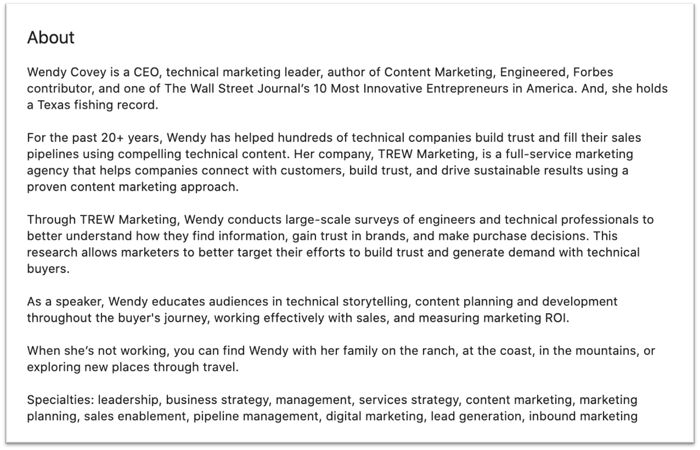 Lisa Su, President of AMD, talks about her role and passions: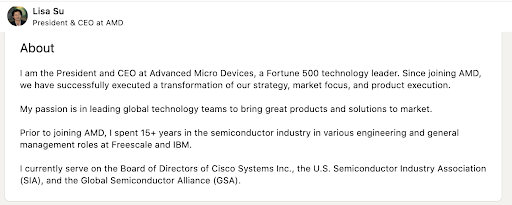 Aaron Levie, CEO of Box, makes a simple statement but is clear about his platform — enterprise software:


Featured: If you've published content on LinkedIn or been mentioned in published content, you can feature it here with additional comments. This is a great way to promote company news and display your thought leadership. Take a post that you've written or your company has posted and add it to your featured news section. Here, you can share your own thoughts on why the news is significant for the industry.
Dave Gerhardt, Chief Brand Officer at Drift, highlights a few of his most popular posts.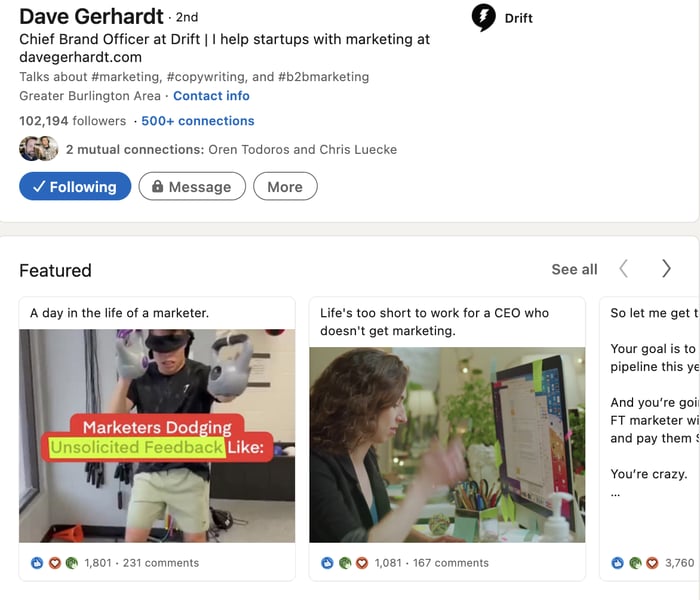 Experience: This is your where you talk specifically about your company and your role at the company. Mention what your company does and how your leadership is helping you move forward.
If you're on any boards, speaking consistently through a podcast or leading community/nonprofit initiatives, include those as experiences with the end date as "present". By showing concurrent roles, you're displaying how you're leading through multiple organizations or platforms.

Here's an example from Mary Barra, CEO of GM. Her platform of safety and sustainability are evident through her description.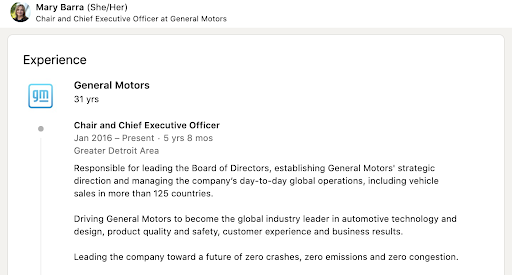 Pro tip: If you want to show your progression in an industry through one company (i.e. if your platform is that you're a through leader who has risen to the ranks of your organization by growing from the ground up), list your roles over time under the entry for your company. However, only add a description to the most current role, or your profile will become too long.
Education: This is a simple selection of your education accomplishments. Include any university degrees.
Volunteer Experience: Include any relevant organizations here, but if you have significant leadership roles in these organizations, consider including them in the experience section as noted above.
Skills and Endorsements, Recommendations, Accomplishments, and Interests: You can select relevant skills, accomplishments, and interests but remember that they will show up publicly here, along with any recommendations you give or receive.
Revisit your LinkedIn profile every year, or when you have job shifts or changes. In addition, add to your featured articles section every month or two when you have relevant comments on a topic that you're focusing on for thought leadership.
---
Ready to learn more about connecting and advertising on the world's largest B2B social network? Click the image below to explore our LinkedIn podcast miniseries.

Morgan believes that the process of brand positioning and messaging powers companies by aligning corporate leadership, building a story that fuels staff and engages customers, and creating a foundation for consistent content – and she's seen these results come true for TREW clients time and again over the last decade. She holds degrees in Public Relations and Spanish, with a minor in Business from The University of Texas at Austin. Morgan, her husband, and three kids recently moved from Austin to downtown DC, where they enjoy walking the city, visiting the local museums, and playing a guess-who-is-in-that-motorcade game.
TREW Marketing is a strategy-first content marketing agency serving B2B companies that target highly technical buyers. With deep experience in the design, embedded, measurement and automation, and software industries, TREW Marketing provides branding, marketing strategy, content development, and digital marketing services to help customers efficiently and effectively achieve business goals.