6 min read
How to Become a Thought Leader with a Clear Platform and Message
Thought leadership is a hot topic. Being a thought leader seems like a ticket to speaking opportunities, partnerships, and authority, prestige, and recognition. In reality, thought leadership takes time, effort, and actual expertise.
Talking more or talking louder or talking with more technical terms doesn't equal thought leadership. Everyone has that one LinkedIn connection who promotes topics constantly that they care about -- but that no one else cares about. No one interacts with that content, and no one shares it. To that person, what they're sharing may feel like thought leadership, but in actuality, they're not leading anyone. Instead, you'll want to empower your audience with information and knowledge (your thought leadership).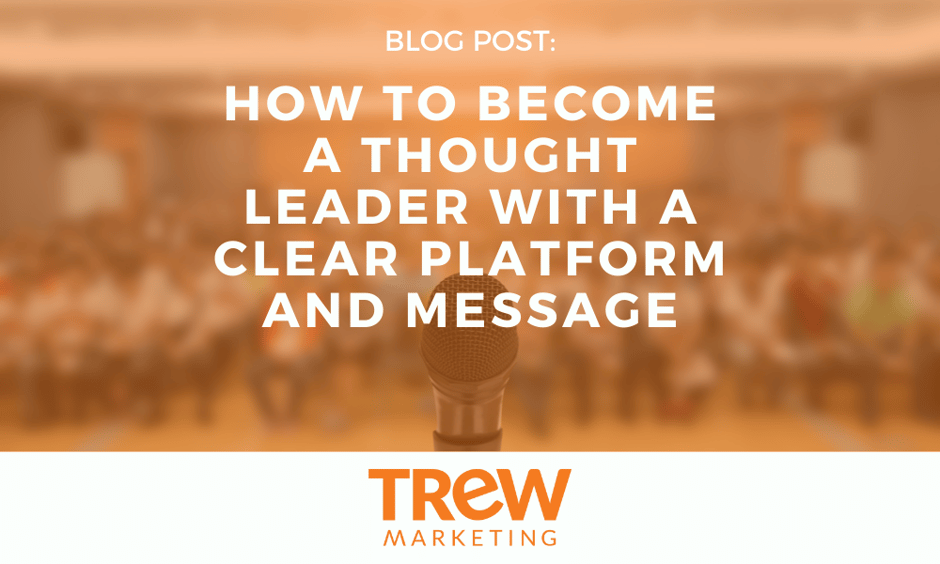 In this post, we're going to talk about five steps to developing your executive thought leadership platform for the purpose of promoting your company, but the same advice applies for leadership at all levels.
1) Define your goal
Why do you want to be a thought leader? What do you hope to gain with recognition as a thought leader?
Here are a few reasons you may want to gain thought leadership:
Recruit new talent who want to work for and learn from you
Shorten the sales cycle by winning business from prospects more quickly
Gain new business from larger prospects or new industries
Expand what your company offers to existing clients
Improve your company's public image
All of these reasons are valid and each has a common thread -- you want to build trust with stakeholders.
That said, before you answer that you'd like to achieve all of the goals above, choose one to prioritize or write a precise goal. If you aim for too many goals at once, you'll risk being too general and won't accomplish anything.
2) Identify your audience
Now that you know your goals, identifying your audience should be straightforward.
If your goal is to recruit new talent who want to work for and learn from you, your audience is those recruits -- graduating students if you're looking for new hires or seasoned engineers if you're looking for experienced talent.
If your goal is to shorten the sales cycle, your audience is the decision makers at your target prospects. You want your company name to be top of mind for them. They may not be the person that your team works with post-sale, but they're the ones who approve new expenses and sign the contract.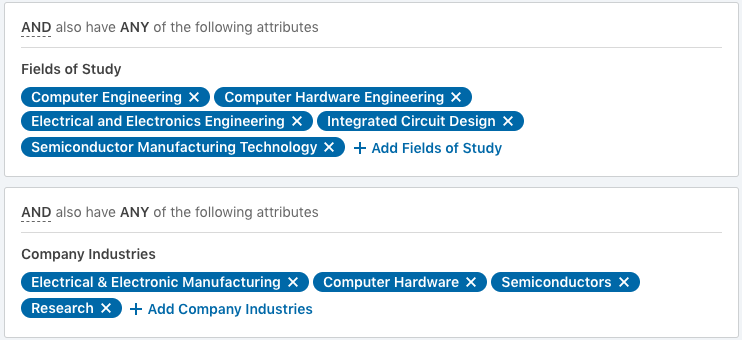 You can use the LinkedIn Ads targeting tools to help define and describe your audience.
If your goal is to gain new business from larger prospects or new industries, your audience is the influencers at those organizations -- they likely have niche careabouts that are different from those of your current clients.
If your goal is to expand what your company offers to existing clients, your audience is your current client base, who may be facing new or evolving challenges.
If your goal is to improve your company's public image, your audience is more likely to be members of the general public and media.
3) Define your audience's pain points
If you're going to be a thought leader that appeals to your target audience and accomplishes your initial goals, you'll need to understand the pain points of your audience. Knowing what your audience cares about will help you decide where to focus and what to talk about. Here are some possible pain points for each of the goals/audiences we've outlined.
Defining pain points is often one step in the process of creating buyer personas.
New talent: May not know what career moves to make, may not know how a company should support their career development, may want leadership with a history of success in the industry or a trajectory of growth.
Existing prospects: Need a partner who can deliver on speed and reliability, need proof of a reliable solution.
New prospects: May not realize the scope of the problem they have, need to see industry leaders who understand trends, regulations, or upcoming technologies.
Existing clients: Want to know how to grow their business, want to know what technologies can they use or trends they can leverage to operate better or achieve more.
General public/media: Looking for reasons to have opinions about businesses. May not know how and why corporate culture is important. Want to know how and why businesses succeed.
4) Message your specific expertise.
Your qualifications are just that -- the areas where you have deep expertise. It's easy to hear a trendy word or term and try to jump on the bandwagon. However, we need to define exactly how you're qualified to meet your audience's pain points with your wisdom.
A great way to pinpoint these qualifications is to look at your biggest accomplishments over your career. Ask yourself: What expertise have you gained through your experience? There are people and companies five years behind where you are now who are looking for a guide.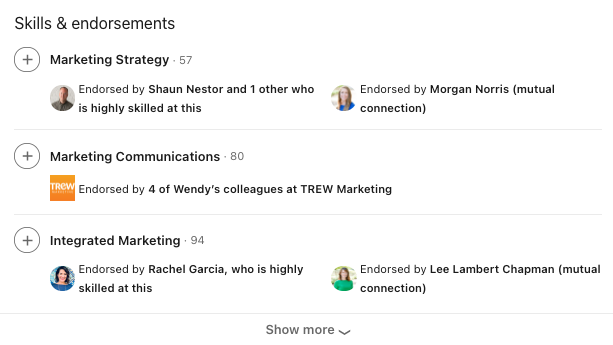 Review the "Skills and endorsements" area of your LinkedIn profile for more examples of expertise.
What experience do you have:
With your specific career development?
With specific technical disciplines?
With specific hardware or software platforms?
With specific regulations, certifications, or standards bodies?
With shifts or changes in your industry?
With future or coming technologies?
With business development or growth?
With solving massively complex or difficult challenges?
How does this expertise map to your audience's pain points?
Here's an example: You may be targeting existing prospects and trying to shorten your sales cycle. You also may have distinct insight and expertise on past customers or companies you've seen use the specific solutions you offer to get ahead in business.
You've got your platform! Start outlining 3-5 stories you can share about your experience with companies who have used your solutions or solutions like yours to get reliable results quickly. Show how these technology decisions accelerated their business and set them apart from others.
Here's another example: You may be targeting existing customers who are looking to expand. You may also have specific expertise implementing an emerging technology or new process that improves throughput dramatically. Here's your platform! Share your expertise on this technology or process -- how to use it, when to use it, and what results it brings.
Write a simple outline of your expertise and include stories and examples so that the heavy lifting is done when you go to actually speak or create content.
5) Promote your message
Now that you know what you're trying to accomplish, who you're talking to, and what your platform is, look for opportunities to promote your message. You'll likely be able to use this message for a few years (this will give your audience time to know and trust you), so don't put all your thoughts into a single piece. You want to share your message in different ways across different outlets.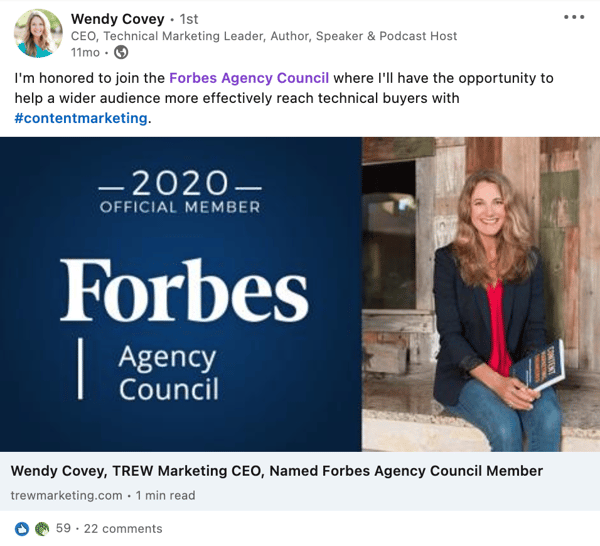 TREW CEO Wendy Covey applied to join the Forbes Agency Council as one way to promote her message.
Here are a few outlets you can use:
LinkedIn profile: Overhaul your own LinkedIn profile to reflect your leadership platform. Mention it in your "About" section, share a piece of content related to your platform and comment on it -- make this the featured content on your page. Make sure your experience section reflects the experience you have that applies to this platform.
LinkedIn shares, comments, and hashtags: Find hashtags relevant to your topics and follow them. Share and comment on relevant articles when you have specific value to add.
Contributed content: Pitch and submit articles to outlets that your audience reads.
Speaking opportunities: Look for opportunities through leadership organizations, standards bodies, and conferences. Pitch your ability to speak on your specific topics of expertise.
Other possible outlets include Twitter and Reddit.
Repeat
These platforms can evolve and change over time, just walk through the same five steps to identify a new platform, hone your message, and promote it. Remember, as your company grows, you can have other internal experts take on leadership topics. Thought leadership doesn't need to rest on the CEO alone.
---
Personal branding is valuable, but it is crucial that your business has a clear brand and message. To create or refresh your branding and messaging, explore our Smart Messaging for Engineers Guidebook.