4 min read
How to Choose the Right Keywords for Your B2B Content
Once you have a solid marketing plan and dedicated content writers, you need to decide which keywords to target with your digital content. There are a plethora of methods and tools at your disposal, and you can easily spend a couple hours or multiple weeks on the process. To help you get started, we will outline the process TREW used to select its target keywords for 2022.
1) Dive into Google Search Console
Before choosing brand new keywords, it's important to understand how your current website is performing with major search engines. Since Google comprises over 85% of online searches, we choose to spend our time diving into that engine's provided tool: Google Search Console.
In Google Search Console, you should examine which keywords are delivering traffic to your website and which pages of your site are receiving the most organic entrances. You can change the date range to observe past performance as well. Be sure to export this data to a spreadsheet to see how rankings for specific keywords and pages have changed over time.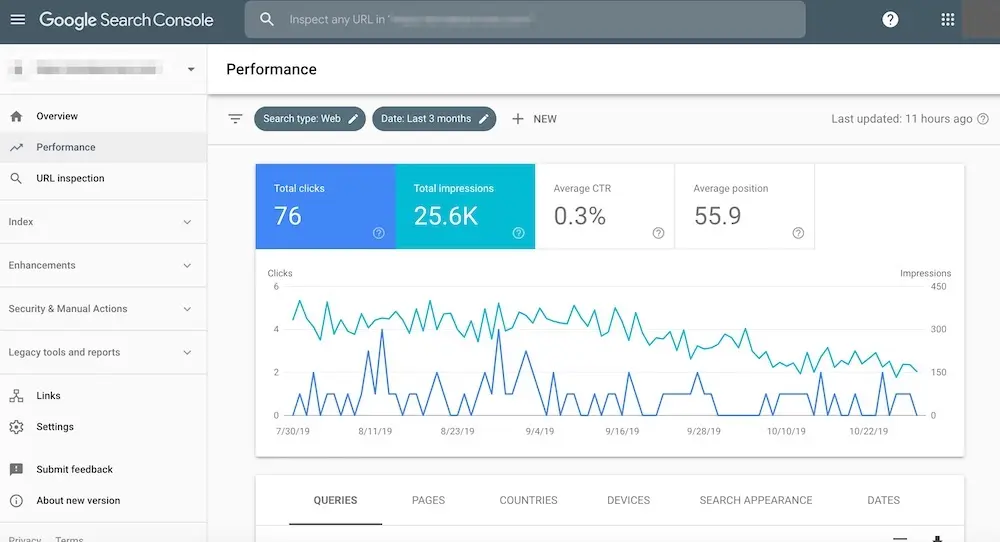 Example of a website's performance in Google Search Console.
As you dive into the tool, you may discover that your rankings have decreased with valuable keywords. In this case, rather than spend all your time targeting new topics, you may want to refresh existing content and continue building out your primary topic clusters.
Feel free to take your time in this step. With a bit of digging, you can uncover valuable information unrelated to choosing keywords. For example, you might gain insight into how a Google algorithm change affected your website or see ways to replicate successes that certain pages are experiencing.
2) Identify Topics and Key Terms
Before you dive into specific keywords, you need to decide the most valuable high-level topics for your business. For TREW, this might be something like Content Marketing for B2B Technical Companies. These topics should have been identified during marketing planning, and if you have created content in the past, you should already have related pillar/service pages and topic clusters.
Be highly selective. Trying to focus on 15 different products or services is too broad and will likely lead to a weak keyword strategy. If you are early in your SEO and content journey, you should focus on 1-3 core offerings. Here at TREW, we have been creating content for years, so we decided to focus on some secondary and tertiary services in 2022.
Once you have your key topics, brainstorm a few general keywords related to each one. For TREW's example topic above, we could come up with "b2b content marketing" and "technical content marketing."
3) Generate Keyword Possibilities in Moz
With your topics and a few broad keywords in hand, it's time to generate specific keywords. We recommend using the Keyword Research tool in Moz for this step, but most SEO platforms like Ahrefs and Semrush have similar tools. With a free Moz Account, you get access to ten free queries per month, but you can also activate a free trial of the Moz Pro Medium Plan which provides 5,000 keyword queries per month.
Enter your broad keyword and then click Keyword Suggestions to see dozens of related keywords. We recommend exporting the suggestions into a csv file and then repeating this process for each broad keyword related to the same topic. Combine the csv files into one master spreadsheet with all the suggested keywords around that topic. Be sure to keep the columns related to Relevancy and Monthly Volume for the next step.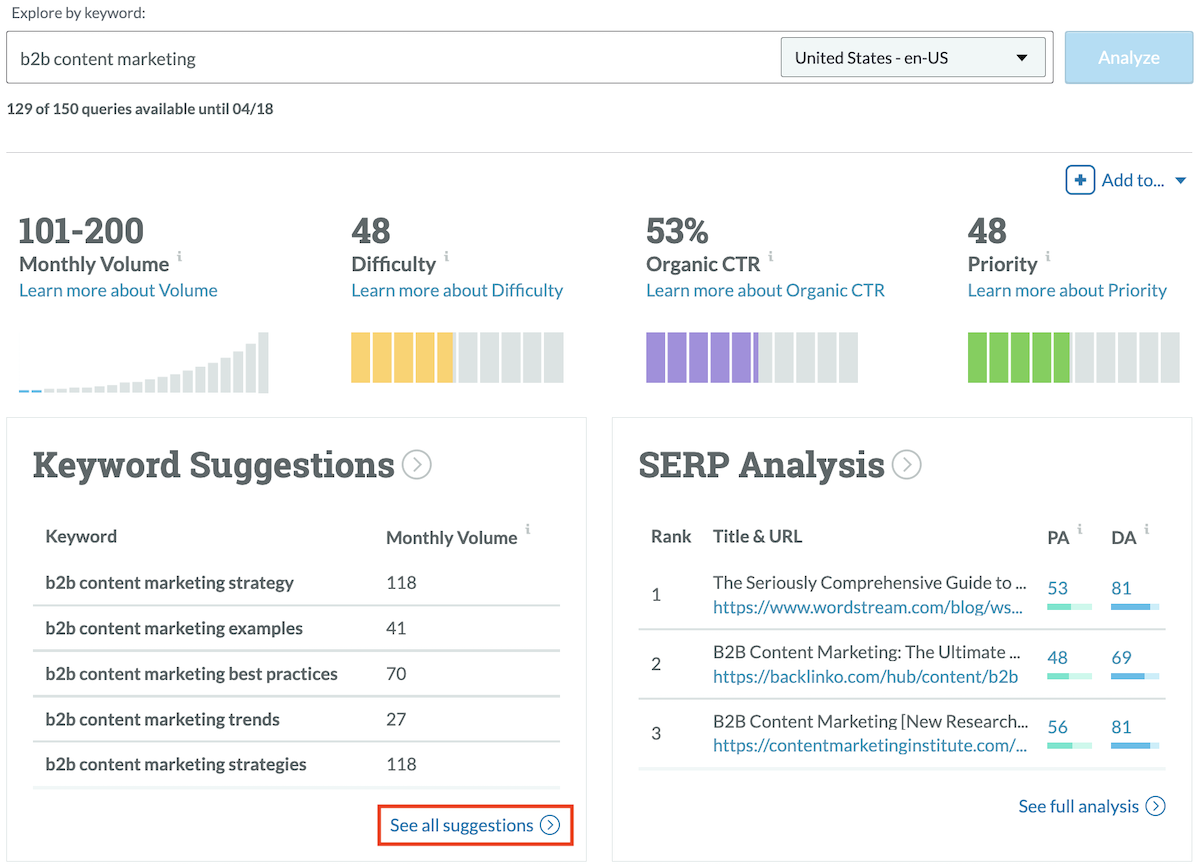 Click "See all suggestions" for a list of related keywords.
4) Choose Your Keywords
Using your spreadsheet tool of choice, sort and filter the master document to find the right keywords for your chosen topic. First, remove the fluff by deleting duplicate keywords and those with very low relevancy or no traffic. Then, simply go row by row searching for keywords that appear relevant to your business.
At this point, it can be appealing to look for keywords with a high volume of monthly searches but resist the urge. Popular terms are usually very difficult to rank for whereas highly specific searches (often called long tail keywords) are more achievable and can still deliver high quality leads. For example, even if a keyword like "industrial marketing white paper writer" only receives ten searches per month, those searchers are very likely to need our services.
This process should provide a decent starting point, but there are several additional steps to choosing keywords. It would be wise to compare your new list of keywords to those you already rank for according to Google Search Console. You should also consider going back into Moz and entering each new term into the Keyword Research tool to collect that term's Difficulty score. Doing so will help determine which keywords may be attainable within the next one to two years of content marketing.
5) I Have My Keywords…Now What?
Congratulations! With your chosen list of keywords, you are ready to consult with your writers and strategists about content to create. Many marketing teams choose to target specific keywords with blogs that link back to the main pillar or service pages. You might decide that one term is so important that you want to create a landing page for a related white paper or adjust your service page to prominently feature that keyword. In both cases, be sure to follow on-page SEO best practices.
Of course, choosing your keywords is only one aspect of creating content that attracts valuable prospects. As you create every piece of content, be sure to consider which personas you are targeting and how each piece of content fits into the overall Buyer's Journey.
Optimizing your content to simultaneously serve search engines and readers is a never-ending journey, and best practices are always evolving. By the time you read this piece, we may have already transitioned to a new keyword strategy. Still, hopefully the process outlined above will help you as you determine which keywords to target with your upcoming content.
For more information on content marketing, read our Ebook, Getting Started with Content Marketing by clicking the image below.

TREW Marketing is a strategy-first content marketing agency serving B2B companies that target highly technical buyers. With deep experience in the design, embedded, measurement and automation, and software industries, TREW Marketing provides branding, marketing strategy, content development, and digital marketing services to help customers efficiently and effectively achieve business goals.