5 min read
Nurture Your Leads: Harness the Power of E-Newsletters, Part 2
In Part I of this e-newsletter best practices blog post, we focused on how to get started developing an e-newsletter from the standpoint of design, content strategy and building readership. Now, we'll focus on what happens after you hit "Send": ongoing analysis and improving read rates.
In this post, we'll cover:
Which metrics are most meaningful for e-newsletter analysis
Increasing e-news open rates with smart subject lines
Improving click-through rates
How frequency plays a role in your results
1. The key metrics for an e-newsletter include
Bounce rate: the percentage of recipients whose email addresses are invalid and did not receive your mailing.
Open rate: the percentage of recipients who opened your e-mail.
Click-through rate: the percentage of recipients who clicked-through on a link in the e-newsletter. NOTE: a high click-through rate is the ultimate measure of success.
Opt-out rate: The percentage of contacts who unsubscribed.
The average performance for an e-mail in the technology industry is listed below:

Tracking these key statistics gives you visibility into the success of your e-newsletter campaign and provides opportunities for ongoing improvement. Below, we'll look at an analysis of open rates and click throughs for your e-newsletter, as these two metrics provide the clearest view of how your readership is using your e-news. Bounce rates and opt outs are much more influenced by the quality of your distribution list, which we discussed in part 1 of this blog post
2. Improve your open rate
According to a report produced by technology market research firm
The Radicati Group
, some 247 billion e-mails were sent each day in 2009. With the level of noise that we all deal with in our e-mail in-box, how do you get someone to open an e-newsletter that you've sent for the first time?
The quality of your recipient list plays a role – have they heard of you? How long ago? But there is another key factor that is critical to improving your open rate: the e-newsletter
subject line
.
An effective subject line will entice your audience, and motivate them to open your e-mail. A subject line that is too general, such as "XYZ Company E-Newsletter" will fall short – it doesn't invite the user with an action, nor does it provide a window into the content inside your e-newsletter. Conversely, a very long subject line with too much detail can also fail you – not only because you are making your recipients work more as they skim their many emails, but also because many email programs will cut off your subject line if it's more than about 60 characters.
Instead, focus on a subject line that is actionable, brief, and highlights key content in your e-newsletter.
In a recent e-newsletter, TREW Marketing worked with Wineman Technology to develop this successful headline focused on an exciting new product they just released:
Wineman Tech News - Test Cell Control Made Simpler with RAPID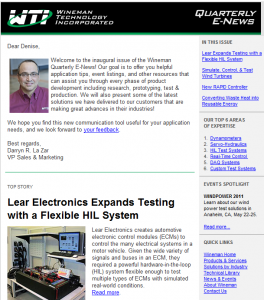 The subject line not only mentioned the new product – RAPID – it also gave specifics on the product benefits that the target audience would be interested in – making test cell control simpler.
The open rate for Wineman's e-newsletter was very strong, exceeding the industry average by almost 30%. In addition, the article about RAPID was the most popular item in the e-newsletter, garnering more than 20 percent of all click-throughs even though it wasn't situated at the top of the email. Clearly, recipients were highly motivated by the subject line, opened the email, skimmed it, and many continued to learn more about the RAPID product, all thanks to an effective subject line.
Another TREW Marketing client, data acquisition firm Bustec, also launched their first e-newsletter this spring. Bustec chose to focus on a specific, highly actionable benefit of a new product in their subject line which led to open rates exceeding the industry average for their first-ever e-newsletter. The subject line read:
Reduce Time Measuring Strain up to 350 KHz with the ProDAQ 5716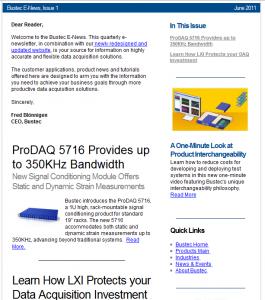 3. Improve your click-through rates
Getting your recipients to open your e-newsletter is only half the battle. The second piece of the puzzle is the click-through rate.
As outlined in part 1 of this blog series, great e-newsletter design and compelling content play a key role in improving your click-through rate. Here are some additional key points for improving this valuable metric:
Write brief, compelling headlines for each article
Provide a 1-2 sentence summary for each article with a prominent link to read more
Ensure your most valuable articles are placed near the top of your e-newsletter
Use your sidebar to highlight additional items from your website that your readers may not have seen
Finally, ensure that the content mentioned in your e-mail subject line is easy to locate and click on as soon as the e-newsletter is opened
In the case of TREW clients Wineman Technology and Bustec, both companies garnered click-through rates more than double the industry average – an exceptional number for their first e-newsletter.
4. A nod to frequency
It's worth mentioning that your e-newsletter frequency rate can also affect these statistics. If your newsletter distribution is infrequent or sporadic, readers are less likely to engage with you. People crave predictability as much in the electronic world as in print. A monthly e-newsletter, for example, becomes something your readers can expect in their in-box at the same time each month. Quarterly e-newsletters are also a popular choice. The key is to select a frequency that you have the ability to consistently deliver on, and set expectations with your readership.
Overall, smart analysis of your e-newsletter, including openness to changes when results aren't what you expected, are the key to continuous improvement and refinement of your e-mail program. Ultimately, this key communication vehicle can help you build a positive, ongoing dialog with your key prospects and customers.